C3 is 'In Search of New Land'
Juxtapoz // Tuesday, 05 Oct 2010
1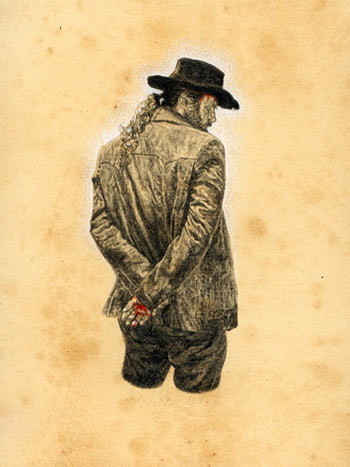 In Search of New Land proposes a Wild West fairytale narrative with a post-apocalyptic twist. Chris C. Curtis, also known as C3, uses the art historical conventions of portraiture to study the darker side of human nature.
The artist creates characters that embody the whimsical and the grotesque. His subjects, based on real-life models, morph into fractured versions of themselves when worked over by the artist's hand. They become the nefarious personalities who populate C3's imagined landscapes--abandoned brides, fortune-seekers, and gunslingers.
In Search of New Land will be comprised of graphite, red, and white colored pencil on dyed paper.
About the Artist:
Christopher C. Curtis was born in Tulsa, Oklahoma. He has exhibited with Gallery Three, Babylon Falling and been included in numerous group shows around the Bay Area. This will be his third time showing at The Shooting Gallery.
In Search Of New Land: New Works by C3
The Shooting Gallery
Opening Reception Saturday, October 9th from 7-11pm