Burgeoning Heliotrope with Weirdo and Ego at Ronin Gallery
Juxtapoz // Wednesday, 08 Apr 2009
1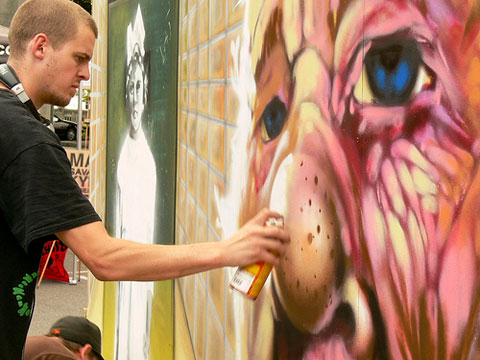 Burgeoning Heliotrope. Woah, what a name for the first two-man exhibit with artists Weirdo and Ego at Ronin Gallery in Los Angeles.
Both artists will be flying down from their hometown of Seattle to transform the LA based gallery to show their new works in the exhibit opening April 16th, 2009.


Ego is a Seattle based artist with a flair for slightly dark, whimsical creepiness, influenced by the macabre sides of tattoo culture, street art, and underground fine art. His work has been featured in galleries across North America, and published in many various media... and worn on the skin of his tattoo clients.

EGO: www.myspace.com/emeraldcitytattoo



Adhering to the confines of classification, one might see Weirdo's work in the light of pop surrealism or lowbrow. Using oils in an organic painterly fashion, Weirdo devises worlds beyond comprehension.
Weirdo melds imagery native to his northwest inhabitance and couples it with a highly graphic sense of rhythm and flow. Add to this the ever present life force represented by his "Orgns", his love for digital embellishments, and then you get a small glimpse of the havens Weirdo marinates in. In the infinite pursuit of greatness, Weirdo extends his talents into the realms of large-scale murals, custom vinyl toys, as well as graphic and product design.

WEIRDO: www.myspace.com/weirdopt



Burgeoning Heliotrope will open on April 16, 2009 at Ronin Gallery.

For more information, please contact: info@theroningallery.com.