Buff Monster is Down with Hello Kitty
Juxtapoz // Tuesday, 20 Oct 2009
1


What do you love about Hello Kitty?
Everything! I love that Sanrio puts out thousands of different products every year with her image on it. Hello Kitty is the undisputed world champion of cute.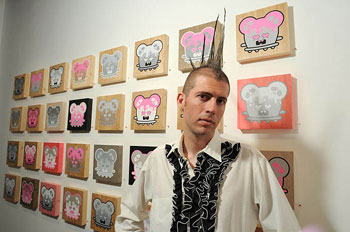 Tell us a bit about your artistic take on Hello Kitty.
I think Hello Kitty should be treated with reverence and I wanted to keep her spirit alive in my pieces. My goal wasn't to distort or change her; instead I wanted to celebrate her. And in that spirit, I redrew Hello Kitty to make her perfectly smooth and symmetrical.

Taking into consideration you personal aesthetic, was it difficult for you to interpret this Hello Kitty work stylistically?
My personal aesthetic fits really with Hello Kitty, obviously, so I was more concerned about the pieces being inventive rather than predictable. We have very similar color palettes, so for the small pieces, I only used pink, black, white, gray and silver. Really, those are the only colors you need and they're pretty much the only colors I've used for years. But for my big painting, I opened up the palette a little bit and I like how it turned out. New for me, new for her.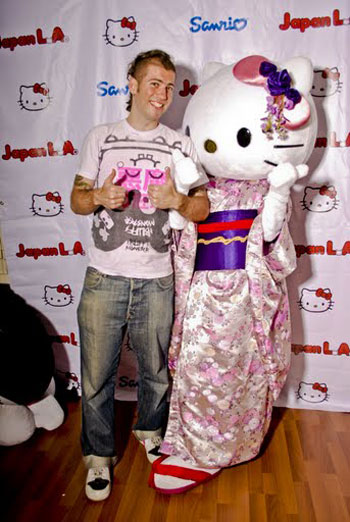 Were you a fan of Hello Kitty as a child? Like any of the other Sanrio characters?
I grew up in Hawaii. All the cute Asian girls always had lots of Hello Kitty stuff. It was so pervasive, I hardly noticed. But a few years ago, I really got excited about Hello Kitty. I have so much Hello Kitty stuff now; most of it just piles up, but I use the toothbrush holder, toaster and cabinet handles on a daily basis.

What is it about Hello Kitty that has made her so successful as a brand?
Magical simplicity.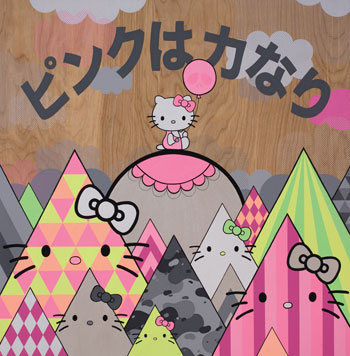 Hello Kitty Art Show Three Apples Exhibition:
Sanrio Collaborates with 80 Popular Artists
to Celebrate 35 Years of Hello Kitty

On View October 23 – November 15, 2009
Royal/T in Culver City, Los Angeles