Bruno9Li on Lightening, Water, and Red Lines
Juxtapoz // Saturday, 17 Jul 2010
1
The large collage is a simpler motif for Bruno, as he is known for highly intricate paintings of characters with detailed tribal-like designs. He tells us that he wanted to experiment with a simpler motif to compliment the busy animated gif films he is screening, which are aesthetically busy and include headphones for listeners to hear the corresponding ambient audio.
Bruno is from Porto Alegre in Brazil, but has called Sao Paulo home for he past 3 years. In his large collage here, he incorporates elements of water, lightening, one of his "guys" as well as sharp red lines which he explains, "brings out the contrast between the organic and non-organic. There re no straight lines in nature, so I wanted to highlight that difference. I put them together to see the vibration between the two."
Bruno has also been preparing for his biggest solo show yet, slated for this August in Sao Paulo. He plans to show 12 large canvases, each 4 meters in width. In the meantime, Bruno has his hands full setting up he last of his visually arresting installation.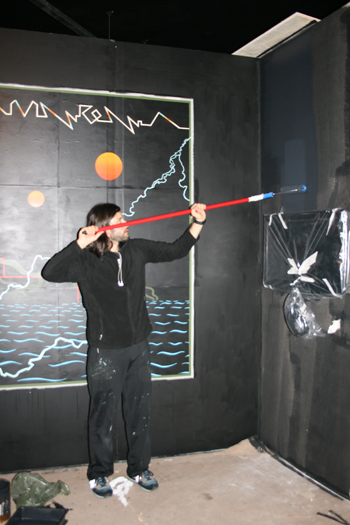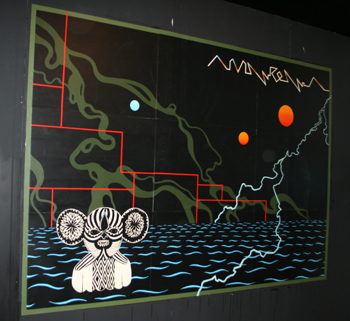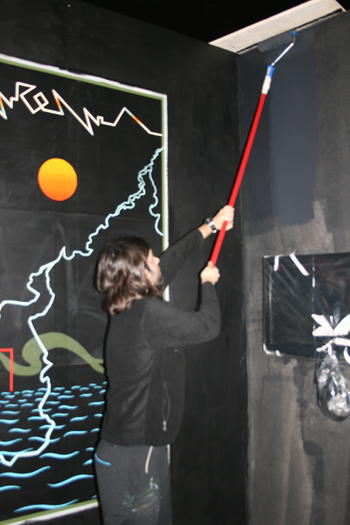 See Bruno's work her in Transfer, opening this Sunday July 18 at the Brazilian Cultural Pavilion in the heart of Sao Paulo's Ibirapuera Park.
For more info: www.transfer.art.br