Bristol Museum Strikes Again: Art from the New World
Juxtapoz // Monday, 05 Apr 2010
1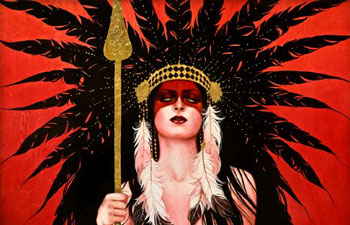 Bristol will be buzzing come May 1st when Bristol's City Museum and Art Gallery in collaboration with Corey Helford Gallery will host Art from the New World. This massive exhibit marks an exciting move forward for contemporary artists and will feature many well-known names to Juxtapoz fans.
From the BBC:
Gallery-goers in Bristol are set for another bold, brash treat this summer as cutting-edge art from North America heads for the West Country.
From 1 May to 22 August 2010 Bristol's City Museum and Art Gallery will host Art from the New World.
The exhibition, featuring dozens of US urban and contemporary artists, is being curated by Jan Corey Helford.
She is the owner and curator of the Corey Helford Gallery in Los Angeles, California.
Most of the work on show has been specially-created for the exhibition.
Like 2009's Banksy Versus Bristol Museum, exhibits will be on display across most of the venue's ground floor.
Instead of an ice cream van, visitors will experience a 15ft decorated ice cream cone, created by street artist Buff Monster.
He will also be on site creating murals on museum walls in the days leading up to the exhibition.
Buff Monster is looking forward to exhibiting in Bristol - he's mentioned it on his website complete with a picture of the museum.
Opening day will be a treat for fans of the work of Gary Baseman as people dressed as his creations interact with visitors.
Work by another fan of depicting apes in his work, Todd Schorr, will also be on display.
And artist Mike Stilkey will be creating one of his book sculpture installations.
A 10ft wall of 2,000 books transformed by Stilkey will greet visitors to the exhibition.
Mike has also mentioned he's coming to Bristol on his website: "I'm really looking forward to this and hope to see you there."
Jan Corey Helford says American art is "gushing forth" at the moment.
"The selected artists are part of an exciting new art movement that encompasses all forms of media and art," she said.
"This is an exciting opportunity to raise the profile of this movement to new audiences."
Let's hope it's well supported - and we don't have to queue round the block to get in.