Brisk Bodega x Star Wars NYC
Juxtapoz // Friday, 17 Feb 2012
1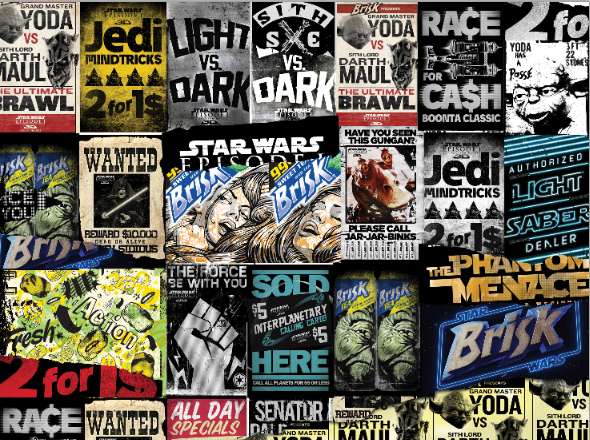 After the success of their Brisk Bodega 24-hour pop-up art experience created in conjunction 3D theatrical release of Star Wars: Episode I The Phantom Menace, Brisk will be opening a new 24-hour pop-up in NYC, the Brisk Bodega Cantina, to celebrate. Star Wars' overarching influence on pop culture. The event will feature a DJ set by Just Blaze and Star Wars inspired art work from Juxtapoz stalwarts POSE, Tristan Eaton, Jasper Wong, Artek, and more.
As we saw in Los Angeles earlier this month, the 24-hour Brisk Bodega honored Star Wars properly with each artist bringing their own signature style to the icon characters of Star Wars. Tristan Eaton's Yoda was a major hit on our Facebook.
You may have caught the Briskified Darth Maul and Yoda face off commercials that have been airing recently, and the Darth Maul character is featured on Brisk Raspberry Iced Tea 24-oz. cans and one-liter bottle. With this in mind, each artist was given the mandate to create under the theme of Dark Side vs. Light Side.
Stay tuned as Juxtapoz will be updating our Twitter and Facebook with news about the update as we get closer, and will have photos of the entire event and all the artwork inspired by Star Wars: Episode I The Phantom Menace.

Go to briskbodega.com to RSVP