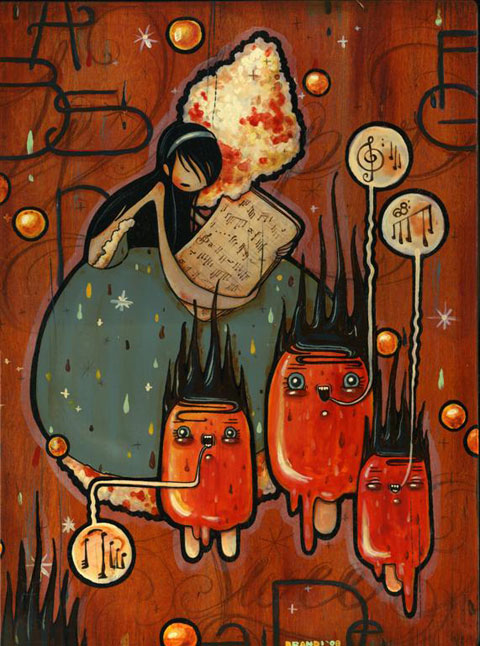 We often think of Easter as a kid's holiday, but this year the kids at heart from Thinkspace Gallery are offering art lovers of any age to come celebrate Brandi Milne's upcoming solo show Run Rabbit, Run with "Brandi Milne's Easter Egg Hunt," that will take place the evening of the exhibit's opening reception on Friday, April 10th from 7 – 11pm.

"Brandi Milne's Easter Egg Hunt" will offer an exclusive April surprise: a new giclee print, And The Choir Sings Quiet. Hand-signed and numbered by the artist, the edition includes 10 8 x 10" artist proofs, 9 out of 10 of which will be part of a special giveaway in the Easter egg hunt!

Here's how it will work: a large number of Easter eggs will be hidden about the gallery (both inside and out) for patrons to hunt for and discover. Each egg will contain a special ticket, good for one of many prizes to be redeemed that evening, including the grand prize, a framed one-of-a-kind original drawing from Brandi herself. Other prizes will include copies of Brandi's latest book with Baby Tattoo "So Good For Little Bunnies", copies of her new Gelaskins, and much more.

One of the 10 artists proofs will be hand-touched by Brandi and on view as part of the Run Rabbit, Run exhibit and will be available for purchase come the opening reception, but this wil be the only print out of all 110 that will be available for purchase in any fashion.
So Mark your calendars for Friday, Friday, April 10th because "Brandi Milne's Easter Egg Hunt" has some tasty treats wating for you. Chocolate eggs won't hold a candle to Brandi's prints and other goodies. Snag more info on Brandi's Run Rabbit, Run at www.thinkspacegallery.com