Boundless Emotions Live Here: The Works of Mitsuo Kimura
Juxtapoz // Sunday, 28 Feb 2010
1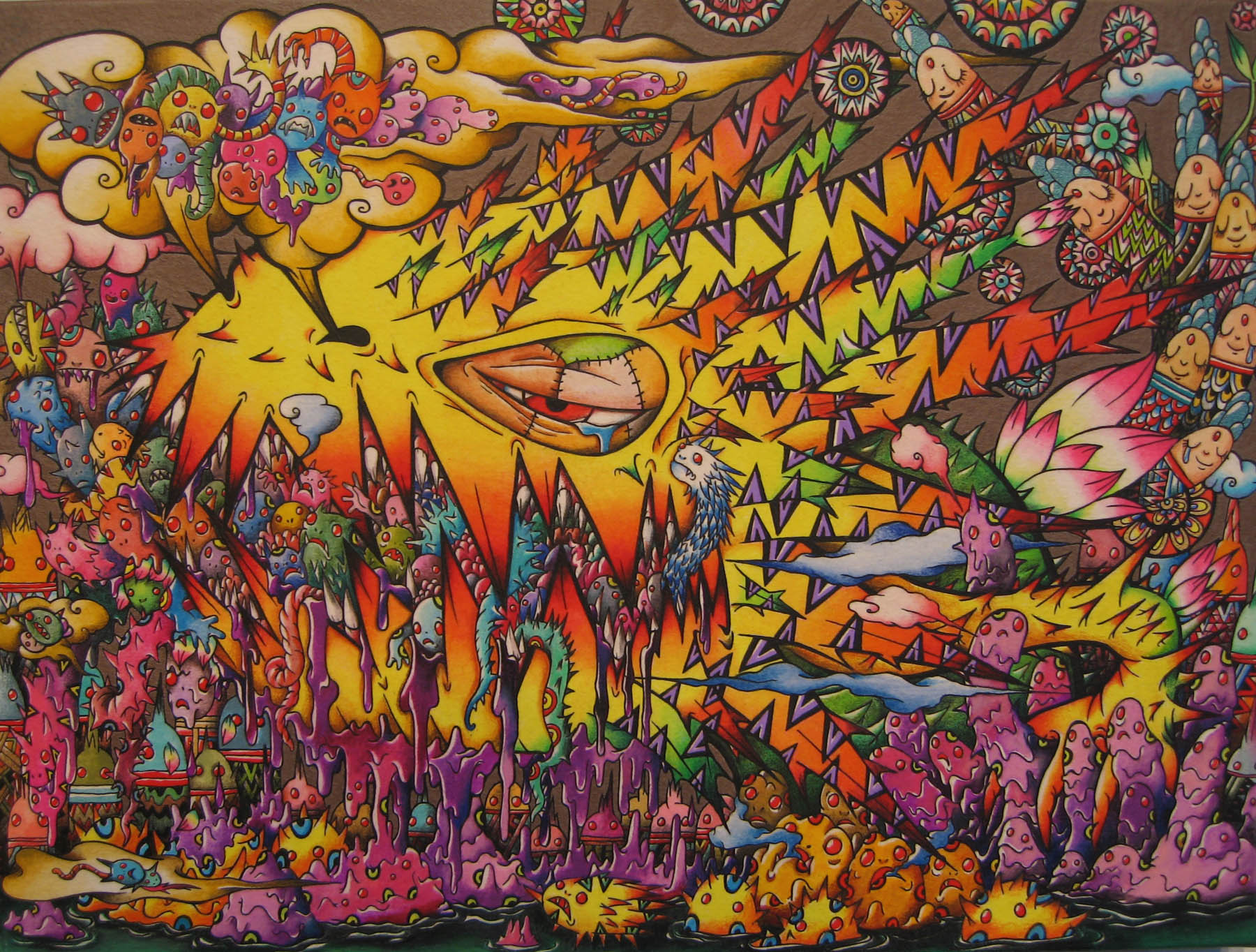 The connections between visuals and narrative are phenomenal.  Stories and ideas, these abstract thoughts within the mind, can become profound visual metaphors.  While these images may not materialize for everyone, an artist's mind can grasp the most simple ideas and turn them into something more, something that resonates.  Japanese artist Mitsuo Kimura does just that.
Visual storytelling may not be something new to the trained eye, but Kimura's works are certainly challenging.  What would otherwise appear to be a hodgepodge of Japanese cultural references goes on to become something far deeper than his vivid colors and animated characters may portray.  Personal growth, death, emotions and candid life experiences are some of the many themes in Kimura's pieces and, oddly enough, upon experiences these stories, the visuals appear to make more sense and become that much more meaningful.
I had a chance to sit down with Mitsuo Kimura during his solo exhibition, Life in the Pond, at LE Gallery in Toronto.  The exhibit opened February 5th and will continue until the 28th.--Erika Szabo
Erika Szabo: What inspires you as an artist?
Mitsuo Kimura: Not only am I inspired by animation and computer games, but things like flowers, old masters, paintings, Japanese traditional papers and Buddhist art works and philosophy as well.
When I was little, I often went to the flower shop with my mom and she taught me many flower names. I think I learned to use vivid colors in my paintings from flowers.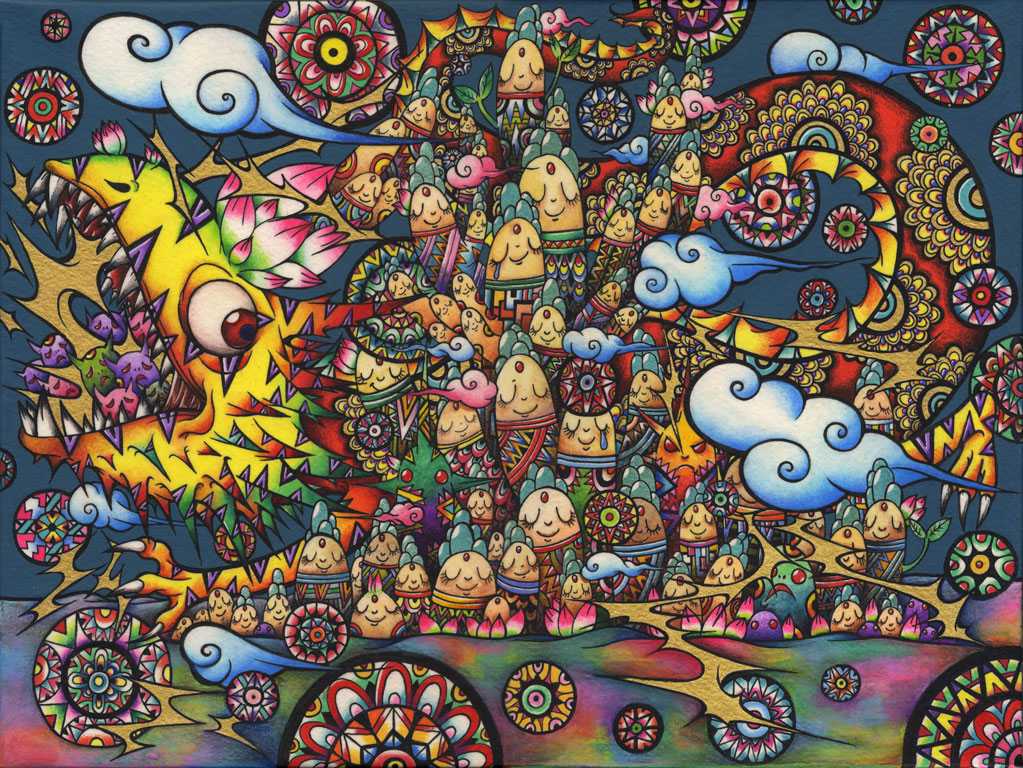 Japanese culture seems to be a definite influence, particularly anime.  Do you like anime?
When I was a child, I watched many TV cartoons; however, I don't know much about animation.  Although I'd have to say that Shigeru Mizuki is probably one of my favorites. Everyday I was surrounded by those styles. I got my art style naturally from them.
When did you start making art?  How did those pieces compare to today's?
I still remember my mom giving me a sketchbook and colored pencils when I was a kindergartner. I was really excited about them and I painted butterflies like those from an encyclopedia, but she told me I didn't have a gift for art. I was upset and threw them away.  After that, I drew pictures secretly.  When I was a junior high school student I drew them seriously because I was being bullied at school. I wanted to escape from my suffering. This was when I really started pursuing art. Recently my style has changed a lot, but both my new and old works still have many details and are very colorful.
What is the process in creating one of your pieces?
First, I usually walk around the city and read a newspaper.  I draw a lot of images and write down some notes for the painting. After I get an image, I stretch a paper on wood panel and then I draw a rough sketch on paper, after that I draw my main line with ink.  That's is my favorite part.  Finally, I paint each character with acrylics.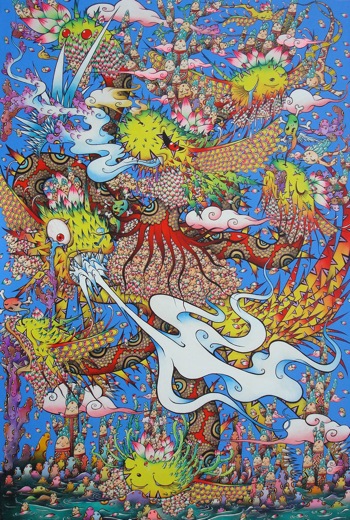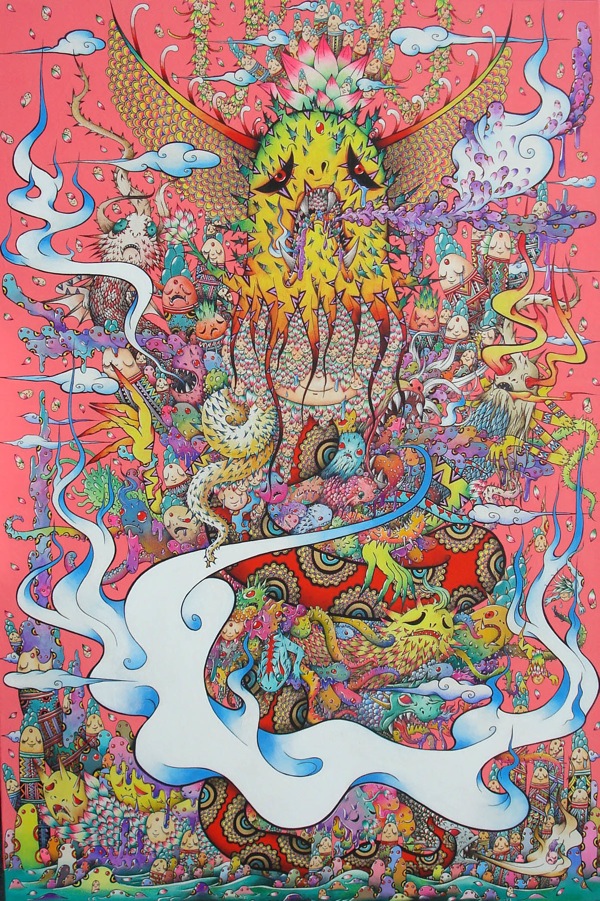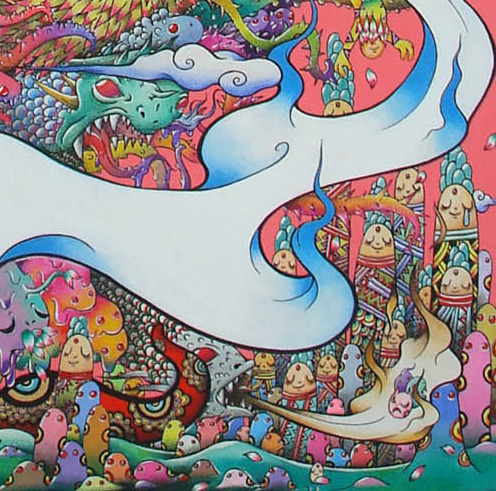 Detail
Who are you mentors?  Why?
That's a pretty difficult question for me because my mentors could be my parents, friends and nature. They always encourage me; I really appreciate it. However if I were to choose an artist, I would say Yayoi Kusama.  She is a very famous Japanese artist worldwide.  I have known her works since I was in university; they are really eccentric and unique. Her great success story absolutely inspires me. She is now 80 years old, but she's still so energetic. She's one of my favorite artists.
What advice would you give budding artists?
My advice would be to work hard and respect curators. Honestly, even if I could succeed with my works, I would definitely say I am still a budding artist. I know a Canadian artist named Nicholas Di Genova; he came to LE Gallery when I was showing my art works for the curator. He was really interested in my works and he invited me to visit his studio.  He is a very successful Canadian artist, yet he is very modest and kind even though I'm nameless. He's another one of my favorites.
You have so many pieces; do you plan to publish any art books in the near future?
I have no idea right now if I will publish my art in a book.  It would be fantastic though. Someone I know who works in a publishing company came to the opening party for the solo exhibit.  She talked to me about publishing my works.  I might get good news!
Do you have any upcoming exhibitions to look forward to?
I haven't made up my mind yet. At last, I have my first solo exhibition in my life.  This is the beginning of my artist's life.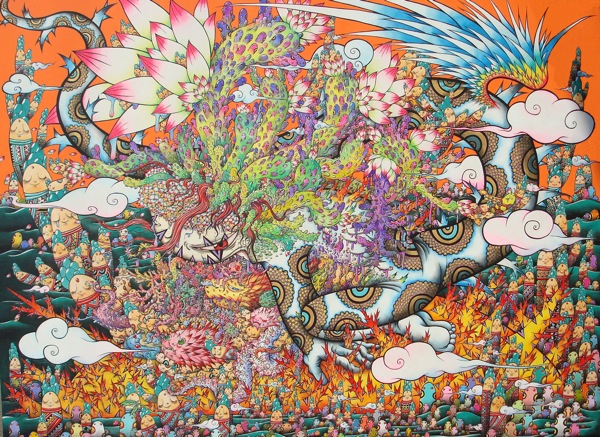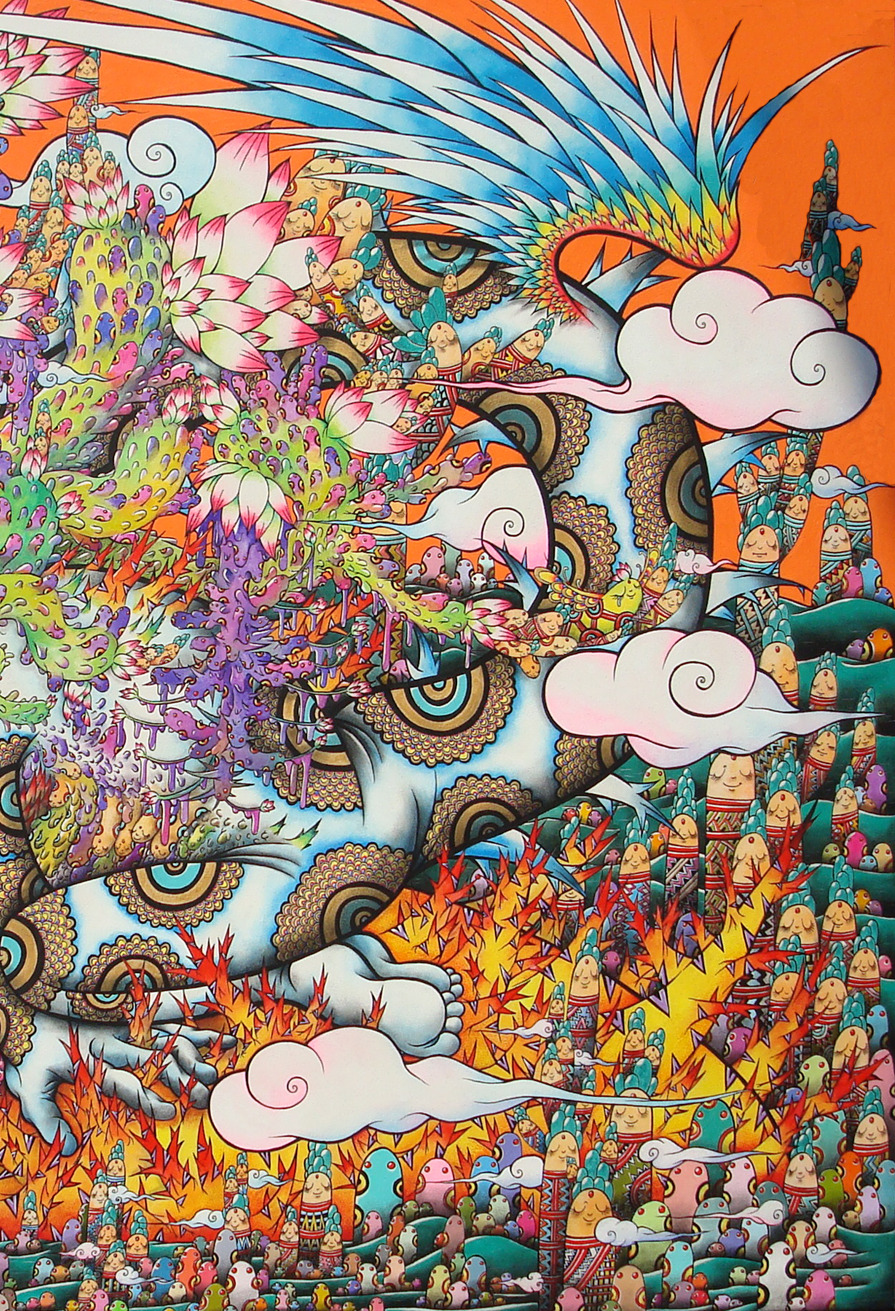 Detail shot