Bouncy Ball Installation: Nike Savvas
Juxtapoz // Friday, 29 Jan 2010
1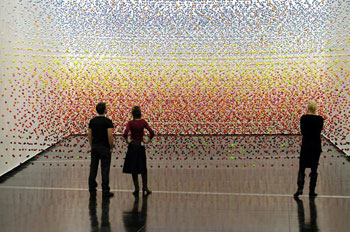 Who doesn't like bouncy balls? They can be surprisingly entertaining, especially when you collect thousands of them to fashion a remarkable installation, as did Nike Savvas.
Designed by Australian Nike Savvas, Full of Love and Full of Wonder represents the very atoms that are the fundamental structural units of all things.
The mesmerizing piece produces an extraordinary optical effect as brightly-colored miniature balls swing within the gallery space. When looked at from a distance it looks like a haze of color over a hot landscape, or an abstract painting that has exploded.