Boris Hoppek Evades Police, Plays with Mud and Makes a Couple Videos at Fame Fest
Juxtapoz // Wednesday, 15 Sep 2010
1
Hoppek has gained notoriety for his signature characters and at times erotically charged imagery that doesn't actually show anything but is highly suggestive (like a women lying under crocheted blankets having a good time, if you get our drift).
Back to Italy: Hoppek acted out a piece walking throughout the town, which was captured on video below. "It was very exciting and funny, definitely a weird thing to do in this small town," reports Fame Fest organizer Angelo Milano. "But we soon realized from the reactions that everybody was loving it.
"I'm sure somebody did not fully get it but wait, did I? As far as I understood, it's something about immigration (as most of the pieces he did here). It reminds me, indeed, those cars coming from Morocco, so packed with things that they look like they're about to explode…"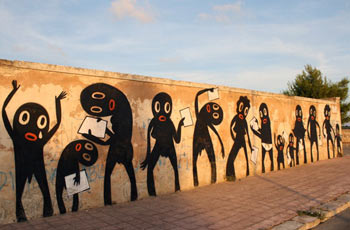 "We also went to the stadium to paint a 30m long illegal piece"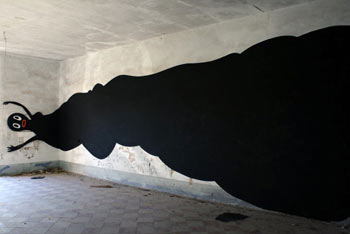 "...and to the abandoned monastery to do some more"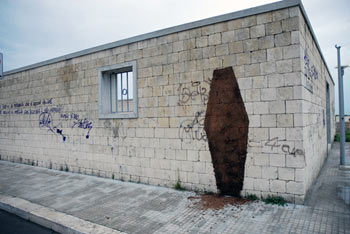 "Bored from painting he decided to do an installation were he covers the drawing with mud."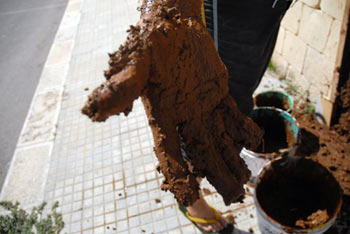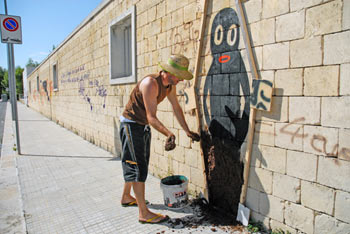 "This had to be fast, I was sure that some cops would have shown up, I mean, we were right below the head quarters of the enemy, we had the town hall and the municipal police station right there and they were watching us from the windows deciding whether to stop us or not," continues Angelo.
"When I told Boris about it he got excited but I had a weird feeling, there is this strange phenomenon going on here that if cops see us painting a spot without permission they pretend not to see, if the councilors see it too, they don't care, but if they both see it at the same time, they feel like they have to play the tough guy in front of the other.
"So, the councilors sent the municipal police to stop us. They came and warned us that the state police were coming to kick our asses and that we had to leave. The thing is, none of them really wanted to stop us but they all felt like they were the authorities in charge and that stopping us was what they were supposed to do. That's what made me nervous, an authority that had to prove to the other authority they were doing what they had to do. Isn't it freaking scary?
"Boris seemed cool though and we finished the wall, you can see the timelapse:"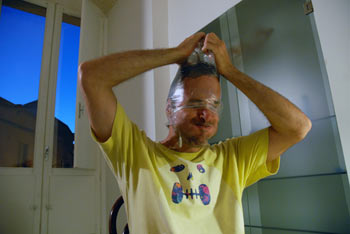 More on Fame Fest at www.famefestival.it
More on Boris Hoppek at www.borishoppek.de