"BOARDED UP": The Art of Surf and Skate
Juxtapoz // Wednesday, 08 Dec 2010
1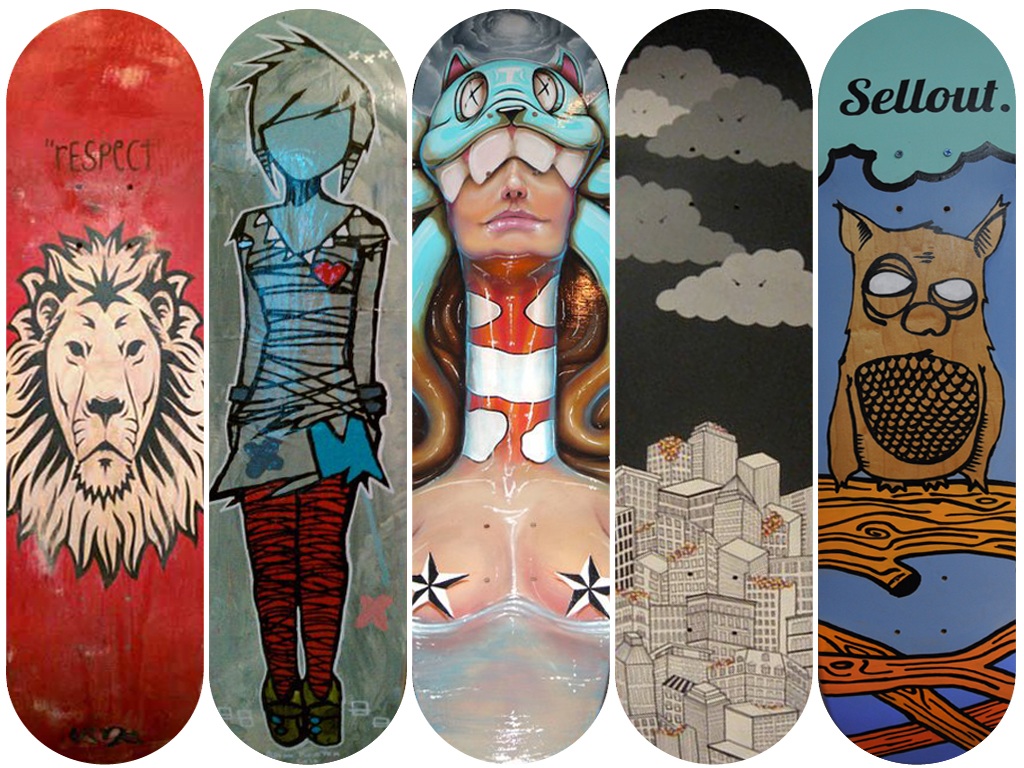 Over the past two years,
Neopopstreetfunk
has established itself as a fixture in the Houston art scene, organizing art events that offer burgeoning local and national artists a showcase to display their highly sought after works of art.  This time benefiting the Surfrider Foundation, Neopopstreetfunk is honored to present "Boarded Up" – The Art of Surf and Skate, a Gulf Coast Charity event featuring over 250 skateboard decks and surfboards painted by over 100 Houston and National artists, with proceeds going to The Surfrider Foundation, a grassroots non-profit organization dedicated to the protection and enjoyment of the world's oceans, waves and beaches for all people, through conservation, activism, research and education.


Debuting Saturday, December 11th and running until January 2nd 2011, "Boarded Up" will blend the varied, eclectic styles and attitudes for which Houston and National artists are becoming known for with the hardcore edge, creative verve and the ecological awareness of skate and surf culture.  With over 250 individual skate decks and surf boards painted by all walks of life, Boarded Up promises an ambitious display of wildy different perspectives using an array of mediums and styles not often seen in one show.
Join us for a night of celebrating art, music and mindless banter.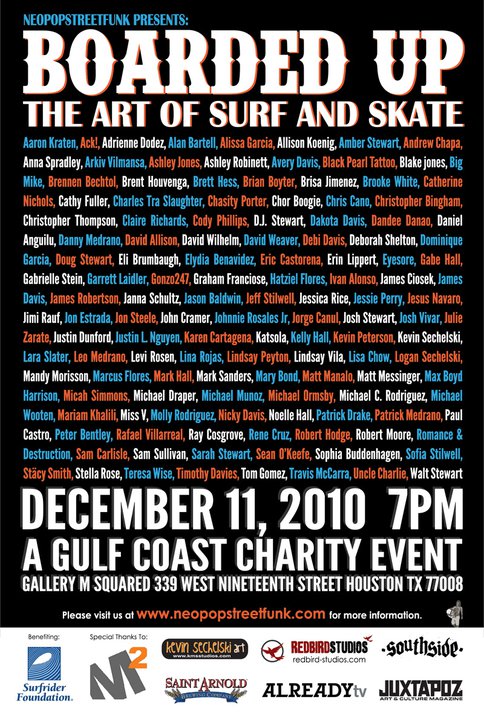 All Skate and Surf boards will be for sale at the opening, Saturday, December 11 at 7 pm.

Music by DJ Saba
Boarded Up – The Art of Surf and Skate is a Neopopstreetfunk production.

"BOARDED UP" – THE ART OF SURF and SKATE
OPENING NIGHT: December 11, 2010 @ 7 pm?
December 11, 2010 – January 2,  2011
GALLERY M SQUARED
339 WEST NINETEENTH STREET
HOUSTON, TEXAS