Blik Introduces Hybrid Design Graphics
Juxtapoz // Friday, 23 Apr 2010
1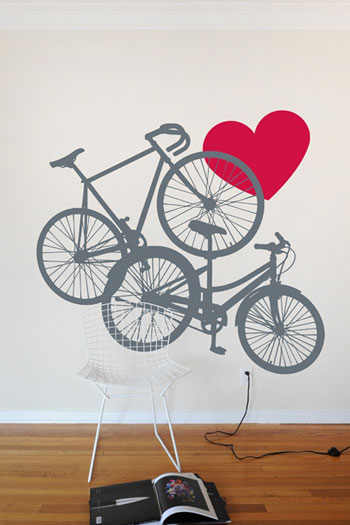 Are you old enough to remember breakout? Did you grow up obsessing over robots? If so, you'll love the playful new graphics from Hybrid Design.
Blik, a maker of self-adhesive surface graphics, today announced a new partnership with San Francisco-based design duo Hybrid Design.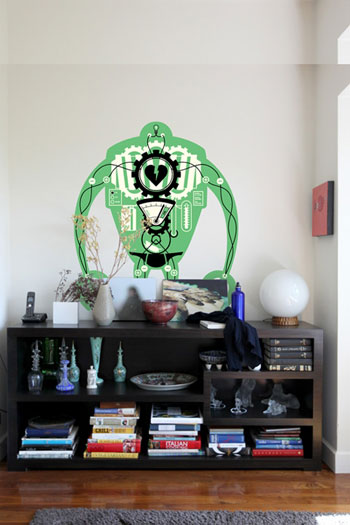 The non-traditional design firm created four graphics for Blik: "Visible Robot", "Visible Ghost", "Bike Love" and "Heart Breakout." ??Hybrid Design is the brainchild of husband and wife team of Brian Flynn and Dora Drimalas. Blik was drawn to Brian and Dora's diverse, yet complementary design styles, in addition to Dora's home accessories line, Hybrid Home.
When choosing what existing Hybrid images to select for Blik, Brian and Dora focused on graphics that have a strong emotional attachment for their customers. ??"Our work comes from inside of us - a graphic narration of what we are thinking," said Flynn. "We try to find ways to say things that are somewhat universal, but in our own unique way that twists obvious meanings with individual references."
Hybrid Design's graphics tell a visual story: whether it's a first crush in "Bike Love" or the memory of playing Atari's Breakout for the first time in "Heart Breakout." The four images are a graphic narration of feelings played out by a visual collage of influences. Look closely at the "Visible Robot" - do you see the insides on the outside? Afraid of the dark? "Visible Ghost" will keep the ghosts away.
The entire line of Hyrbid Design for Blik graphics is available online at Blik. Prices range from $50-$85.
http://www.whatisblik.com