"Black Acid Co-op" Replicates Meth Lab
Juxtapoz // Friday, 24 Jul 2009
1
"Black Acid Co-op is the work of the New York artists Jonah Freeman and Justin Lowe. It is the third incarnation of Hello Meth Lab in the Sun, which opened last spring at Ballroom Marfa, a certified alternative space in Marfa, Tex. The Marfa version, which I happened to see, was made by Mr. Freeman, Mr. Lowe and Alexandre Singh, another New York artist.

"The piece traveled to Miami Basel in December, where it was seen by many people, including Jeffrey Deitch, the owner of Deitch Projects, who decided to bring it north.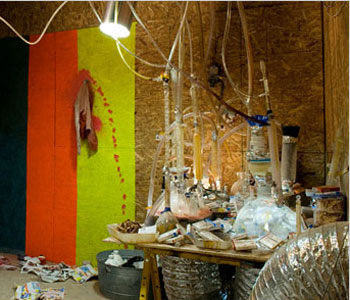 "Like Alice's rabbit hole, Black Acid Co-op will take you as deep as you want to go, especially once you recognize the careful attention to detail throughout this mammoth effort. Nothing is accidental. Its disparate spaces sustain ever-closer readings and parsings, like a series of archaeological sites in perpetual excavation, and there are frequent cross-references.

Jonah Freeman and Justin Lowe: Black Acid Co-op is on view through August 15, 2009 at Deitch Projects in New York City.
Read the full NY Times review here.