Birdsong and Machine Sounds from Chloe Early
Juxtapoz // Sunday, 03 Oct 2010
1
Early's new series takes inspiration from classical art, myth and memory to immortalize an epic visual encounter with John Milton's Paradise Lost. A contemporary narrative about Adam and Eve caught between the beauty of nature and the fallout of post industrialization, Birdsong and Machine Sounds consists of twelve oil paintings on linen, aluminum and perspex.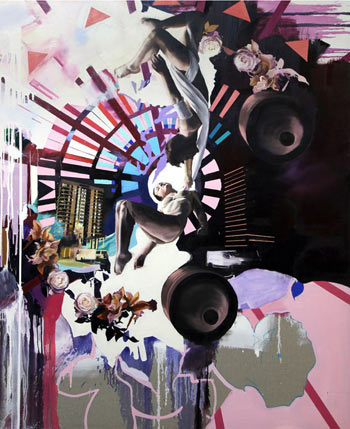 Early skillfully presents opposing themes with powerful fluidity to capture the dichotomy between utopia and dystopia. "In my paintings I am aiming to create a new kind of gravity where I can examine the potential for good and bad, light and dark," Early notes.
Achieving an otherworldly effect in time and space as well as encompassing feelings of beauty and decay, spillage and wreckage, Early's paintings arrest motion. Flying machines and suspended figures populate energetic, abstracted backgrounds as floral wreathes curl around figures, machine parts and engines float and decay, and bullets fly and buildings collapse.
Special guest artist Amy Sol will also be exhibiting upstairs in the loft space with Dear Milky Way.
Opening Reception Saturday, October 23, 2010 from 7?10pm
On View October 23 - November 10, 2010
Corey Helford Gallery
More on Chloe Early at chloeearly.com
See our studio visit with Chloe over here.