Beyond The Pink: Buff Monster's Latest
Juxtapoz // Saturday, 31 Jul 2010
1
For Beyond The Pink, his fourth solo exhibition at Corey Helford Gallery, Buff Monster creates a new series of acrylic-on-panel works that radiate with his signature pink neons, Superflat style, and disarmingly subversive characters. The artist's futuristic playgrounds bounce with creative expression as multi-hued argyle pyramids intermix with melting facades and floating faces.
Presenting his works in a larger and more detailed context than before, Buff Monster revisits his classic ice cream and maraschino cherry imagery with an eyeful of fresh inspiration. Returning from his recent travels to open the "Art From The New World" museum exhibition in Bristol, England, the artist adopts a more experimental approach, blending his iconic graphics with new landscapes, as well as introducing portraits for the first time.
"This new body of work is influenced by the history of Western art that I saw throughout Europe. My time at the Louvre viewing Renaissance paintings was truly inspiring. The National Gallery in London had some amazing pieces as well. And then visiting the Tate Modern was a bit of a shock after seeing nothing but classical paintings, but the pop stars like Lichtenstein and Warhol still get my pulse racing," Buff Monster adds.
Upstairs in the loft, a vibrant series of flattened metal spray cans customized by Buff Monster will be on display.
Open to the public, the reception for Beyond The Pink will take place on Saturday, September 4 from 7 to 10pm, and the show will be on view until September 22, 2010.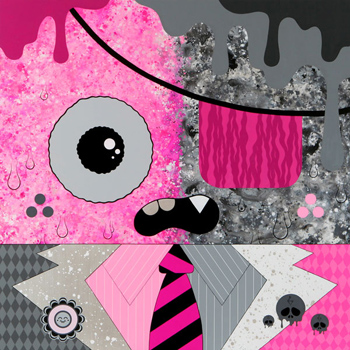 About Buff Monster
Buff Monster lives in Hollywood and cites heavy metal music, ice cream and Japanese culture as major influences. The color pink, a symbol of confidence, individuality and happiness, is present in everything he creates.
Buff Monster's creative endeavors began by putting up thousands of hand-silkscreened posters across Los Angeles and in a number of locations outside the US. His original and one-and-only wheat paste brush as well as frequent poster missions grew into a productive street art career, and he now works on fine art paintings, collectible toys and select design projects.
He paints on wood, taking great care to create his images as flat as possible, and his work has been shown in galleries worldwide, often accompanied by large installations. Buff Monster has released numerous signature vinyl toys to spread his imagery to a larger audience through MINDstyle, and has many other projects in the works with leading toy companies.
For more information about the artist, please visit buffmonster.com.
Buff Monster
Beyond The Pink
Opening Reception Saturday, September 4, 2010 from 7?10pm
On View September 4 – September 22, 2010
Corey Helford Gallery
8522 Washington Boulevard
Culver City, CA 90232
T: 310-287-2340
Open Tuesday - Saturday, Noon to 6:00pm