Behind the Scenes: Tokyo Nonsense at Scion Space LA
Juxtapoz // Monday, 06 Oct 2008
1
BEHIND THE SCENES AT SCION/SPACE:
Tokyo Nonsense
October 4 - October 25, 2008
Curated by: Gabriel Ritter
Featuring work by Chim Pom, Ichiro Endo, Taro Izumi, Ai Kato (ai madonna), Sachiko Kazama, and Iichiro Tanaka

Scion Installation L.A.
3521 Helms Avenue (at National)
Culver City, CA. 90232
310.815.8840
Hours: Wed-Sat 11am-6pm and by appointment

Featuring: Chim Pom, Ichiro Endo, Taro Izumi, Ai Kato (ai madonna), Sachiko Kazama, Iichiro Tanaka
Words and photos by Trina Calderon

In a world of controlled chaos, aka Tokyo to these artists, show curator Gabriel Ritter has pulled together a group show that gives social critique and the nonsense of a city that most associate with bright electronics and sushi.

"I am trying to put together an idea of what emerging art in Tokyo is right now. Most of the artists have studied together at a school called Bigaku in Tokyo, and many of them are students of the artist Makoto Aida. He's like the anti-Murakami, with a style more informed by Garo, an indie comic book that's come up since the 60's. It's gritty, sometimes violent, and always non-sensical, but at the base of all of those and the show is a critique of contemporary Japanese culture."

The name of the show has multiple meanings. Tokyo refers to all the artists whom either live or work in the city. Nonsense is a term taken from a few references in Japan's history. In the 30's, it was used to label a very decadent culture that was born of western influence. The television, literature, theatre, and newspapers tried to set the status quo, thus it was a critique of 'nonsense.' In the 60's, it popped up again in the global protest movement, which in Japan focused on nuclear proliferation and the AMPO Treaty (which allowed nukes and a Japanese army). The students protested in the streets of Tokyo and termed the current politics 'nonsense'.

The show is made up of six artists, one of which is the performance group, Chim Pom, which translates to a word that sounds very much like penis in Japanese. They have a great diorama of Shibuya titled "Super Rat." Gabriel Ritter describes it as a sense of "gutter humor." The piece's title is making fun of Murakami's 'super flat.' The model has working monitors and real rats that have been taxidermied and painted as Peekachu.

"It is playing off Godzilla, rats taking over Tokyo, and at the same time a critique is going on here. These artists are kind of coming up from back alleys and dredging up dirt people don't like to see. They are bringing up a dirty side of society and it's still palatable." They also have an amazing video installation, "Black of Death."

I don't want to give too much away because I am really hoping they get this up on youtube soon. It's a video that shows them hitting the Tokyo streets with stuffed crows to bring attention to the "Crow Nazi," the Mayor of Tokyo and his policy on the large crow population in the city. He has set traps to capture the crows and burn them. Chim Pom went out with large stuffed crows and megaphones and ran around the city screaming "Caw, Caw." Hundreds of crows followed them thru Tokyo and they have a great video of what happened which pinnacles with a visit to the Mayor's house. This is RAD and ties in nonsense in yet another way. "The word has multiple meanings," according to Ritter, "what is nonsense can be meaningful."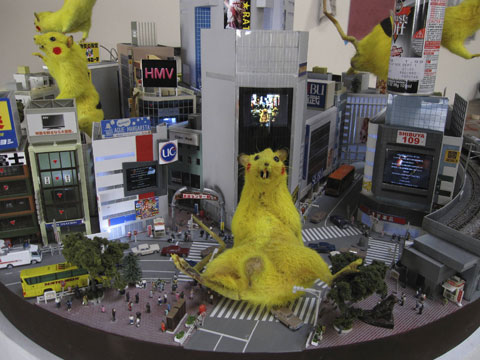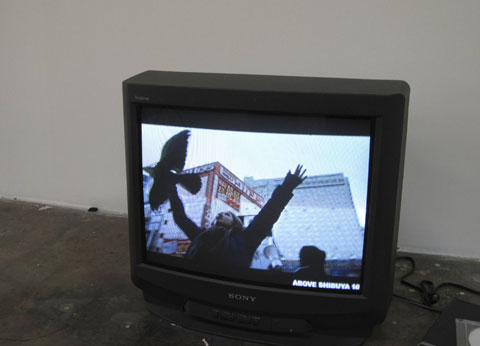 Ai Kato has a live painting installation she will execute at the opening. What I was able to view was a preview of her hilarious style. She paints every weekend on fellow artist and friend Endo Ichiro's van in the Aki Habra district, famous for the maid cafes, Otaku animations, and wild fashion. She draws a lot of male attention because not only is she adorable, but she also paints these erotic images of anime girls.

The piece in the show is a makeshift greenhouse that she painted girls gossiping to each other about nothing onto, with literally balloons of phrases like "Do you know Choo Choo? Oh yeah, I know Choo Choo." Ai Kato has no gallery representation, she is a straight street artist who has probably the most literal use of the word nonsense seen in her work in the show.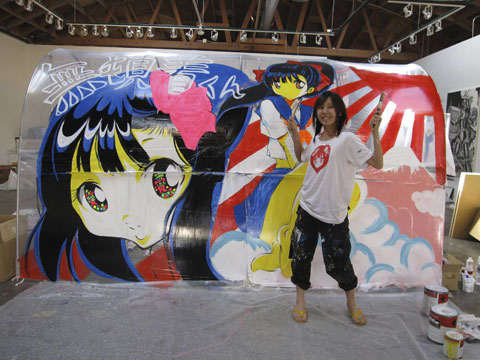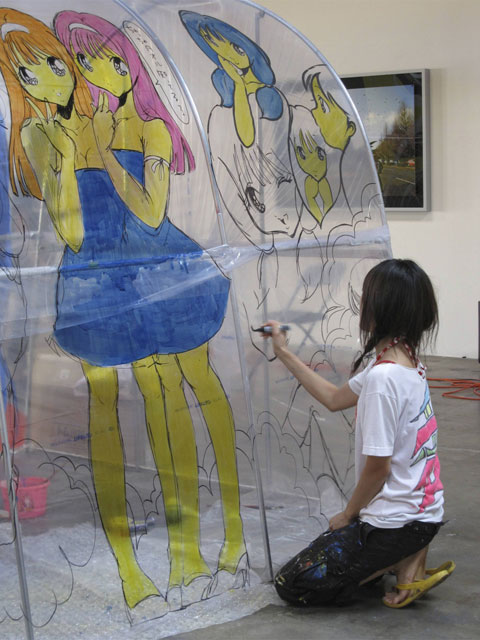 Sachiko Kazama uses very traditional woodblock printing in communicating her take on social and political issues she sees in Tokyo. Ritter explained one unique piece, "This is an image of a park in Tokyo which actually exists. This image exists, but it doesn't have these gas masks. People who are lying on the floor in real life are not being killed by toxic gas, but they are being oppressed by everyday society because they are homeless. The only place they have left to live is the park."

Her use of black and white is bold and makes her pictures of Tokyo life very raw. "She is bringing these important issues that are going on on a social level in everyday Japan to life in a dark satirical way. It's a little easier to palate real life when you poke fun at it." Sachiko's images are not the neon lights and Murakami that you may see in Tokyo, but they are what is happening if you really choose to look.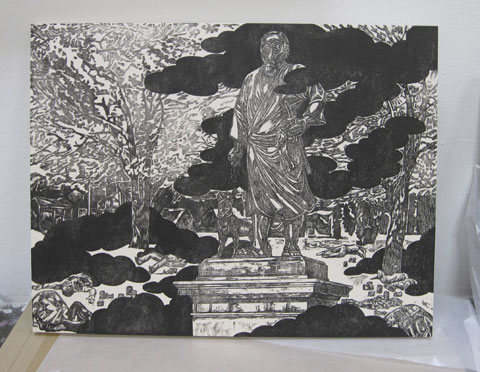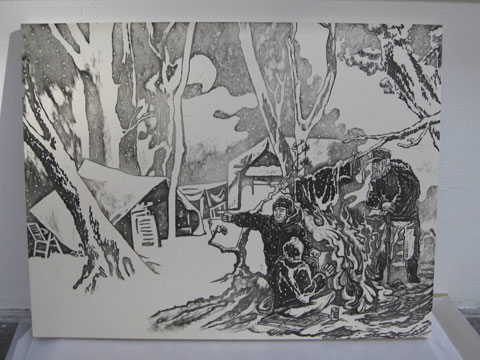 Performance artist and painter Ichiro Endo is "the bright spot of the show." He is a student of the Bigaku school, and has a live installation piece he is doing at the opening. He plans to tear down printed images of Hollywood, and Tokyo that are stapled to a huge mural painting he did in bright expressive colors that reads 'Hello' and has a large photo of the Earth.

Endo is the optimist of the show, and he has a very genuine intention for what he is doing here on Earth and for what we can do together. Though it sounds close to impossible, his perspective on life is both utopian and realistic. Ritter rounded up the show with Endo, "If the rest of the show is showing you the dark side of Tokyo, he is trying to show that we can break thru to the other side, that there is hope…That's what these artists are doing, they're not giving up despite the circumstances that preside over their life and Tokyo right now. It's just a glimpse of what's going on in Tokyo, but it's not to say that this can't be applied to what going on anywhere else.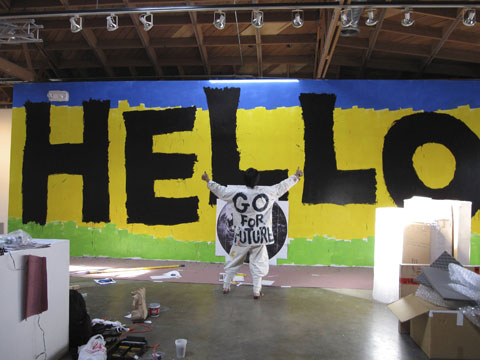 More on the artists in Tokyo Nonsense here and at www.scion.com/space