Behind the Scenes: Preparing Marci Washington's Cover Story
Juxtapoz // Monday, 05 Apr 2010
1
Interviewer Kristin Farr guides us through the process of working and talking with Marci Washington:
On a lovely evening in January, I hopped a train to Berkelely, CA to meet Marci Washington at the home she shares with her finacé, artist Deth P. Sun. Marci and Deth have a blog cataloguing their art and adventures, and their studio is in a converted garage out back, perfectly sized for two prolific artists in love. They were best buddies during undergraduate school at CCA, and have been together ever since.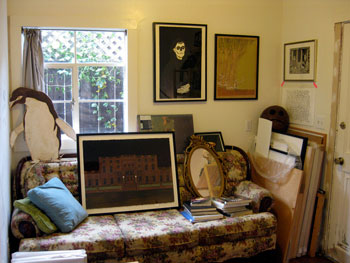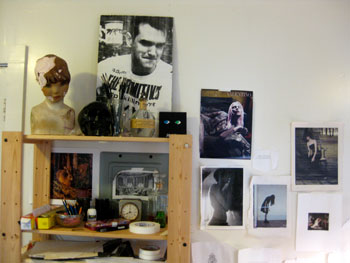 Marci and I settled on her couch for the interview, drinking tea, and chatting for hours like giddy school girls. She told me about the few months she'd spent in an old house in a tiny Utah town when she was younger, and about her unsettling experiences with ghosts.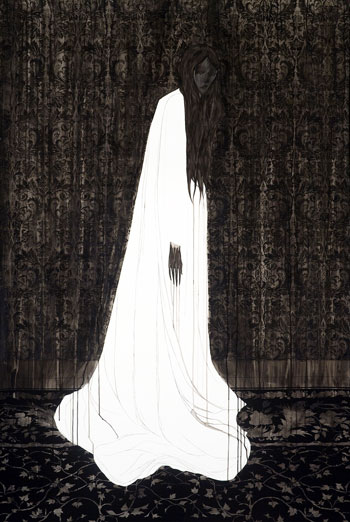 "Like that one painting of the ghost, the woman in the white gown, I didn't plan to have a face on it," Marci explains in her print feature. "I laid down the paint and it was all wet […] I came back an d where it had dried there was an eye! That was the first ghost I painted."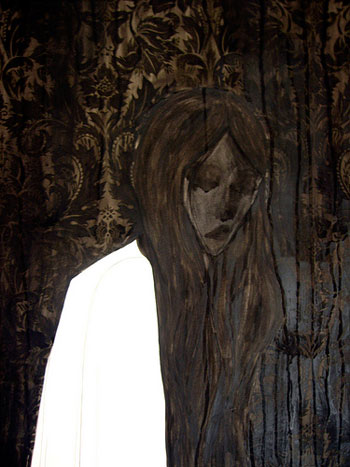 We talked about everything from Chanel shoes to her special tricks for keeping snails out of her garden (baked egg shells), and she even pulled out a beautiful old quilt made by her grandmother that she's been restoring. We also discovered a dark secret about each other – we'd both just watched the film, "Confessions of a Shopaholic," and had actually enjoyed its critique of American consumer culture and the fictional narrative people create for themselves based on new, lusted-after luxury items.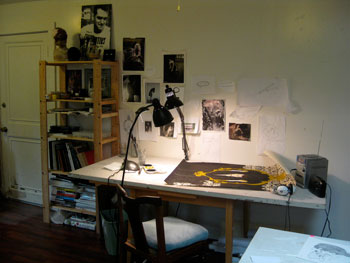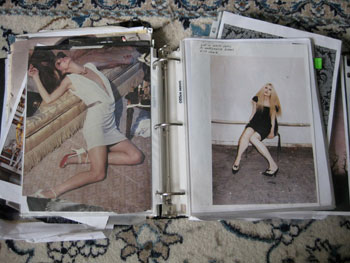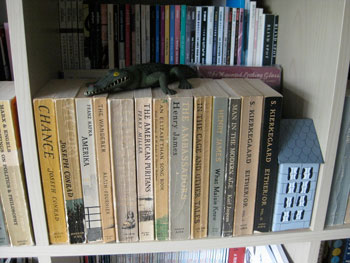 Marci is one of the smartest people I've ever met. She's a major history buff and had recently been reading a collection of 19th Century German gothic poems, a few of which she read aloud to me. Filled with dark drama, these poems seemed like they were made to illustrate her paintings. Interestingly, Marci didn't seek out the poems; she came across them in her collection of book covers designed by Edward Gorey. The poems found her, much like the ghosts in her paintings who sometimes appear unexpectedly. Marci also showed me her amazing binder of images she collects for inspiration.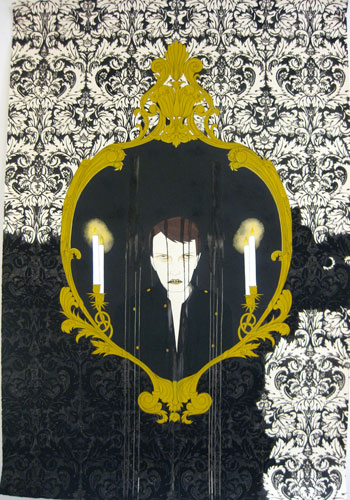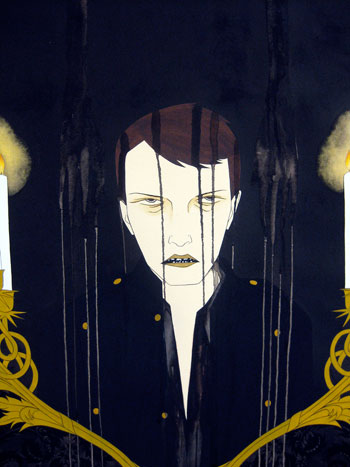 Marci was working on a new piece featuring one of her main characters, The Cannibal, looking into a mirror. She is interested in bringing her audience into the painting, and the mirror image is her latest experiment. Her art is extensively layered with meaning and, like all great art, viewers' personal experiences will inform its message. When fulfilling their destiny, Marci's characters will haunt you.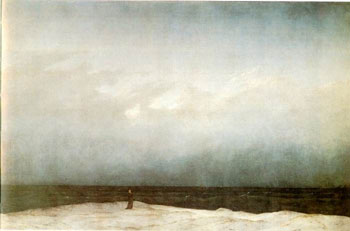 Inspired by romantic landscape paintings, Marci cites Monk by the Sea by Caspar David Friedrich as one of her favorite paintings (which she also references towards the end of her print feature in issue #111).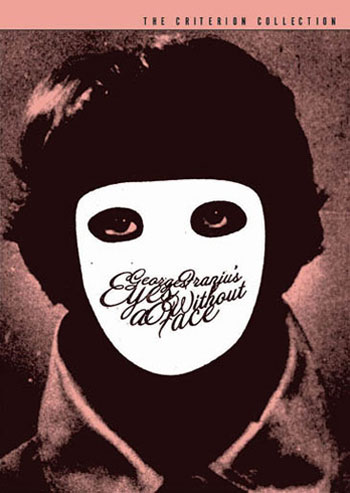 A list of Marci's favorite books and films would be extensive, and would include Eyes Without a Face (a French Nationalist analogy about a man who tries to replace his daughter's face with a new one), The Texas Chainsaw Massacre, and writings by the Brontë Sisters.
Marci's paintings were featured in a recent Hollywood horror flick, Jennifer's Body, so I rented it. The film stars Megan Fox and Amada Seyfriend and her work appears right before an intimate scene between the two actresses.
While she's much more dynamic than the average cover girl, Marci's work has already appeared on multiple covers, including the Juxtpoz Dark Arts Book and this month's subscriber cover. Stay tuned to see what Marci conjures up next.

More on Marci Washington at www.marciwashington.com and in our current April 2010 issue.