Behind the Scenes of a Juxtapoz Feature with Eine
Juxtapoz // Monday, 01 Dec 2008
1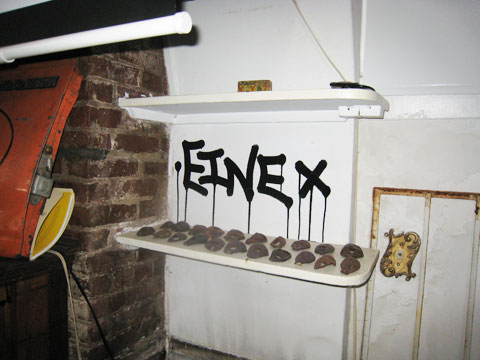 By now, we know you loyal Juxtapoz fans out there have read our current December 2008 issue cover to cover, so you already know all about London-based graffiti, street, and gallery artist Eine.

Because you're such an expert on this amazingly talented artist, get to know him even better in some behind the scenes shots of our day spent with him in New York City, where we met up with Eine at the infamous Chelsea Hotel. There we sat down for a four-hour long interview and photo shoot with photographer Sam Bassett.

Eine openly talked with us about his start on the streets of London, tagging anything that was nailed down, his 12-year 'stint' at London insurance giant Lloyds of London (all the while still getting up on the streets!) and his more recent experimentation with new and unusual mediums that put most other street artists to shame.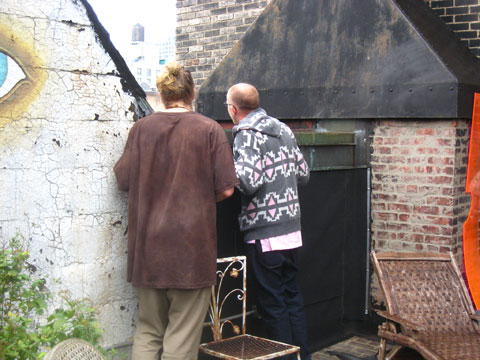 Eine and photographer Sam survey the roof of the Chelsea Hotel to find a good spot for his Juxtapoz portrait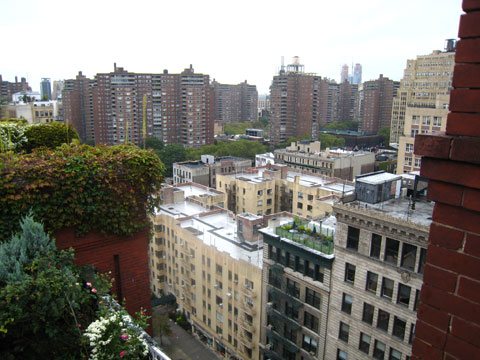 Amazing view, 15 stories above Manhattan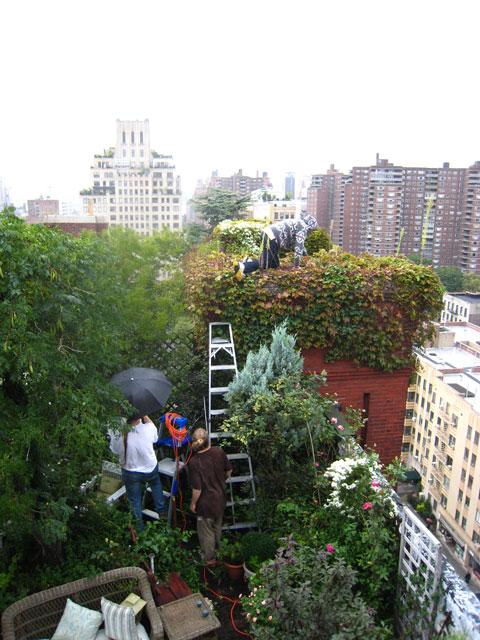 We settle on Eine sitting on a somewhat dangerous ledge overlooking the cityscape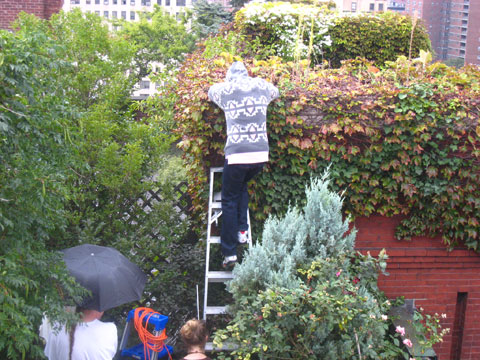 Good thing Eine has a background as a graf artist. He wasn't nervous about scaling the roof at all- despite gusty winds, a slight rain, and slippery shoes.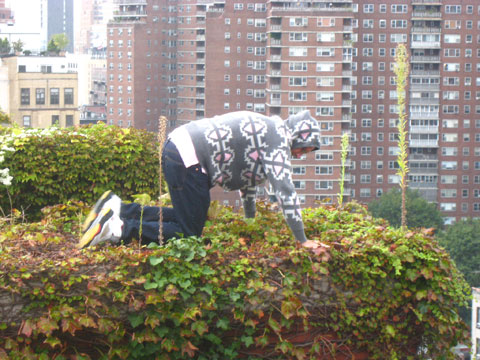 What a trooper. Eine crawls his way over to his designated portrait spot on the edge of the roof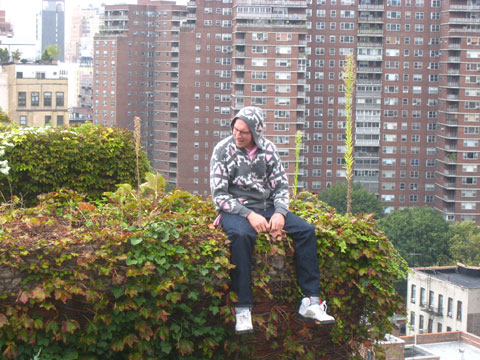 "What the hell am I doing up here? Americans are so fucking daft!" is probably what Eine was thinking here...but he was such a sport and stayed up in the rain and wind for 45 minutes until we go the perfect shot (which is now in our December 2008 issue)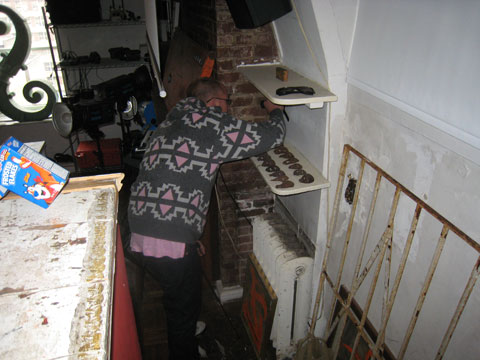 Back in the comforts of Sam's studio, Eine takes the opportunity to do what he does best: write on walls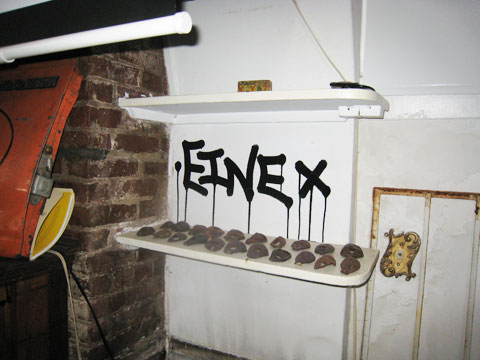 A permanent reminder of a job well done now marks Sam's studio wall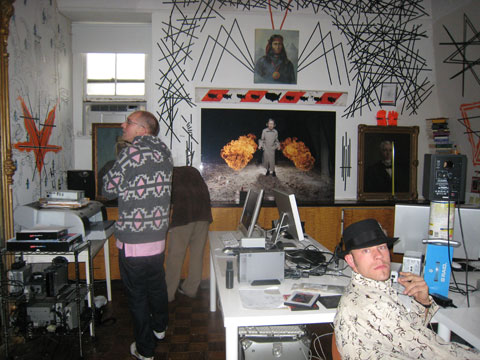 Eine checks out Sam's work. There was an amazing photo of an old woman carrying fire torches in the background. Badass.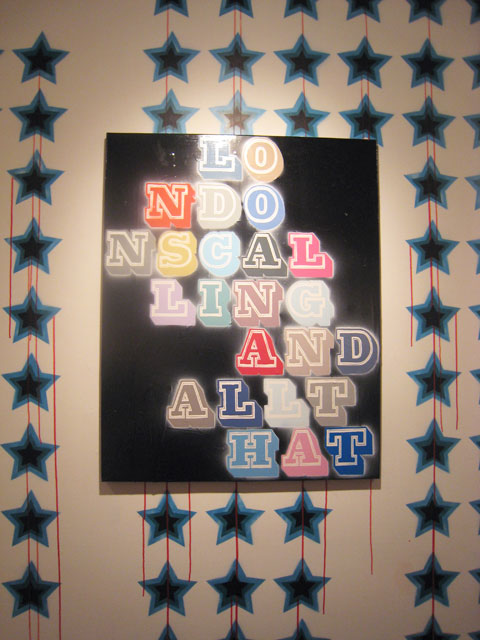 Later on that night, we head over to the gallery opening at Ad Hoc to see Eine's newest work. We love this piece, London Is Calling and All That.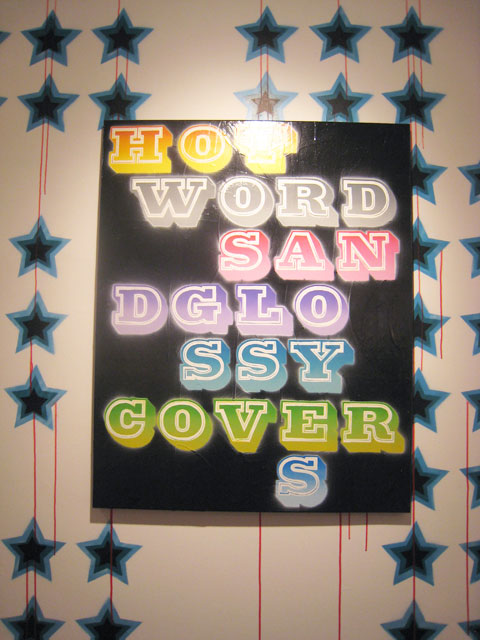 Hot Words and Glossy Covers. Eine is inspired by phrases and words he sees on the streets and in magazines, books, etc which he later incorporates into gallery paintings.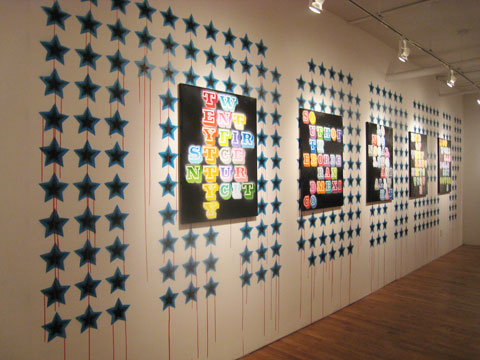 Eine took over an entire gallery wall with his new paintings. The installation mural in the background reads "Money" and is all written in tiny spray painted stars.
To learn more about Eine and see his final portrait, pick up a copy of our December 2008 issue.

More info on Eine at www.einesigns.co.uk