Behind the Scenes at Scion Space: Flux Super 8
Juxtapoz // Thursday, 20 Aug 2009
1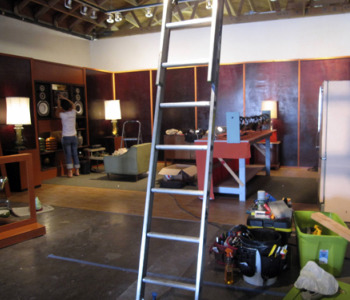 Text by Trina Calderon
RESFEST founder Jonathan Wells and designer/gallerist Meg Wells head up Flux, a creative global community collective. They have helped organize a show at Scion Space featuring some of the top video artists in the world and their site-specific installations. This is Scion Space's first total video art group show, and it is really special. The artists are top notch and their work is amazing. Juxtapoz contributer Trina Calderon spent an afternoon watching them install and spoke with a few of the artists about their contribution to the show.
Jannes Hendrikz flew out from Cape Town, South Africa to represent The Blackheart Gang. Along with Ree Treweek and Marcus Smit they make up a gang of artists who collaborate and just plain have fun making video art. Their first venture, Ringo (2004) is a music video project they teamed up with many to complete. It can be seen here: http://theblackheartgang.com/the-household/ringo-2004/
The Household is a world they have created in which many of their stories have been developed from. Jannes brought parts of the Tale of How to Scion Space to give us a closer look. Some of the original drawings are on exhibit, sculptures of the birds, as well as a book they have finally been able to publish with many of the prints made from the drawings. Ree draws, Jannes does the compositing work, and Marcus writes and does the music. Of course, they have a batch of other creatives that help them with the final animations, but they are the core imagination. Jannes shared, "To be honest Tale of How doesn't make sense, that's kind of the way we work. It's really frivolous and playful. For me, specifically, and I think for most of guys in the gang, we don't try to find meaning in what we do. It's just a pure form of expression, and having fun and also the collaborative dynamic that we have. It's about just loving working with one another and enjoying the process, hanging out, and creating stuff together. So, it's not something we specifically story we want to tell. It's more like a mood or a feeling, it's just us wanting to express ourselves. Of course, what drives us is a passion to create, to become better artists, so I think whatever medium it takes, it doesn't really matter what we do to be able to do our thing."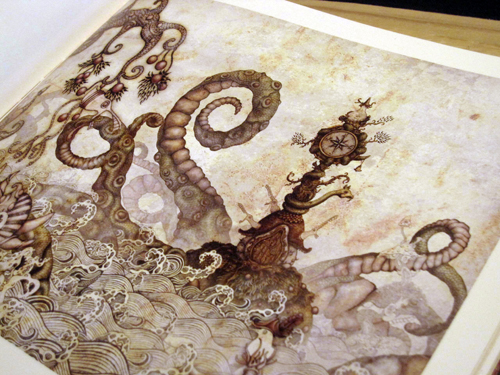 Illustration from Tale of How book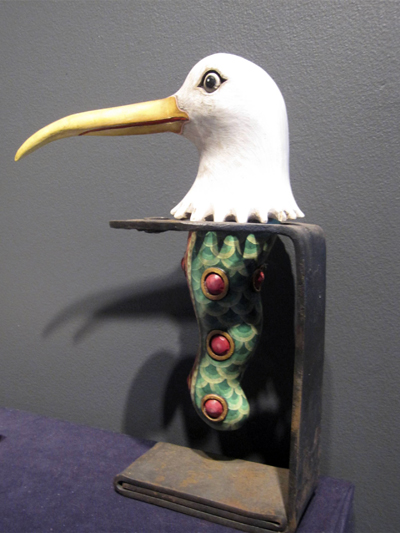 Sculpture of bird from Tale of How
The Tale of How is the middle of a 3 part series in The Household. Jannes explained the process a bit, "Tale of How is based on a history, so it's supposed to be a history. We want the look to be quite textural and tangible. The movie is a mixture of different elements. It's drawings, pen and paper, scanned, colored in Photoshop and we shot live action elements, paint drips and clouds and shot textures all over Cape Town. We kind of mixed everything together to get this kind of very unique looking animation, that's kind of the look." They laid down rugs in their space and set an authentic and very real vibe for their installation.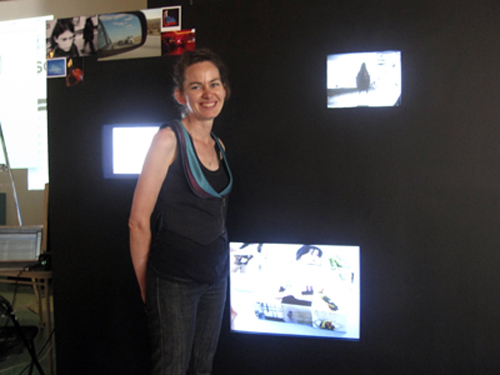 Sophie Gateau
Sophie Gateau, a gifted Parisian video artist, made her space across the large gallery. She installed a wall with 5 video screens to show off different video projects. They include fashion short films, virals she did for Nike, an animation for Coca-Cola, and music videos. Sophie has a strong multi-displinary background and it is a deep well for her as she works successfully in the commercial world to create original work. She explained her work to me, " For this show, I did video work. Five screens with five different videos, and between all the works I will put a lot of pictures that reflects my inspiration, my vibes, who I am. My first job was as an architect, so that is why I am very interested in graphics, architecture, cities, and environment. In my job, I travel a lot, so each time I take a lot of pictures."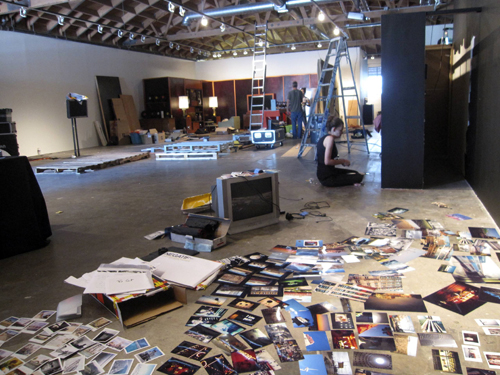 Sophie Installing her Work
Her work is stunning really and she takes perspective and kind of turns it on its head. One of her music videos featured ("Boa" by Eglantine Gouzy, check it out at: http://www.sophiegateau.com/film/category/2/music-video/11/boa-eglantine-gouzy/) is a very cool piece based on cubes. It takes a lot of different pictures of people and changes the pictures within all the cubes as the song plays. She works in After Effects mainly, and you can tell she likes a challenge by the complexity of her ideas. As for being a video artist, she told me, "It's a very cool job. It's nice, and you meet a lot of people. You travel a lot, so that's really good. You just jump from city to city and each time you have to create something new, and that's the sharpness of it. Each time you always have to reinvent your job again in a way, so that's why I like it."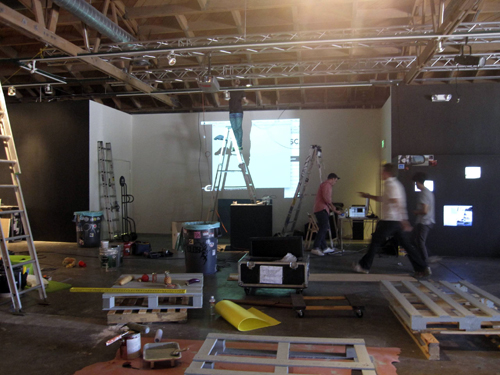 YesYesNo installing. Jonathan Wells passing by as he helps set up the show.
Zach Lieberman and Theo Watson, two of the threesome that make up the collective YesYesNo, installed an interactive video system in their space. Their forte is writing software and building hardware to make video that responds to what is being recorded. Amazing guys, they have all kinds of projects up their sleeves (Please Google openFrameworks or YesYesNo or the Eye-Writer), but for this show they created a world in which you could play with cards, while your recorded image is playing with you, so to speak. The guys met in NY, at Parsons School of Design, while Zach was teaching classes on Algorithmic Animation, and Theo was one of his students. The class taught, amongst other things, ways to use code to do make dynamic artwork and installations, as well as different types of animations and musical expressions. This fascinated Theo and he found his niche and I think a world of possibilities. "Zach and I have been working a lot on developing a creative coding tool that lets people all over the world make interactive installations and dynamic artwork. The whole scene of people doing interactive media has grown in the last few years, whereas we were one of 100-200, now we are one of 20,000- 30,000 people doing this, it's real interesting to see this whole scene emerge. In a funny way, in times of business, it is a real good field to be in because a lot of traditional fields are dying because of the internet and because of this shift from print and TV. What we are doing is really physical, it's about being there and actually.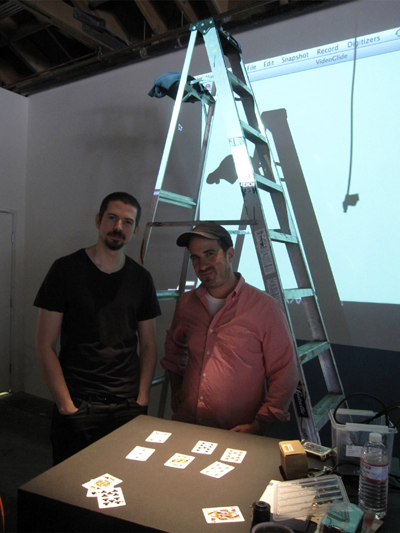 Zack Lieberman and Theo Watson
Check out www.flux.net to see the online epicenter they have nurtured for various people to meet and share their work in all kinds of different mediums.