Behind the Scenes at Scion Space: Big Geezers
Juxtapoz // Friday, 21 Nov 2008
1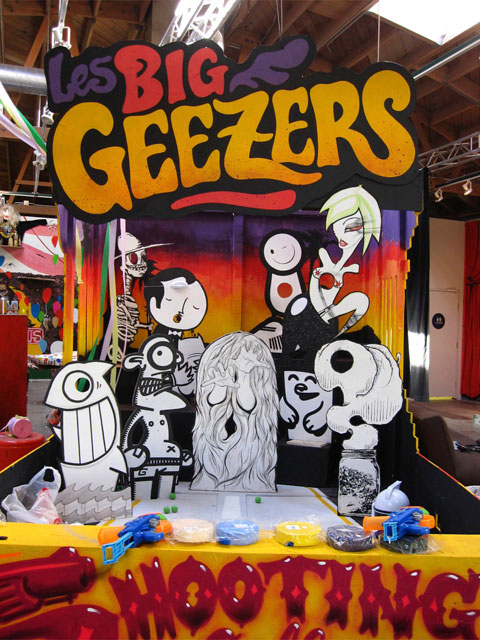 Big Geezers group show features works by the would-be family of European and American artists Minivila, Galo, Flying Fortress, Wayne Horse, Miss Riel, Abner Preis, Pez, Morcky Troubles, and The London Police at the Scion Installation LA Space.

True to their character, the show is wild and we got a chance to corner a few of the participating artists to ask them about their work for Big Geezers.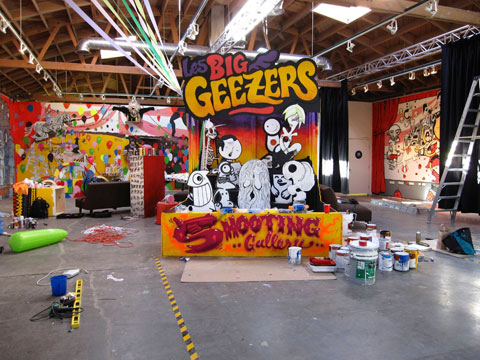 BEHIND THE SCENES AT SCION/SPACE
Big Geezers
November 8 – November 29, 2008
Curated by: The London Police
Scion Installation L.A.
3521 Helms Avenue (at National)
Culver City, CA. 90232
310.815.8840
Hours: Wed-Sat 11am-6pm and by appointment

Words and photos by Trina Calderon
In the spirit of good friends and fun entertainment, The London Police struck Los Angeles in the form of the carny. Big Geezers opened November 8th at Scion/Space with a grand party boasting games and performance art for all.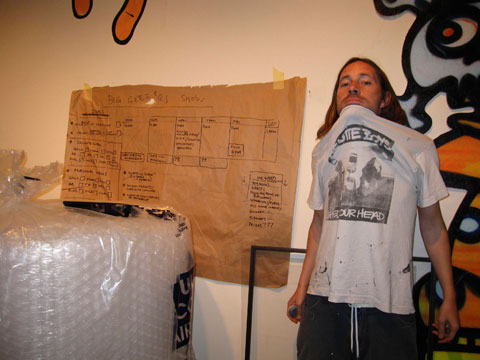 Chaz (above) founding member of the London Police, wanted to change the face of the gallery experience with this show. Every year he tries to pull together amazing artists from around the world – his "geezers" (good friends) – for a group show.

In the past, they have done live painting with the Dandy Warhols, and taken to the road touring together on a bus-hitting city after city in Europe with their art. This time the gang hit Los Angeles, the entertainment capital of the world. The amusement theme rose to the surface and plans were established to create an entertaining gallery experience like no other.

Chaz explained his concept for a more interactive art experience.

"My vision was stemmed from the belief, or my growing apathy with going to shows that are just pictures on walls. I do appreciate most of the time that the art is good work, it's hard work, but it's boring. Half the time, half the people are here for free drinks and I kind of want to shake that up a bit. When people walk into our show this weekend, they're not going to be thinking about free drinks straight away. They will be like, oh, what's going on, there are things happening, and they can get involved."

Participating artists include: Flying Fortress (Germany), Pez (Spain), Galo (Italy), MiniVila (Croatia), Abner Preis (USA), Wayne Horse (Germany), Morcky Troubles (Italy), and Miss Riel (Iceland). Chaz threw in the first idea and then the group collaborated and produced a colorful combination of artwork that also incorporated games (a shooting gallery, wheel of fortune, darts). "It came together like anything does because there's a little magic in there. When you get good geezers together, you make the effort, you get your visions aligned, and magic happens."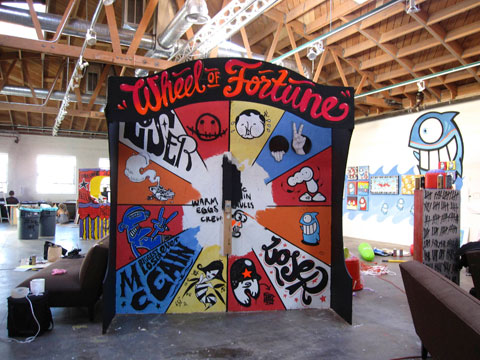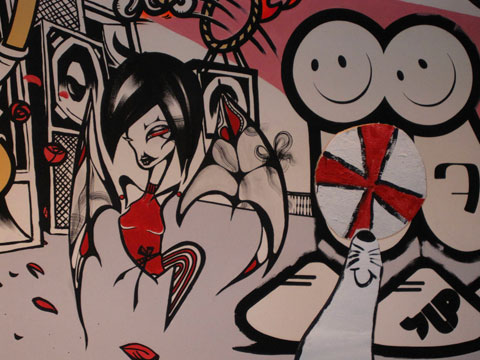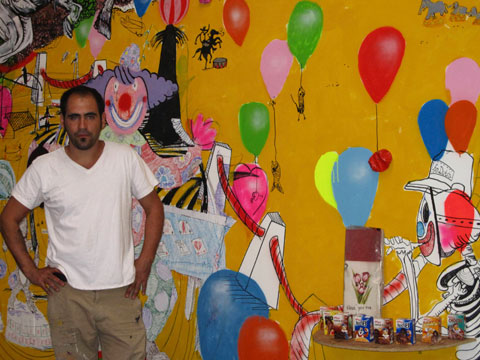 ABNER PREIS
"My work is really based on used materials and things you find in the street, while most of these artists are traditional street artists, whatever that means. My work is based in bringing things from the street inside and turning it over, switching it from being objects that we see everyday, either by putting gold on it or putting white gesso on it. It's a simple twist that makes something discarded into something beautiful, which is really the same thing about many of these artists and their art - it's about making things more beautiful."

Abner is an American artist who has been living in Europe the last eight years. His work has a voice and asks people to be aware of their life and what surrounds them while they live in it with everyone else. He found a piano outside the gallery and brought it in and painted it white and put polka dots all over it. He wrote "You are so beautiful to me" above the keys. "It just means everything has a purpose. Me writing 'you are so beautiful to me' maybe allows people to understand that first, beauty is in the eye of the beholder, and second of all that you are the beholder so you can see the beauty that I've found. Everyday there's beautiful things out there, these are just little messages."

In keeping with the entertainment theme, Abner performed at the opening and told a story of a clown that he also recreated in several pieces in his corner of the exhibit. He collaborated with Wayne Horse in a mural about the circus and it even came with an altar for Axl Rose, one of their fave entertainers.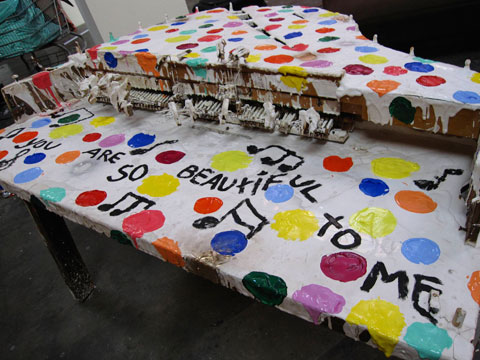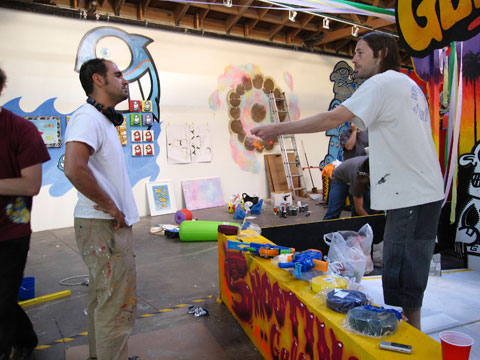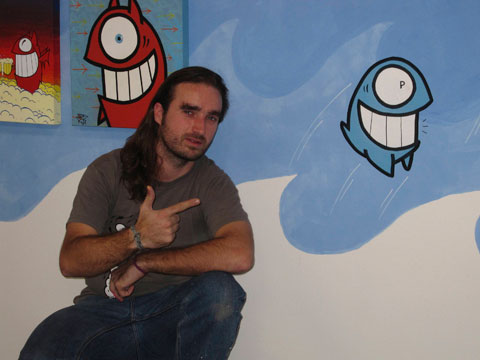 PEZ
Pez (above) means fish in Spanish. And that's what he paints, so that's what we call him. Another geezer of The London Police, Pez filled his space with a cool, colorful ocean-framed mural.

His character, like Galo's, can be seen all over the streets, all over the world. "I started (drawing Pez) in 1999. At the beginning I start with this design, but it was a little bit ugly at the time. (There was an evolution into the happy fish we see today.) I am always looking for new characters to have family of characters – Pez is funny, it is enjoying everything all the time, and he has his friends everywhere in the world."

Dania, a Colombian sculptor (and Pez's wife), incorporates her flying pig character into the mural also. A bronze of the friendly pig with wings sits on a small shelf on the wall as well. The two happy characters compliment each other and make the experience playful. The wall flaunts a new handmade screen print also. Pez told me he used the red spray paint on the background to make it unique from any other prints he produces.

A native of Spain, Pez did not go to art school. When he was young, he watched the street artists in Barcelona and admired how they decorated the streets with their graffiti. "I didn't want to repeat the same style. Some people do style from the 80's, but I didn't want to repeat the same style, same color. It is nothing special then. I want to do something different…My character is funny, and I like to spread good vibrations in the street."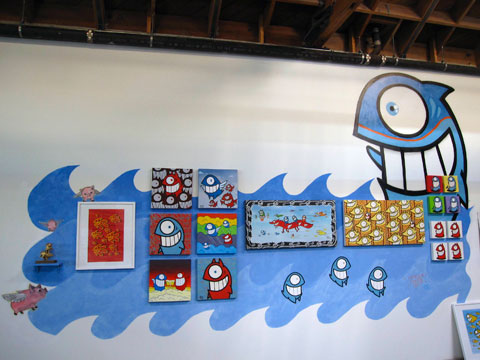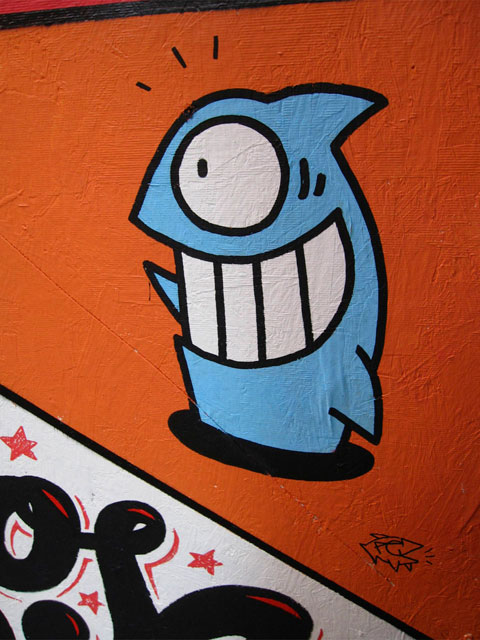 GALO
Soft-spoken and warm, Galo, the painter originally from Torino, Italy, took up a large corner wall in this show, in addition to contributing to the other group projects.

His space is a large mural with his character, the playful little man with big eyes and quite the grill. "I put up these faces, I call them Gigony. Almost all of them, you can decide if they are angry or if they are telling you something funny. Gigoni is Italian word - Gigi is show name of Luigi – Gigoni means big Luigi. It's just a funny name to call some character, some family..."

Galo worked as a graphic designer for years until he had a show in Amsterdam that changed his perspective on his career. He hit the streets with his art and left the computer design world behind. "This is my character, I worked with his face for 10 years. He never has feet. It's my graphic, I started to do it in Amsterdam in the streets, and that's where I met Chaz. I moved from Italy and lived there 10 years. The art scene grew up and changed, and now I'm not doing too much in the street anymore."

Galo does a lot of work on canvas in addition to large installations and big murals on walls in galleries. The back wall of this show features some smaller pieces he did on canvas and there is also a cool Galo strip running along the floor of the gallery. He uses thick, solid lines and bright, bold colors to create his characters and they all have so much emotion. They are often painted close to each other, almost collaged, and make you feel like there is a party happening on the wall!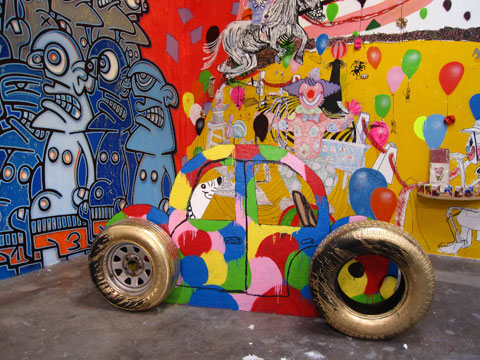 The geezers really went all out on this show and they each want you to be aware and enjoy the experience you have when you visit. Each artist in their own special way contributed to making the show one of the happiest places on earth.
Big Geezers runs through November 29, 2008.
More info on Big Geezers at scion.com/space