Before Your Leave, We Have Some Questions: Interview with Jeff Soto on Lifecycle
Juxtapoz // Thursday, 24 Jun 2010
1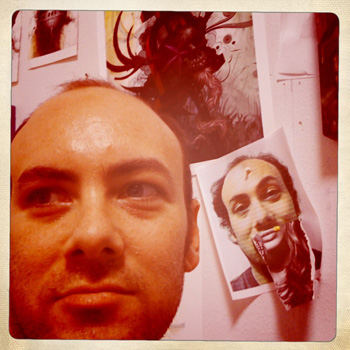 Jeff Soto (Juxtapoz #99) addresses the overwhelming questions of life, death, and the point of what's in between through his new set of works, Lifecycle, opening this Saturday, June 26. As he will be taking some time off after this highly autobiographical exhibit, we caught up with Soto before he disappears and takes a well-deserved hiatus from the art grind.
You say this new series of work "feels like a tipping point or breakthrough - I've been exploring new themes, new techniques, pushing myself out of my comfort zone and possibly breaking the surface into a new direction." Can you elaborate on this all? What caused this breakthrough and from where did you access this desire and ability to experiment?
When I first started showing in galleries ten years ago I was in a way pulled into two directions. I was showing at New Image Art and La Luz de Jesus. They were both showing similar but very different types of work, you know, La Luz had more of a hot rod/lowbrow/illustration thing going on and New Image had more of a raw, underground skate and graffiti culture thing happening.
I think at the time my work fit somewhere in the middle, and still to this day I seem to get props from many sides of this art scene, be it street or pop surrealism or whatever we're calling it. I think my work has reflected that, stylistically, I like to render and paint things realistically but I also like to sand things away, get rough with it and collage things here and there. Mixed media pieces you know? I never really felt like a "painter", I felt that to call myself a painter was too limiting, but for this show I decided to embrace the traditional side of painting, it is something I really enjoy, and there is no doubting that I am a painter.
It is almost like reverse experimentation, I feel like I'm making the kinds of paintings I would have liked to as a 15 year old, but now I have 20 years of making art under my belt. For these new pieces I'm planning them out, making drawings and taking notes. Most of the work from the past ten years was made on the fly, so these are not as spontaneous but more fully realized. I do feel like it's the start of something, I think this is going to lead into some serious large-scale works that take me months to finish.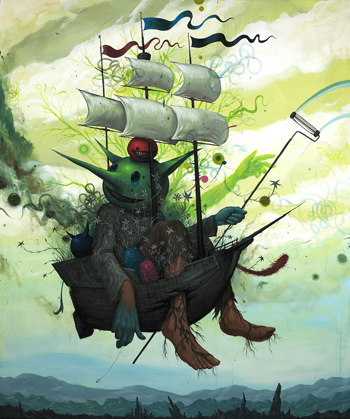 What new techniques have you sought out? Have you been pleased with the results?
I am slowing down how I work. In college I was schooled as an illustrator and we were trained to paint fast when needed. And it has been handy no doubt, but I'm really getting into making major pieces, detail oriented, and taking my time to really complete the piece. So I'm making less pieces, but hopefully viewers can see the extra detail and care I am putting into these. I'm researching working with oils again (started out 20 years ago with them), and seeking out techniques of the old masters. We'll see where it takes me...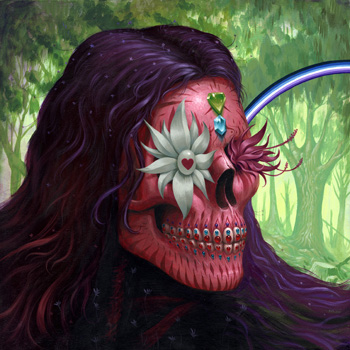 You've also described the experience as "a rollercoaster ride, full of discoveries and failures, emotions and hard work." Why a rollercoaster? What downs did you experience as well as highs?
I have had a few pieces that I repainted several times until I got it right, and that's something that usually does not happen much. One of them took a week when it should have taken a day. The rollercoaster is the highs and lows of self doubt and triumph. I go through it in every piece it seems, and I'm going through it right now with the show as a whole. You think, "Man, this piece kinda sucks", then get back to work on it until it changes to "Wow, not too shabby!" It is draining, and for almost every piece this time I went though that.
You put so much time and energy into a show like this, I mean it has been 6 months of my life, all I've been doing is painting, coming home late, and missing family events. But I love what I do and can't complain. I love making images and I'm thankful for all the support I get.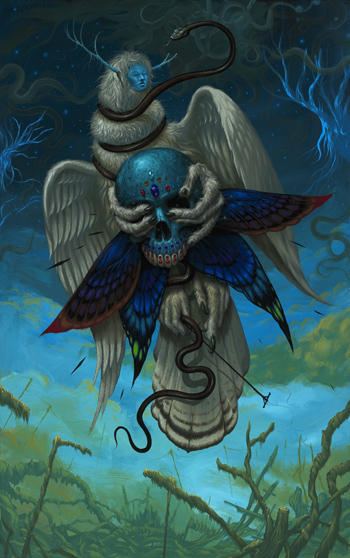 This show will be more personal than those of yours in the past. You say you have "had to dive into the subjects of family and life and death." Why did you feel compelled to go through these emotions via your artwork? Has it been a cathartic experience or do you feel any anticipation about unveiling such a personal side of yourself to the public?
I don't want to go into all of it but I've been looking at myself, my wife, my parents and grandparents and we're all aging, and it's disturbing and interesting at the same time. Then I see my kids just starting their lives, they're so young and full of life and optimistic about the world. Their worries are pretty awesome, like "Daddy, are volcanoes real? Are monsters real? Is lava real?". We were all young and little and if we live to a ripe old age we will have lived our lives, maybe made more lives, and eventually we all die. The lifecycle!
At some point last week I was working on a painting of my wife's skull, and it was a pretty powerful moment, thinking about the fact that she and I will be dead someday. It made me think about my own parents dying, made me think about how I will handle it, and then I started thinking about how my kids would handle us being gone. Then that led to the question of, what if we outlive our kids! How horrible a thought, and it was too much to think about while painting a pink skull! It made me pretty emotional but I just went with it. I had a few moments like that alone painting in my studio. It felt good though, and I feel I am much more emotionally invested in this body of work.
While you're in NYC for your exhibit, you also have plans to create a site-specific mural. What can you tell us about this project?
It is still in the works but I'm going to find some places to paint either legally or illegally. I still enjoy painting outdoors when the opportunity arises, though I don't consider myself in any way a "street" artist. I just like to paint the occasional mural. Reconnects me to my graffiti days.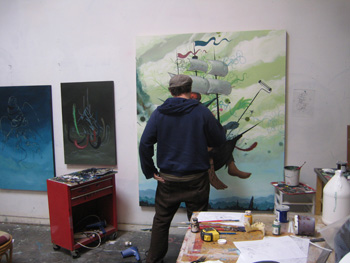 You told us "this will be my last solo exhibit for a while." Why? Do you have anything else planned in the interim?
I just feel like I need a break. It's been rough the past year with a new baby and all the traveling I've been doing. I had a show in London last May when Natalie was 2 months old, and then did a show in Miami at the end of the year, then I jumped directly into this one. So I haven't had a good chance to relax and take it all in yet. I haven't been able to take my kids to the zoo for a long time, really, my whole life has been on hold the last 6 months. I still need to finish my taxes!! Shitttt!
In this time off I think I'm going to pursue teaching a class somewhere, I think it would be fun. I'm going to work on more prints, maybe do some commissions, work on some stories to pitch to Hollywood, and most importantly, going to keep on painting. Hopefully I have a new body of work in a year or so. When I get back from NYC it's going to be all about swimming and eating watermelon and enjoying Summertime. And doing Dad stuff!
Jeff Soto  www.jeffsoto.com
Lifecycle
Solo Exhibition
June 26—July 24, 2010
Opening Reception:
Saturday, June 26, 7—9pm
Jonathan LeVine Gallery