Beautiful Losers x Nike: Lucky Alvarez & Patrick Martinez
Juxtapoz // Monday, 08 Sep 2008
1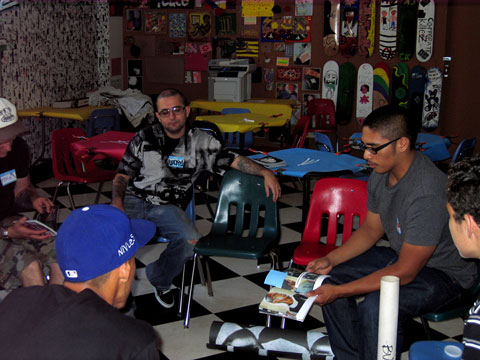 Lucky Alvarez (left) and Patrick Martinez (right) recently dropped by to speak to youth at a Make Something! workshop put on by Beautiful Losers and Nike in Los Angeles.

Beautiful Losers is a feature documentary film directed by Aaron Rose that celebrates the independent and DIY (Do It Yourself) spirit that unified a loose-knit group of American artists who emerged from the underground youth subcultures of skateboarding, graffiti, punk rock, and hip-hop. The documentary tells the story of how a group of outsiders with little or no formal training, and almost no conception or interest of the inner workings of the art world, ended up having an incredible impact on the worlds of art, fashion, music, film, and pop culture.

Make Something! workshops invite local youth to experience creative learning in a non-traditional setting. Workshops focus on subjects such as painting, sculpture, photography, tattoos, music, animation, zines and assorted other subjects that relate to DIY culture. The walls of each "classroom" display many of the works created on-site, and will hence become an ever-evolving gallery of young ideas in artistic practice.

Lucky Alvarez and Patrick Martinez took the opportunity to discuss process, inspiration, DIY, and the use of different mediums with the young, eager crowd. Those lucky kids...