Beautiful Losers, Hebert Baglione, Bruno 9Li, Nunca at
Juxtapoz // Wednesday, 27 Aug 2008
1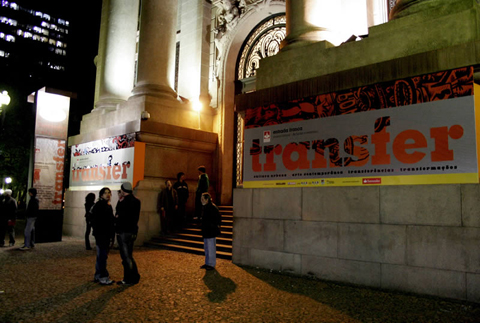 Rapidly emerging as the hot spot for emerging street and urban artists, Brazil recently flexed its artistic muscles once again in a massive show titled Transfer.

Santander Cultural, the biggest art space in Porto Alegre, Brazil, opened its doors for Transfer, the exhibition showcasing street art with photos, videos, live performances, independent rock, skateboard related art (and actual skating!) underground comics, and fanzine art from the last two decades. Transfer also included original artwork and installations from international acclaimed Brazilian artists with roots in urban culture.

Some of our favorite Brazilian artists like Herbert Baglione, Nunca, Titi Freak, and Bruno 9li, as well as American artists such as Barry McGee, Evan Hecox, Shepard Fairey, and Todd James all had pieces in Transfer. Needless to say, the show definitely solidifies Brazil as a creative force to be reckoned with.
From Santander Cultural:

The exhibition is organized in four different sections: Beautiful Losers, Mauditos, Intervencionistas and Street Fine Art.

Beautiful Losers – The partnership with the famous international exhibition brought the work of 27 American artists to Brazil, mostly for the first time, and also the presence of the curator Christian Strike. In this section the public can appreciate prints, photos and videos by artists like Cheryl Dunn, Andy Jenkins, Barry McGee, Evan Hecox, Geoff Mcfetridge, Harmony Korine, Larry Clark, Raymond Pettibon, Shepard Fairey, Steve Powers, Terry Richardson, Todd James, Wes Humpston, Ryan Mcginness, and others.

Mauditos – Late 80s and early 90s Brazilian fine underground graphic artists were reunited for the first time in this section by the curator and artist Fabio Zimbres and Alexandre Cruz (aka Sesper.) Visitors can see an impressive collection of experimental fanzines from various authors and skateboard decks together with never-exposed original drawings from Billy Argel, the artist behind the most famous Brazilian skateboard graphics from the 80s. Old and new works from artists like MZK, Lourenço Muttarelli, Weaver Lima, Lauro Roberto, and Alberto Monteiro are also displayed, proving why they are or could be (some of them are still unknown for most artists even in Brazil) the heroes for the new generation of urban artists.

Intervencionistas – Exhibits images of the most original urban intervention in cities all over Brazil, with painted/pasted artworks by artists as Os Gemeos, Vitché, Alex Hornest, and Sesper and tricks by skaters like Cezar Gordo, Jarbas Alves, Rodrigo Maizena, and Diego Oliveira. Photos and videos showcase the interaction between artists and the city by the unique views from www.Lost.Art.br website and CenporcentoSkate magazine photographers.
Right in the middle of Santander Cultural, in the grand hall, Noh (a skateboard, architecture, and art group) along with the well-known Brazilian architect Pedro Mendes da Rocha, designed a multi-functional space to be used for live performances like music jams and skateboarding. Pro skaters are invited to take over Santander´s art space and adapt to the unusual structure, with forms created by architects who project urban landscapes, and not skateparks. This experiment questions the notion of how spaces for skateboarding should be projected in a time where street skating is by far the most popular way to ride a board.

Street Fine Art – Right now there's a whole new generation of Brazilian artists entering the established art world, producing paintings and installations, traveling around the globe to show their work in independent or mainstream art spaces. Names like Herbert Baglione, Nunca, Titi Freak, and Bruno 9li are getting more and more famous and the prices of their work are rising fast. They don't have the traditional background for artists; most of them haven't had formal art classes, but they share roots in urban cultures and do-it-yourself ethics.
First inspired by overseas counter-cultures, this vibrant new Brazilian art have now many other particular influences, such as pixo reto (Sao Paulo's original graffiti style) and Brazilian folk art. Like in other big cities around the world, these artists are heavily involved with skateboard, independent music, fanzines, indy magazines and videos, but used to working in "third world" conditions and make it happen anyway.

The exhibition runs until September 28th, 2008. More at www.santandercultural.com.br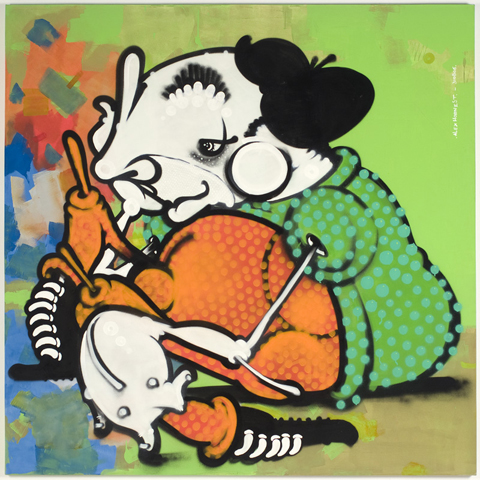 Alex Hornest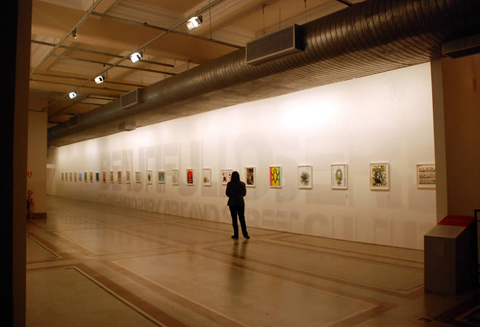 Beautiful Losers prints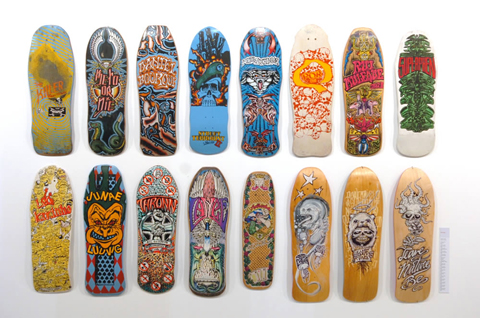 Billy Argel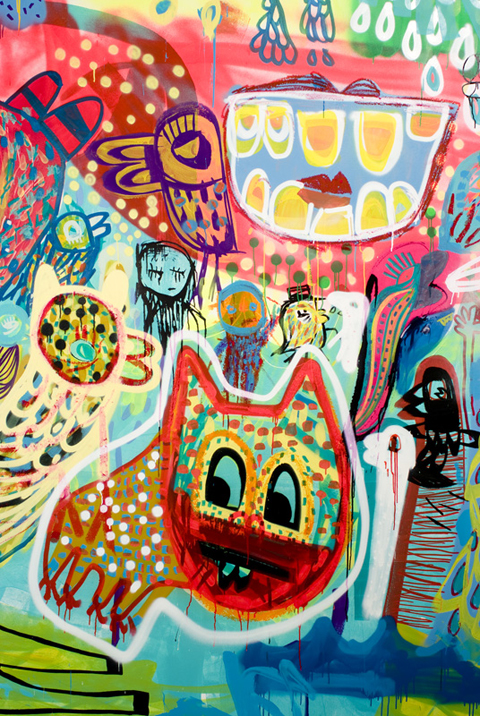 Carlos Dias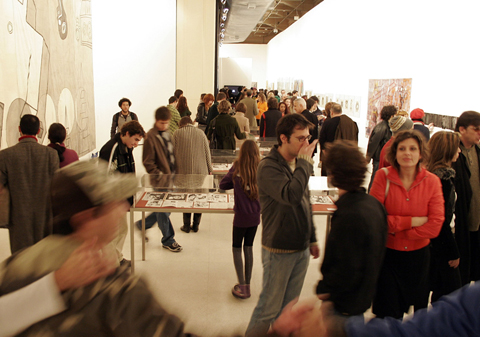 Crowd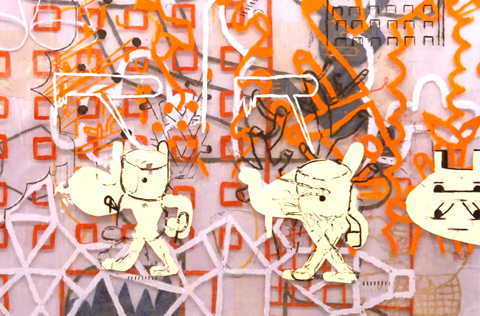 Fabio Zimbres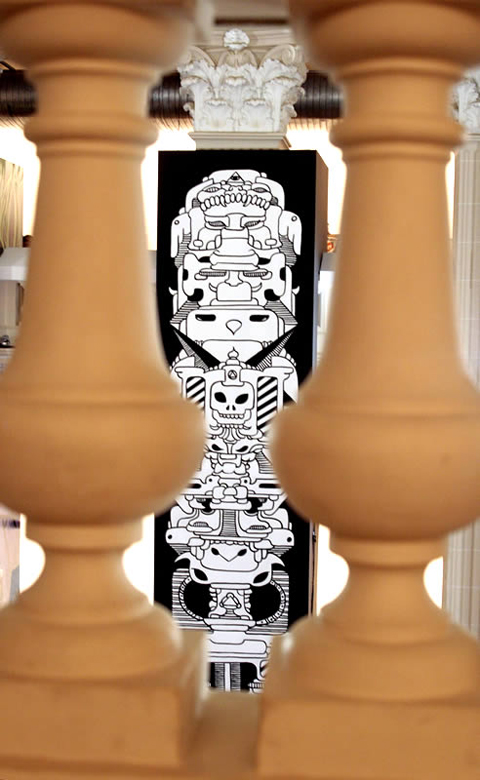 Geraldo Tavares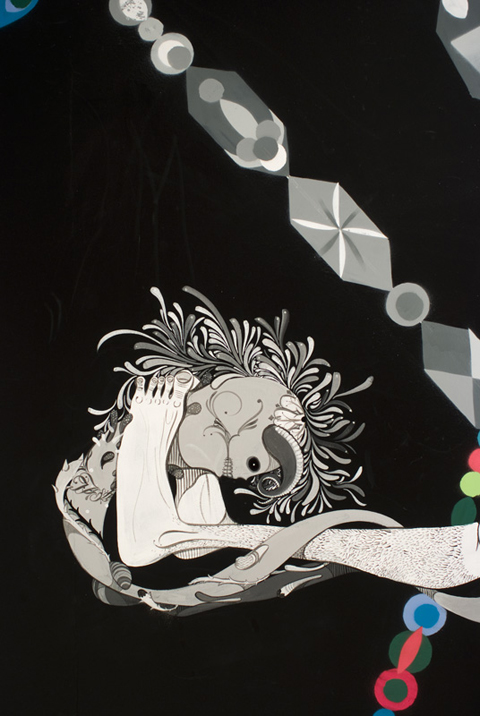 Herbert Baglione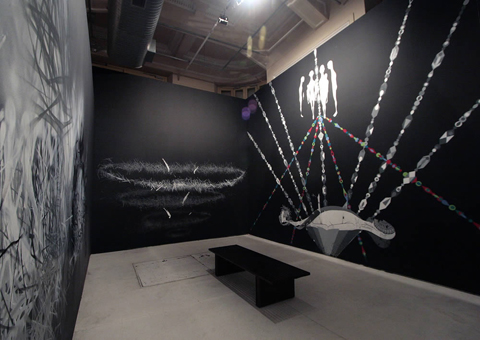 Herbert Baglione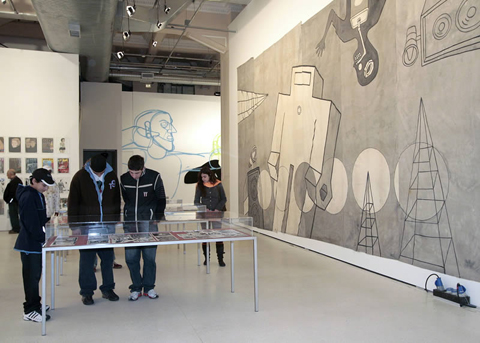 MZK (at right)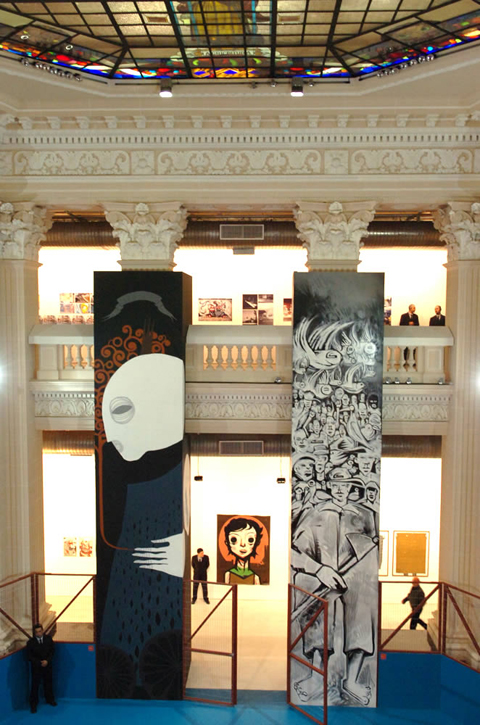 Nina Moraes, Speto Trampo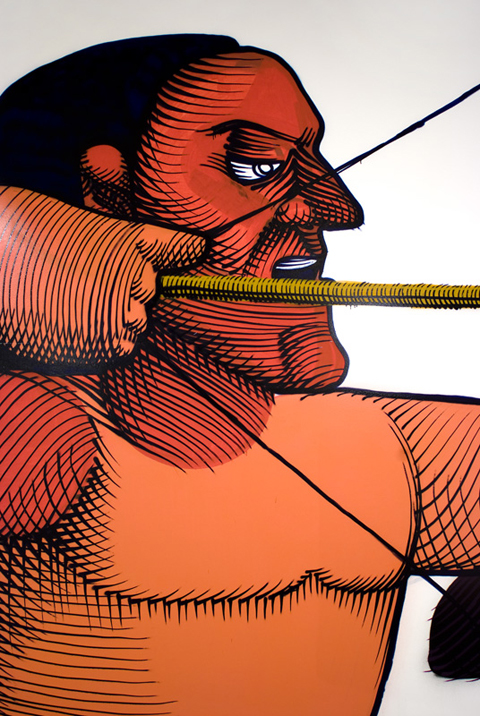 Nunca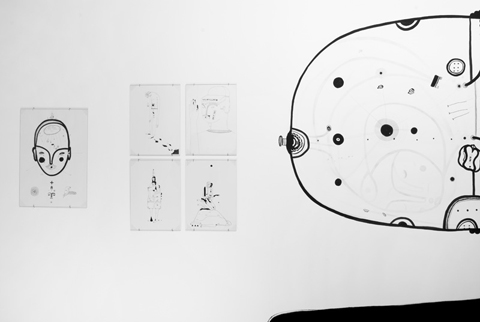 Rim

Skate area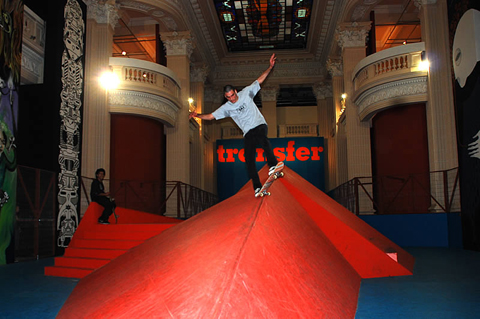 Igor Morshak