Be There: 1333 Minna x Goorin Hat and Art Release
Juxtapoz // Tuesday, 09 Mar 2010
1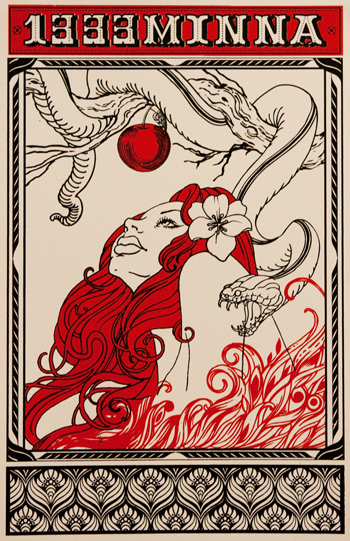 The artists behind wildly popular hat company Goorin are throwing a big release party at their studio at 1333 Minna in San Francisco this weekend to celebrate their new season of apparel. Not only will you get to check out work by Reyes, Steel, Retna, and more but you'll also have an opportunity to snag a limited edition poster (shown above).
"The party at our art studio goes from 9pm to 3am," Steel tells us. This art show will feature Goorin friends involved in the project and some special guests, including Reyes, Steel, Yotaro Sakai, Orly Lacquao, Bert Krak, Retna, Kami, Sasu, and Mike Ryan.
"We have also done a limited edition poster for this event (signed by artists and included with the purchase of a 1333 Minna hat) with me, Amanda Lynn, Reyes and Lango," Steel reveals.
The product release will feature music and drinks this Saturday, March 13th, 2010 from 4 – 8pm at Goorin Hat shop at 1446 Haight St in San Francisco, followed by a special gallery reception at the 1333 Minna studios (located at 1333 Minna Street between 14th and 15th Streets.) It kicks of at 9pm and will continue til the breaka breaka. We'll see you there.
More info and all the sweet new hats and other releases online at www.goorin.com