Barry McGee in Transfer: Do You Get It?
Juxtapoz // Wednesday, 28 Jul 2010
1
In his usual fashion, Barry avoided the spotlight in only working on his piece through the night. The work, which is shown in-progress above, might look unfinished to viewers. In fact, the piece takes a huge step away from the colorful geometric installations he has been producing the past few years. Understandable then, that most expected the artist to cover his allotted space with bright slices of wood and paper accompanied by his trademark 'pimple faces' and framed photographs. He offered anything but.
Barry's completed installation is two walls of nailed brown boarding, one of which bulges out in the wave-like fashion he has been experimenting with as of late. The lower center where the walls meet offers three vintage posters of women with hand-painted letters above. And that's it. No color, no drawings, no photographs.
"I want to know what was going on in his head while he was making it," muses Flip as we discussed the piece later that night at dinner. "I really liked it," offered Herbert Baglione, "I don't like it when artists do the same thing over and over, so this was different."
The discussion progressed, and varying viewpoints were expressed. Whatever opinion, it soon became clear that Barry McGee's simplistic installation was garnering the most conversation of the show thus far.
Maybe Barry was distracted by Brazil's ocean waves and amazing surf, or perhaps the emotional reunion he experienced with Os Gemeos' mother during the trip placed him in a melancholy or contemplative mood which manifested itself through his almost colorless piece. Or, maybe it was what he had planned all along, just to keep viewers guessing.
Whatever his reason, premeditated or not, the final work did get people talking, and maybe that's all that matters anyway.
See Barry McGee's installation in Transfer through October 18 at the Brazilian Cultural Pavilion in Sao Paulo's Ibirapuera Park.
Further details over here.
For more info: www.transfer.art.br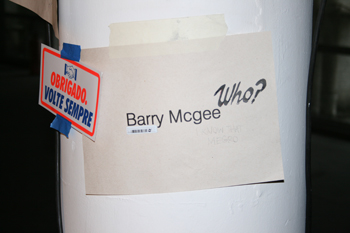 A notation Espo slapped on the wall near his work jokingly asks, "Barry McGee Who?"