Barbara Krueger Adds Site Specific Install to Whitney Museum Outdoor Project
Juxtapoz // Monday, 13 Sep 2010
1
Kruger designed the third Whitney site-specific installation at 820 Washington Street. Here, she has chosen to present the viewer with bold statements that also reference the area's social history. "Because I've spent so many years in lower Manhattan, the streets are rife with remembrance," the artist states. "So I've tried to mark the site with a gathering of words about history, value, and the pleasures and pains of social life."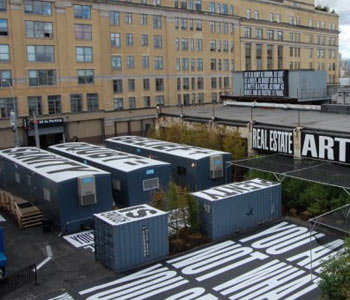 Phrases and words like "REAL ESTATE, ART, MONEY, SEX" automatically generate responses in viewers, both positive and negative. "BELIEF + DOUBT = SANITY" as well as "PLENTY IS ENOUGH" cover container tops, which compliments "YOU ARE NOT WHAT YOU SEE" painted on concrete ground, reminiscent of street signage.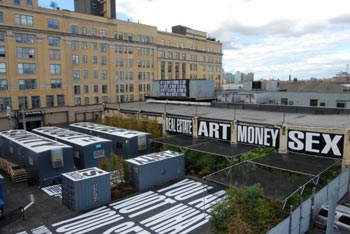 Texts printed on vinyl will also be attached to surfaces around the site at Chelsea High Line, which will be visible from the street as well as atop the actual High Line. It's a great time to be wandering around in NYC, as the summer heat has waned and the winter cold has yet to arrive, so take a look at this installation while you can.
See the installations created by Guyton/Walker and Tauba Auerbach for the same Whitney project over here.