Back to School Design Contest with Vans Custom Culture
Juxtapoz // Monday, 17 May 2010
1
Back to Cchool with Vans Custom Culture
Event Recap by S. Preston
Photos by Ozzie Jack
Vans' first ever Custom Culture event had its closing reception over the weekend at the Orange County Museum of Art. Inspired by a Colorado schools art program, Vans invited students from across the country to submit designs for their Chukka Low, Vans Era, Authentic, and Skate Hi shoe models with the winner receiving a 10,000 dollar donation, and tickets to the Vans Warped Tour. 330 schools from across 48 states participated, with an online vote narrowing it down to 16 schools in 4 regions, letting kids vote themselves for the final 4, encouraging each school to pull together support in their community to place them into them final four. "Our school doesn't pull together like it did for this" Matthew Lutz commented, art teacher at Rio Rancho High School, NM.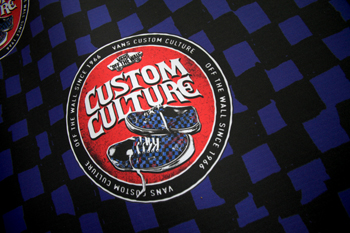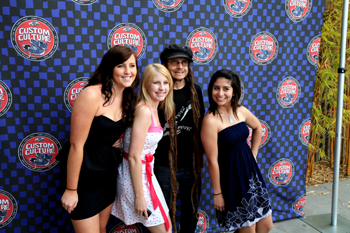 Keith Morris and students


The four finalists were Franklin Pierce High School of Tacoma Washington, Plainview-Old Bethpage/JFK High School of Plainview, New York, Eastern High School of Lousiville, Kentucky and winners Rio Rancho High School from Rio Rancho, New Mexico. The winner was chosen by a panel assembled by Vans that featured skate legend Tony Alva, music icon Keith Morris, actress Nikki Reed of Twilight fame, artist P-Nut, and Kristina Dechter, Editor in Chief of FOAM Magazine. Vans President Kevin Bailey wanted to create a panel with people who have been creative within Vans energy for years, people like Alva, and P-Nut. "I've worn Vans tennis shoes since the very first day they started making them," says Keith Morris. The contest allowed kids to come face to face with some of their counter culture heroes, while being measured by their artistic efforts. "Tony Alva, where's Jay Adams, where's the other Z-Boys? I'm freakin' out over here," said Michael Marcum, member of the winning team from New Mexico, on meeting Alva. "It's awesome to feel noticed by someone you look up to."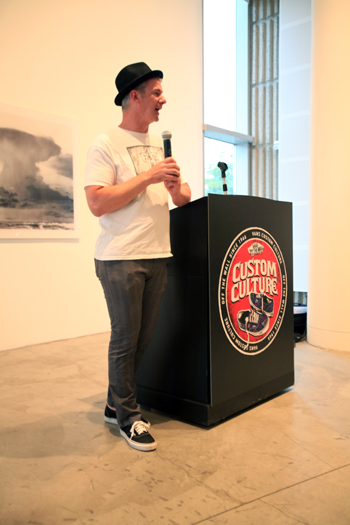 Kevin Bailey talks to the crowd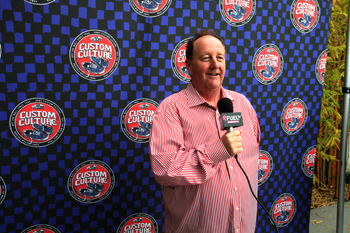 Steve van Doren


The company brought the final 4 teams to California, treated them in true So-Cal style with Wahoo's fish tacos and BBQ, with trip to Disneyland, and wrapped it up with a show at the OC Museum of Art with their designs on display. "Being in California was a treat in itself, and I feel like I had already won," Michael Marcum said. "The company is like a family," Megan Naftol of the Plainview, NY team shared.
This is just another step for a company who has been at the forefront of custom design products since the 1960s. "That's one thing Vans always did from the beginning," Keith Morris talked about, "We gotta have this creativity, we need the box to be open." Bailey also elaborated on the inspiration these kids brought to a company that thrives on the energy of the youth, "You inspire us, we draw inspiration and creativity from all different aspects of it, and you guys participate in that whether it be art, music, action sports, or street and fashion, those are things that inspire us, and we're really proud to have you guys apart of our inspiration."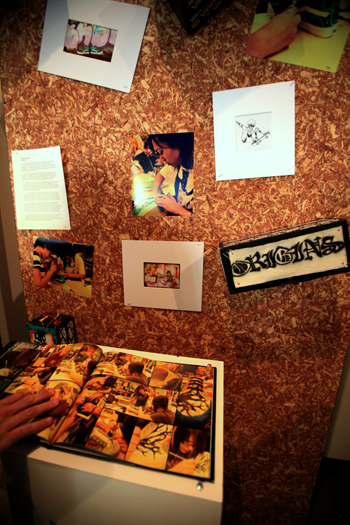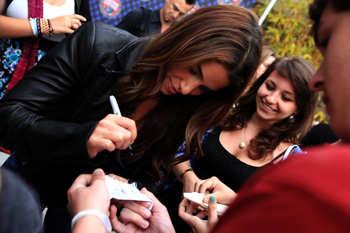 Nikki Reed takes time to autograph for adoring fans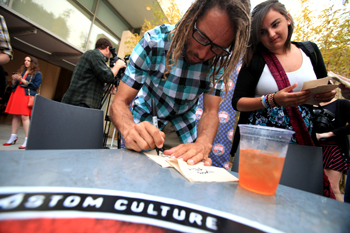 Tony Alva


Although 10 grand was the prize, artistic integrity and hard work were emphasized, both by the students and the company. "All our artwork from our heart went into that, and they really thought it deserved this honor, just to be recognized like this, is insane." Audrey Moss said after the announcement her team had won. "For these kids it wasn't about the money, it was that recognition of their creativity and their passion and their energy and their commitment they put in the project," Bailey continued.
Vans is a company whose main support was once members of the social underground, and now they're having the school system ship them out fresh design talent. It's exciting to see how alternative culture has progressed, and Vans has embraced that. Many of the kids have already made plans to pursue an education in design and fashion. With a struggling school system, the company took it into their own hands to encourage the next generation of artists, and it's nice to see somebody from the community take that initiative. Steve Van Doren, whose father founded Vans summed it up nicely, "They came up with a good idea here cause these kids are stoked."
More information on The Vans Custom Culture event at www.vans.com/customculture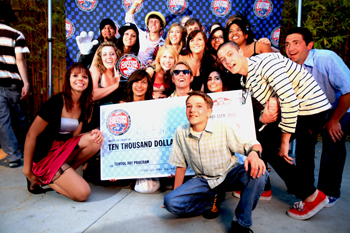 Contest winners from Rio Rancho High School of Rio Rancho, New Mexico