Back Talk—Peat Wollaeger
Juxtapoz // Friday, 25 Feb 2011
1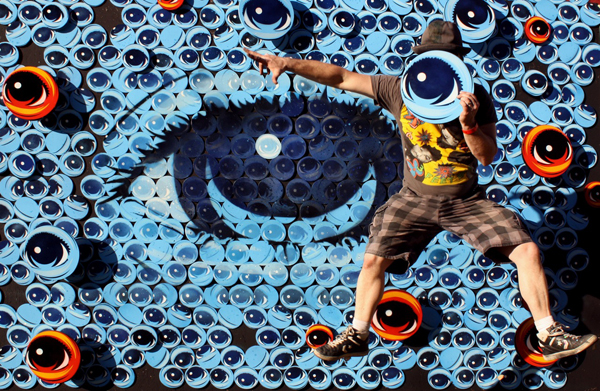 Peat Wollaeger
opens a show in the Project Space at
WWA Gallery in Culver City tonight
, (Feb 25), and to coincide with his showing, we sent out a few Back Talk questions to the stencil and graffiti artist. Be sure to check out
KRK Ryden's work
at the show tonight as well.
1. One reason you make art:
EYE make art because EYE believe its good for the SOUL!
2. The last good movie you saw:
Just watched a documentary called STILL BILL about Bill Withers kinda like a "where is he Now?" and why we left the music game.
3. Something you've always wanted to do, but have yet to:
Get on the cover of Juxtapoz…
4. Favorite country or city visited:
Either San Francisco or Melbourne Australia... both chill ass laid back cites with great artists, amazing spots to put up stencils and to eat sushi.
5. A few words that sum up your philosophy on life:
EYE live by the Golden Rule!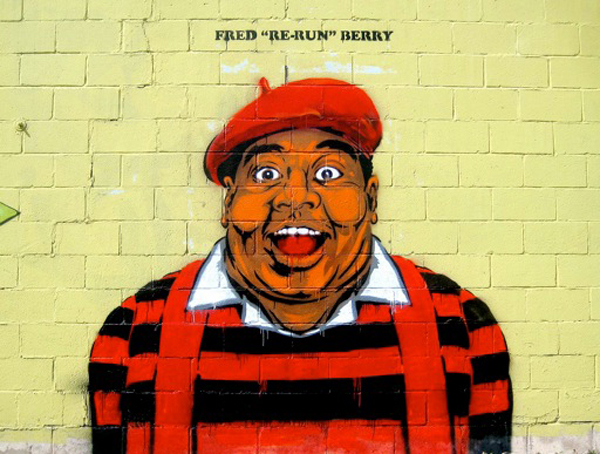 6. Something you want the world to know about you:
EYE was the leads Singer of the 90's Ska Band CUCUMBER JONES... Have a listen here!
http://www.stensoul.com/cucumberjones/01_Freak_Show.mp3
7. Something that annoys or frustrates you about people:
Why HATERS gotta HATE? Really? Life's too short!
8. Something that concerns you:
Um... GLOBAL WARMING!!! And what ever happen to ALL THE OIL in the GULF??? AND... What up with my HEALTH INSURANCE OBAMA?
9. Artists you admire:
I'm a massive Keith Haring FAN BOY (if you already didn't know that).
http://cargocollective.com/peat#271554/Keith-Haring-Tribute
As far as living artists...Chuck Close, Logan Hicks, Jeff Soto, Ron English, Shepard Fairey, Dabs Myla, Phil Jarvis, Gaia, Joe Iurato, Fosik, Biskup, Chris Stain, Swoon, and of course That guy from the Simpsons, "Banksy."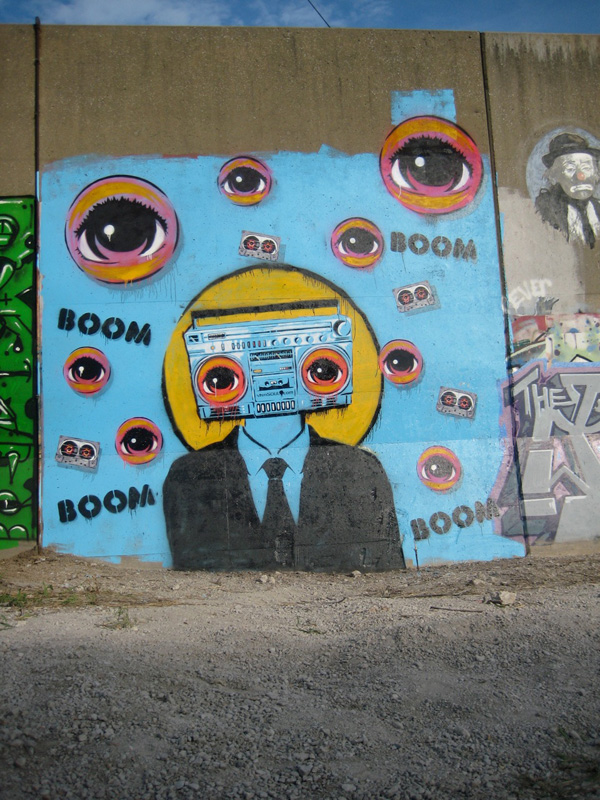 10. Favorite quote(s):
PEAT and rePEAT were sitting on a Fence... PEAT fell off and who was left?
11. The first record or CD you ever bought? The last album you downloaded?
RED HOT CHILI PEPPERS - Freaky Style on Vinyl...EYE just downloaded Kanye's new Album.
12. Something you do when you're procrastinating?
Play Zynga Poker on my EYEpod Touch.
13. What is your most defining characteristic?
Definitely my EYEZ or my Kangol Hat.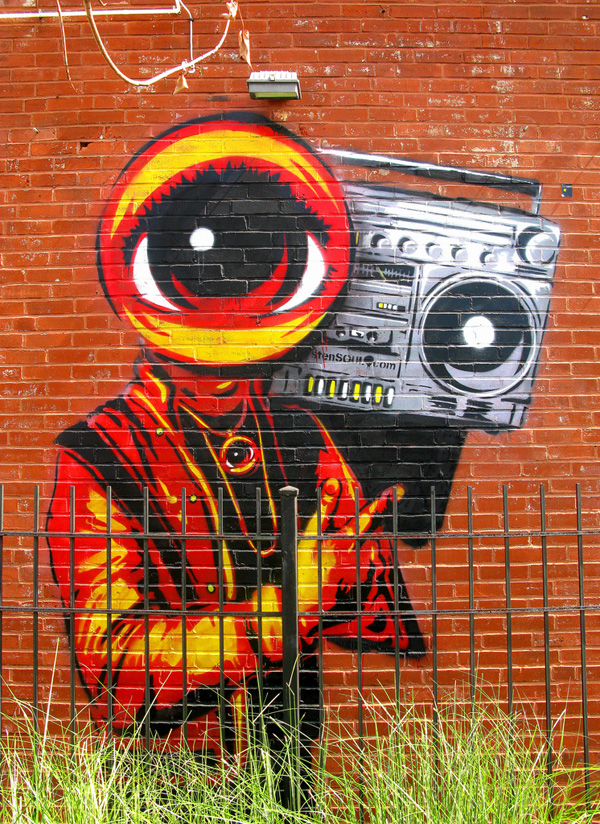 14. What is your greatest fear?
To die ALONE....or go Blind.

15. The moment you realized you were an 'artist':
EYE've been an artist since a kid...but as far as finding my style it was probably around 2002. I left the Agency game in Chicago, moved St. Louis to live cheap, raise my newborn son and to get serious with my art.
16. Your greatest quality:
EYE try to make the best of the situation and am here to try make you SMILE!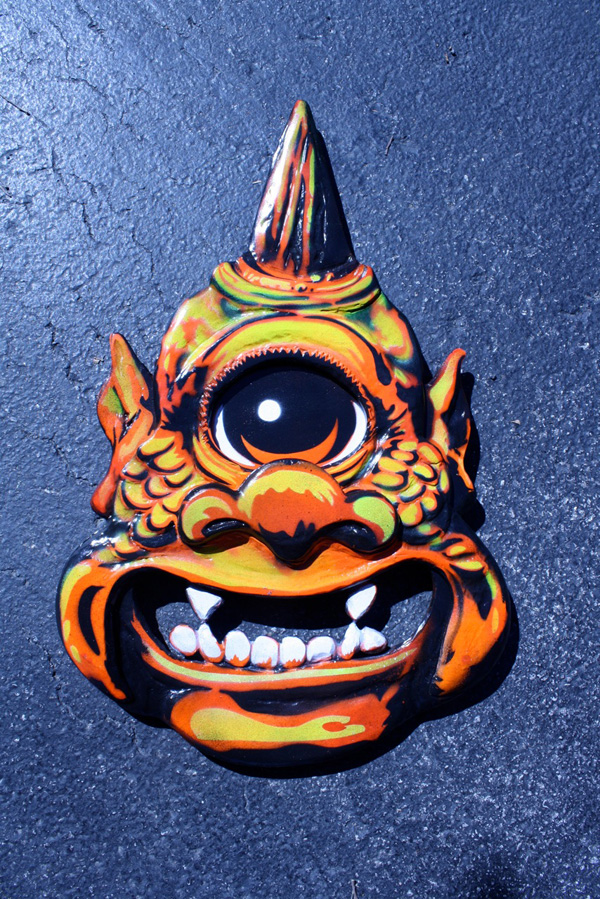 17. Something you wish you could change or alter about yourself:
EYE wish EYE was a little bit taller.
18. What is the biggest risk you've ever taken and was it worth it?
EYE stole my dads Mint Condition 1962 Corvette and drove it to PROM...and it was totally worth it! Other than the fact I lost the keys and found them after searching for hours right on the ground next to the car. Plus one of my Dad's friend was chaperoning prom and busted me in my dad's ride!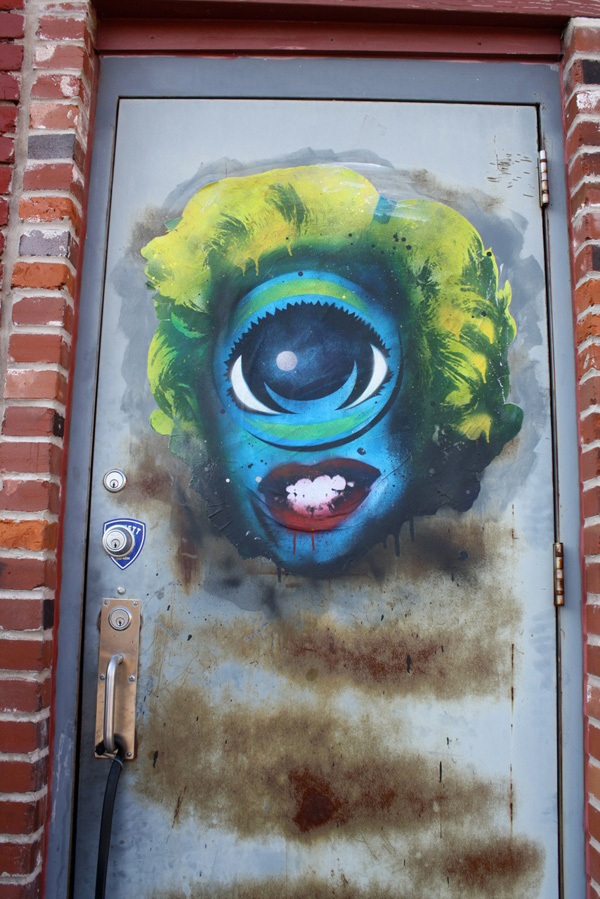 19. Something you wish you had known five years ago?
Kids grow up really fast...cherish ever minute!
20. What do you hope to accomplish in the next five years of your life?
Currently EYE am trying to bring back PAINT LOUIS an annual painting event here in St. Louis showcasing artists from across the country.
The 1.9 mile  flood wall just south of the Arch, attracted well known artists such as Mike Giant, Revok, Saber, Dalek, Ewok, Barry McGee, Dr. Revolt, Zephyr, and many more.
In 2000, so many people came…believe it or not, there was not enough wall space for people to paint, and the left-out artists got loose on the cities buildings and the city put an end to Paint Louis as we know it.
But for PAINT LOUIS 2.0 eye would like to bring in the new breed of urban contemporary artists that eye have worked with in the past on projects like, Primary Flight, Electric Windows, and the 11 Spring Building.
Right now my biggest hurdle is getting the support of from city and the sponsorship cash to make it happen... but EYE'm very confident Paint Louis will go down in some form!

February 25—March 26, 2011
WWA Gallery
Culver City, California