Back Talk—Paul Barnes
Juxtapoz // Wednesday, 05 Jan 2011
1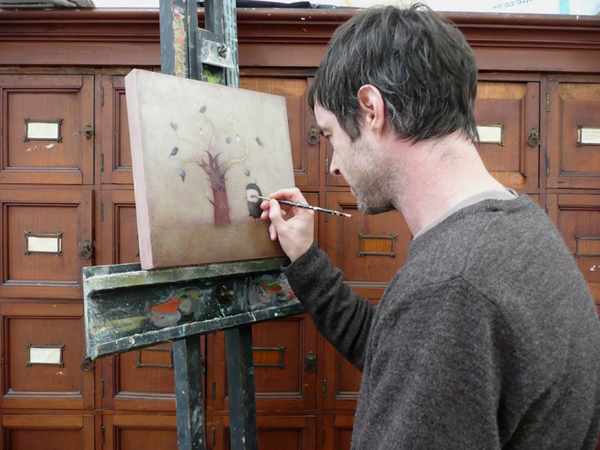 Let's hear from Paul Barnes, who will be showing in the Project Room at Thinkspace starting this Saturday, January 8th: "I guess my closeness to nature and the slight isolation of growing up in the rural north of Scotland, along with my fascination of its ancient traditions rich in folklore and legend no doubt forms the basis of my work, no matter how much I try to escape it. It's this inspiration, from a very early age, that fuels a big part of my imagination today. ??Resurrecting the creatures from my childhood memories, conscious of the innocence and naivety in the forms, I enjoy playing with them like I did as a child. ??I try hard to make my paintings look old, to recapture my visions with a feeling of timelessness and space, kind of like a dream or distant memory that has become all blurry and faded."

Now to the Back Talk:
1. One reason you make art:
I'm don't really know, it's just this energy type thing deep inside me that keeps making me want to paint the next picture. And to paint it better than the last one.
2. The last good movie you saw:
Ang Lee's 'Taking Woodstock'.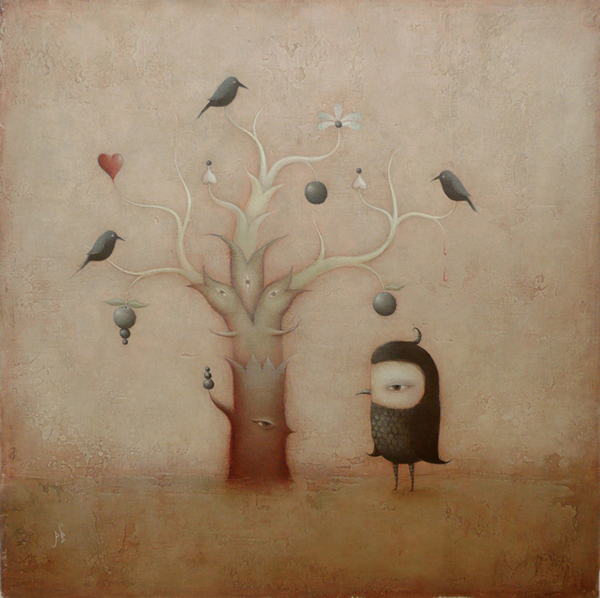 3. Something you've always wanted to do, but have yet to:
Visit the USA.
4. Favorite country or city visited.
Country: Scotland
City: London
5. A few words that sum up your philosophy on life:
Try to live life peacefully and mindfully. And teach it to our kids.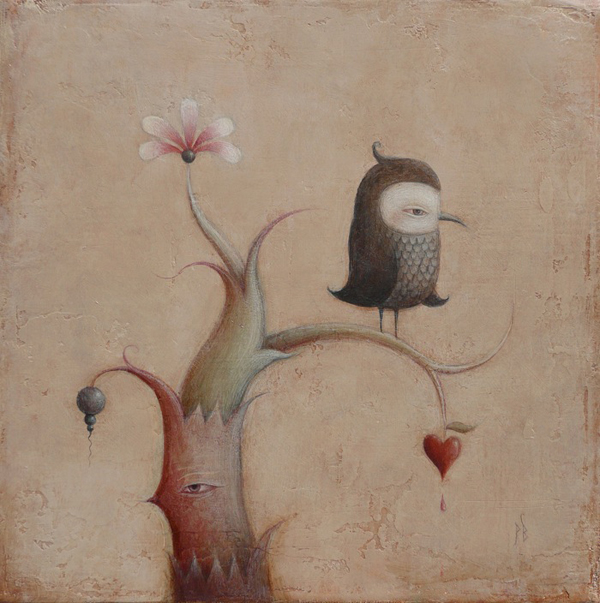 6. Something you want the world to know about you:
Nothing that they don't already know.
7. Something that annoys or frustrates you about people:
People who behave very selfishly. People who are all out for themselves.
8. Something that concerns you:
The future of this world in which my children are growing up into. People who hurt other people and animals.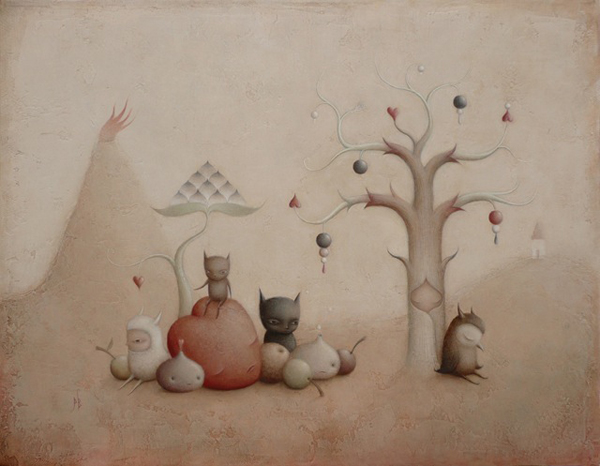 9. Artists you admire:
So many! But if I had to choose one it would probably be Heironymus Bosch, for obvious reasons.
10. Favorite quote(s):
"The mind is everything. What we think we become." Buddha
11. The first record or CD you ever bought? The last album you downloaded?
The first cd I ever bought was Ween's God Ween Satan-The Oneness. The last album I downloaded was Love's Forever Changes (collectors edition).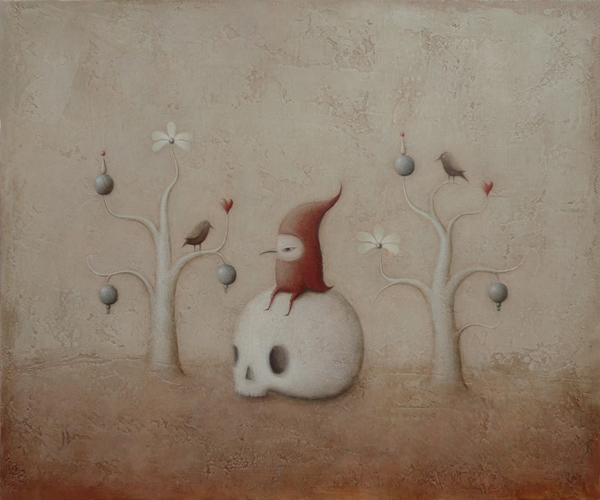 12. Something you do when you're procrastinating?
Smoke and drink coffee. Wear pyjamas and hide and sometimes sit under trees.
13. What is your most defining characteristic?
I'm not really sure....my eyebrows?
14. What is your greatest fear?
The future of this world in which my children are growing up into.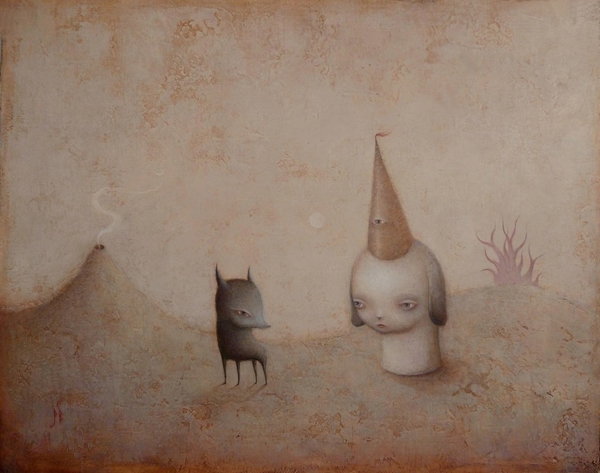 15. The moment you realized you were an 'artist':
About 2 years ago, when I could give up my day job to paint full time.
16. Your greatest quality:
Oooh, that's a difficult one. Ah, okay, i would like to think of myself as being a good parent.
17. Something you wish you could change or alter about yourself:
Too many to mention!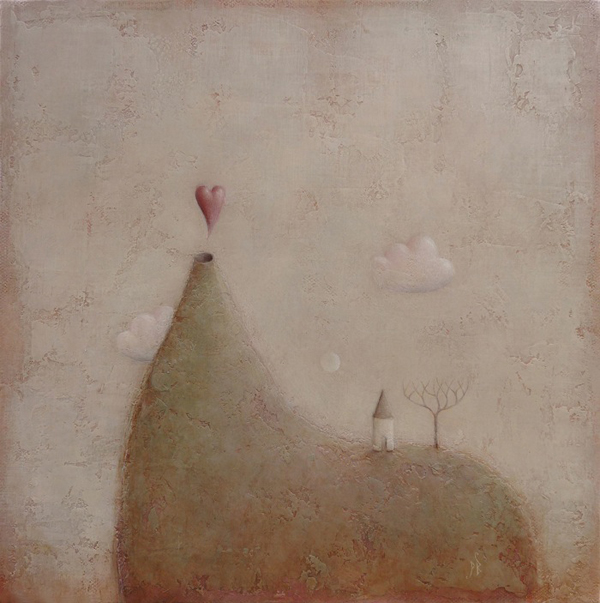 18. What is the biggest risk you've ever taken and was it worth it?
My life. It's taken many years to realise but yes, it was worth it as those experiences partly define who I am now, as a person and as an artist.
19. Something you wish you had known five years ago:
That I'd still be painting today.
20. What do you hope to accomplish in the next five years of your life?
To become a better person. And to still be in a position to make art of some kind.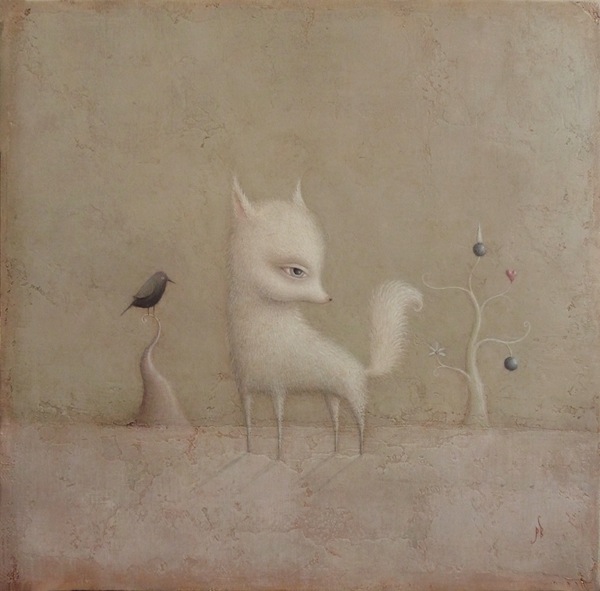 Paul Barnes
Happy Valley
January 8—January 29, 2011
Thinkspace Gallery
Culver City, California