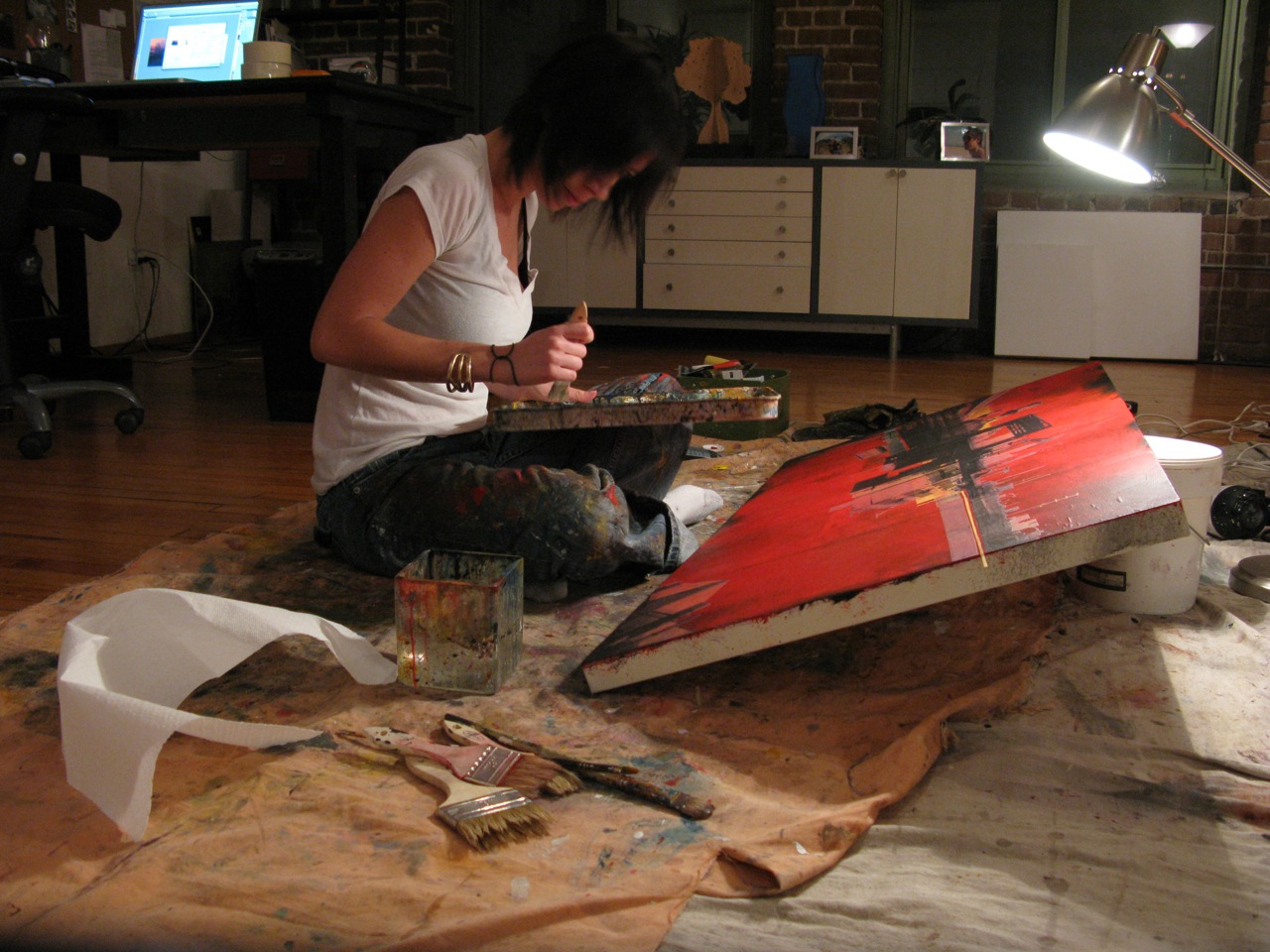 Liz Brizzi, a French born, Los Angeles residing mixed-media artist, will be showing at Thinkspace Gallery along with Craig Barker and Derek Gores in Torn and Tattered, opening March 12 in Culver City, California. She has said of her work, "
I try to capture and share the beauty I see in these desolated and mysterious areas that are unknown to even some of the born and raised Angelenos
."
1. One reason you make art:
I seem to often see beauty where others don't... People in the streets usually look quite surprised when they see me snapping photos of a grimy back alley, or an old decrepit stairwell. I guess I'm trying to show them what I see.
2. The last good movie you saw:
Black Swan. I was really impressed. Loved it.


3. Something you've always wanted to do, but have yet to:
I can't tell you... cause I'm about to do it and I don't want anyone else to beat me to it. But it is work-related.


4. Favorite country or city visited:
Bali, Indonesia. That was before it became such a huge touristic destination for people looking to "Eat, Pray, Love".


5. A few words that sum up your philosophy on life:
Everything in moderation. Even Moderation.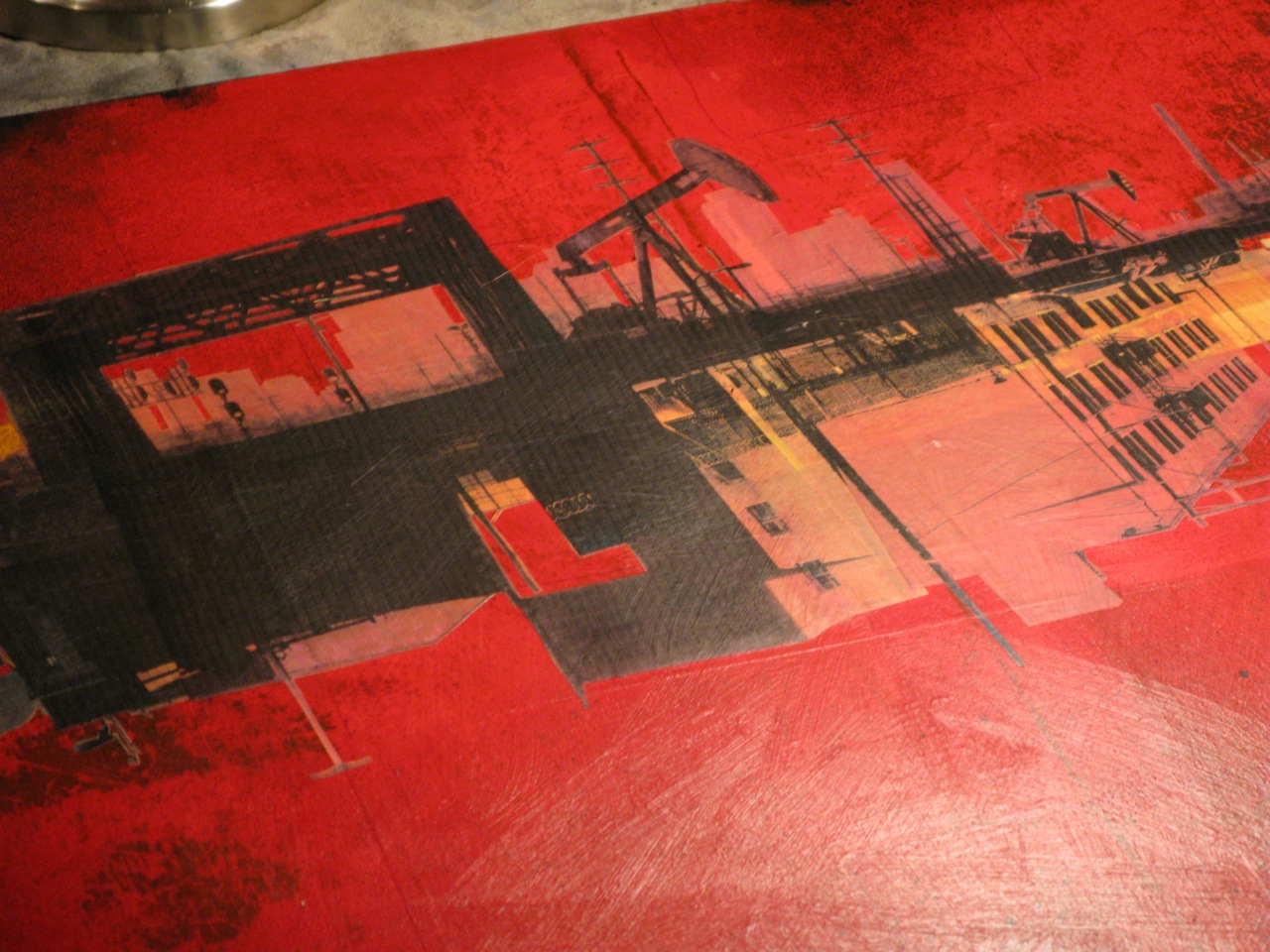 6. Something you want the world to know about you:
I was born in France, but my blood is Italian. My mom is from Rome, my dad is from Paris, but his parents were from south of Italy. I've lived here 15 years. I am now a US citizen. So that makes me American. Now stop asking (and yes, it's weird that I still have an accent).
7. Something that annoys or frustrates you about people:
Hypocrisy, small talk, political correctness.  And the way they drive.


8. Something that concerns you:
I am quite taken by the issues of women rights in some countries of the middle East. It's definitely something that touches me deeply.

9. Artists you admire:
For our contemporaries: Ian Francis, Brett Amory, Swoon, James Jean, Marumiyan, Andrew Hem, Lee Bontecou, Dennis Hopper and Banksy are my current favorites.
And for the masters... Gustav Klimt, Egon Schiele, Jean Michel Basquiat, John Singer Sargent, and Muscha come to mind first, amongst many others though...
I also come from a background that is heavily influenced by animation and graphic novels. Some of my favorites of the genre are Miyazaki, Frazetta, Claire Wendling and Yoshitaka Amano amongst others. And my dad and uncle (cheesy but very true).


10. Favorite quote(s):
I don't have one... I can never remember them.


11. The first record or CD you ever bought? The last album you downloaded?
Haha! My first cassette was "Patrick Bruel". A french singer who was quite popular amongst young teenage girls. My grandma took me to buy it. And then all of Michael Jackson's albums at once.
The last album I downloaded was "Santigold". She kicks @ss.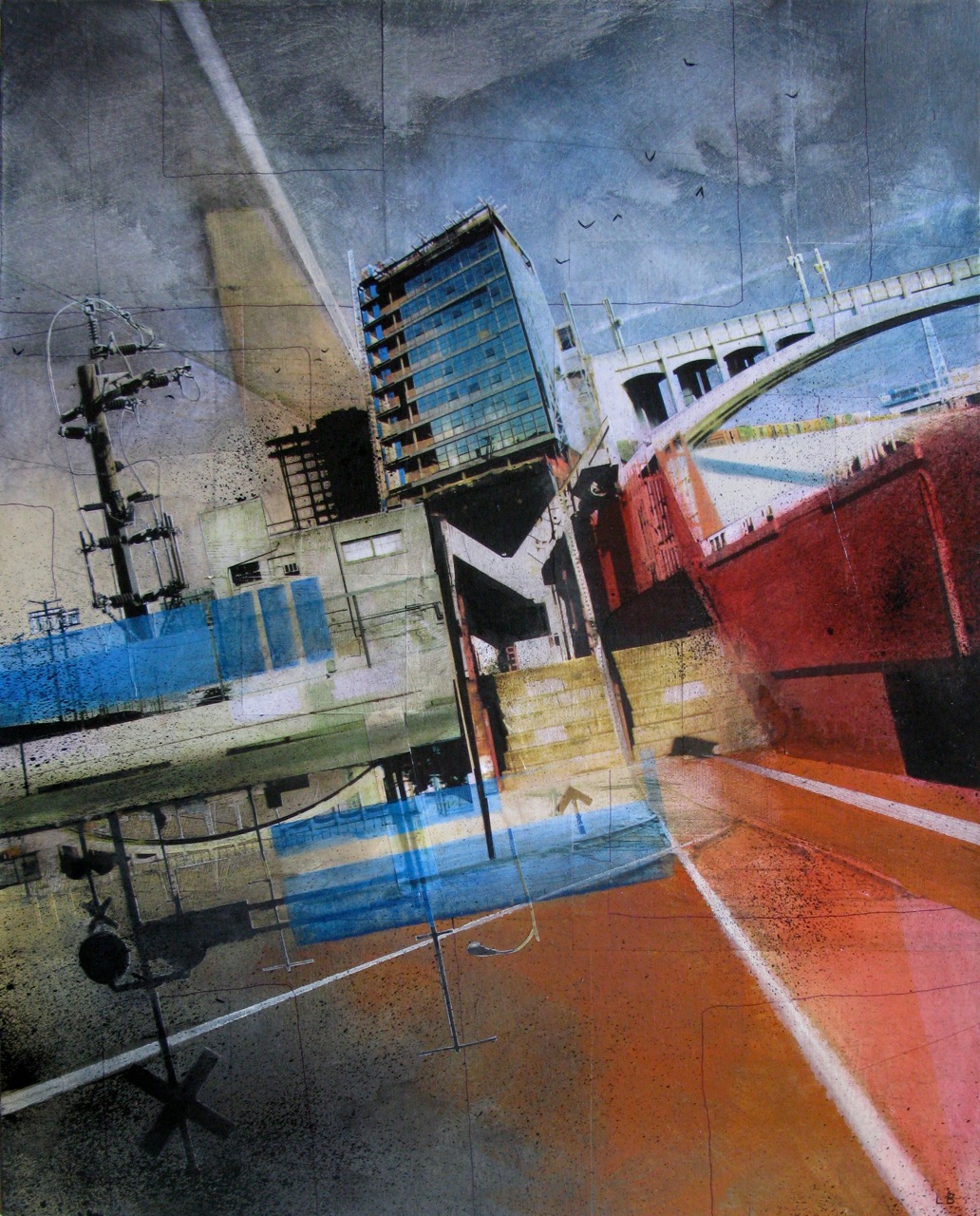 12. Something you do when you're procrastinating?
Watching trailers on Apple.com. And there are a couple of fashion blogs I like to read online.


13. What is your most defining characteristic?
Independence.


14. What is your greatest fear?
Office jobs.


15. The moment you realized you were an 'artist':
Math / Chemistry / Physics classes, 1995. My notebooks were literally filled with comic books I drew of me and my classmates. I was definitely artistic before then, but that's when it became "unavoidable".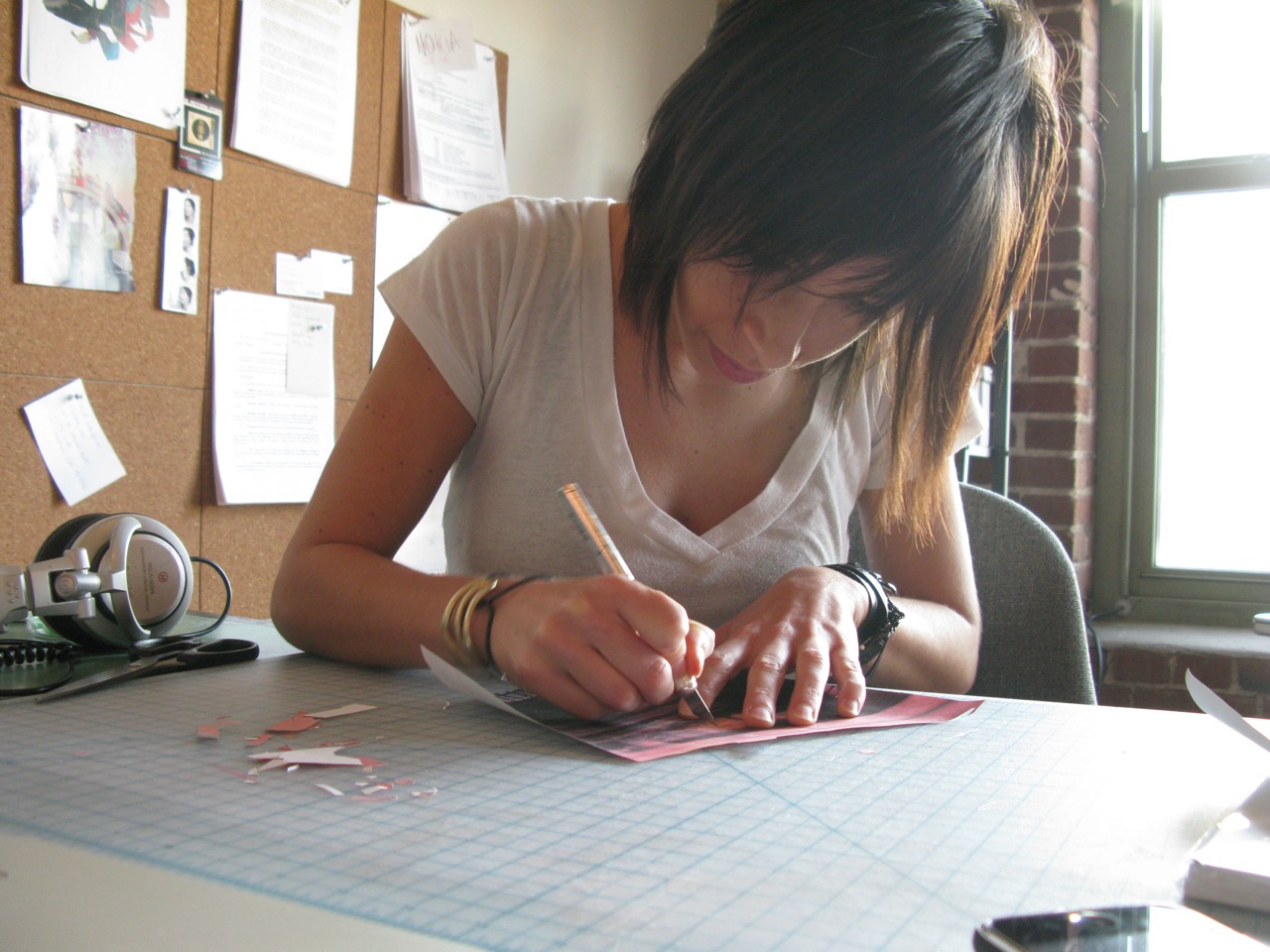 16. Your greatest quality:
I give it to you straight. But some people don't always think of it as a "quality". I do though.


17. Something you wish you could change or alter about yourself:
I wish I were more athletic and not such a foodie.


18. What is the biggest risk you've ever taken and was it worth it?
I quit my job, left my friends, family and apartment to move to Italy in 2004. It was quite an adventure, but I came home after a little less than a year. Some places are better to vacation in than living in. Was it worth it? Yes. Sometimes, it takes leaving to realize what you had. I had a much better appreciation of everything this country has to offer after my time away trying to re-build a life. And also... I always say it's better to regret something you've done than something you haven't. I guess that could be my favorite quote. But I'm not sure who said it first. I'd like to think it was me. But...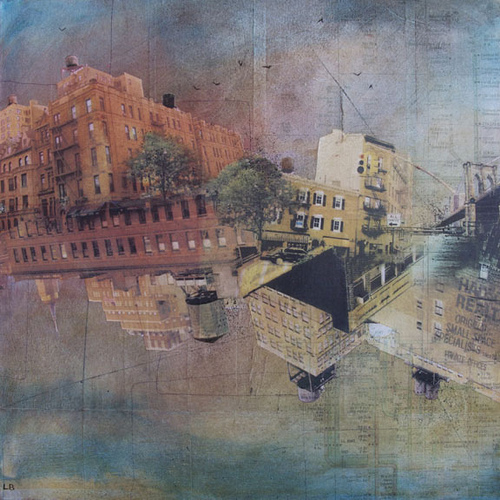 19. Something you wish you had known five years ago:
Credit cards are evil.


20. What do you hope to accomplish in the next five years of your life?
I'd like to start showing internationally. I also have a personal project I want to bring to life... But I can't talk about it. It's top secret (see question 3).
And I'd like to re-establish a relationship with France. Work wise, but maybe also own a studio in Paris, where I could work half the year. Ideally, I would have a foot in each country, and go back and forth as I please.
Torn and Tattered
New mixed-media works from:
Craig "Skibs" Barker, Liz Brizzi, and Derek Gores
Reception with the artists:
Sat, March 12th 6-8PM
On view March 12th - March 26th
Thinkspace Gallery
Culver City, California