Back Talk with Yosuke Ueno
Juxtapoz // Wednesday, 30 Jun 2010
1
Today, I feel:
Excellent. I am in an amazing condition for this solo.
If you had three wishes, what would they be?
I wish that many people would come to the solo and I would like the people to enjoy the show ×3!!!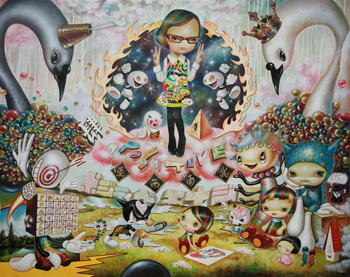 Do you consider yourself a funny person?
Even if I think I am, I would become a boring man the moment I profess that I am a funny person.
If you had one magic power, what would it be?
An ability to do warp. It is a convenience for me to come and go over Tokyo and LA.
Something that makes you happy?
Mountains and running.
Something that makes you mad?
I hate to think about and see violence.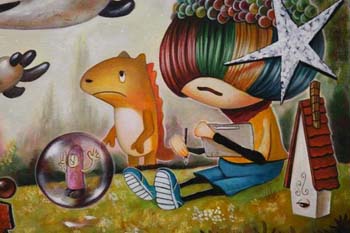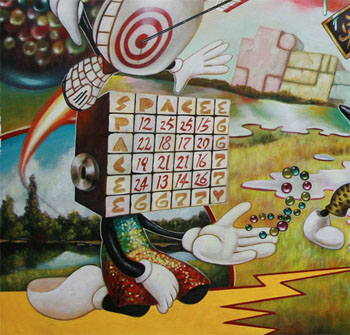 What was your favorite subject in elementary school?
Japanese, Science, PE, and Art.
If you feel a creative block, what do you do to jumpstart inspiration?
Fortunately, I've never come across any creative block. I think that is why I jog everyday. Running makes my mind clear and keep balance between my mind and body.
When someone is taking a photo, do you smile for the camera or turn your head?
I really do not like to face cameras, but I really love to take pictures with my camera.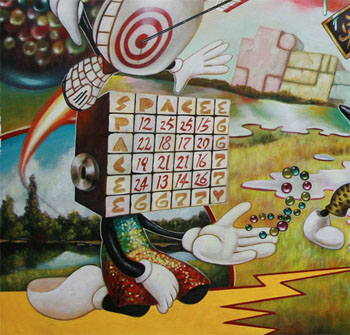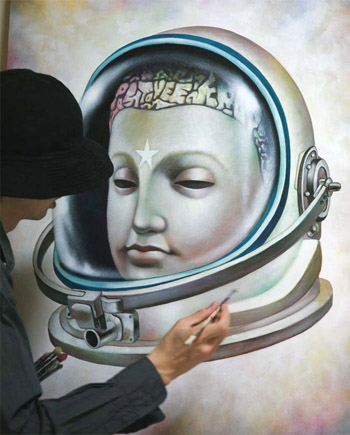 Are you a social network enthusiast?
Though I have various accounts on some social network sites, I couldn't be very much into these. I don't know why…
What is a quality you don't like about yourself?
I sometimes tend to ignore what I am not interested in at all. I think that is my weak point.
Last good book you read?
Born to Run: A Hidden Tribe, Superathletes, and the Greatest Race the World Has Never Seen by Christopher McDougall.
Who has had the most impact on your life?
My friends.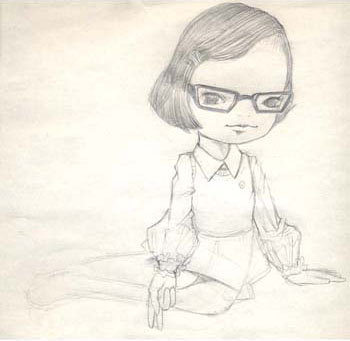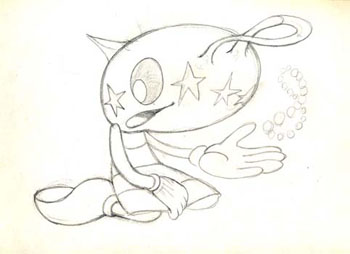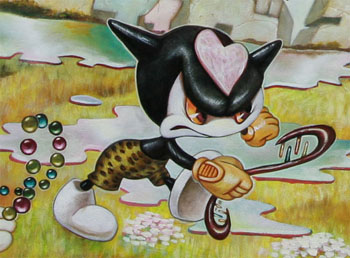 Are you spiritual?
I am not sure…
One word to describe your artwork?
Positive. The theme of my art is positive energy.
What's missing in your life?
I am satisfied all things I have in my hand.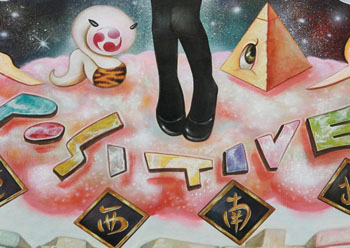 Are you a pet person?
No.
Is your artwork understood?
I am not sure, but I hope my art to spread more and more all over the world.
The most trouble you've ever gotten into:
I don't remember, because troubles slip my mind soon when they are over.
Where do you imagine yourself in five years?
I would live where I want to live.
Yosuke Ueno
Negative Never Again
Thinkspace Main Gallery
Exhibit on view: July 9th – July 30th (along with Dan-ah Kim's Waking In The Dark)
Opening Reception: Fri, July 9th 7-10pm, with both artists in attendance.
More info at www.thinkspacegallery.com
More on Yosuke Ueno at www.spaceegg77.com