Back Talk with Tony Philippou
Juxtapoz // Friday, 02 Oct 2009
1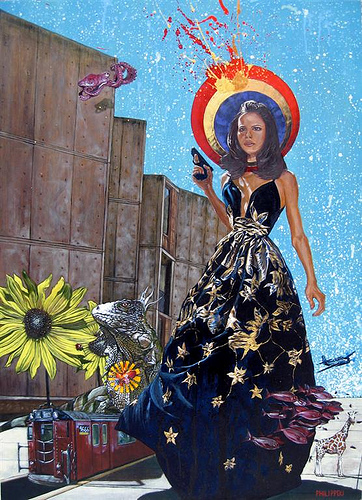 Bronx based artist
Tony Philippou
explores the nature of human relationships using religious iconography. In anticipation of his upcoming show at Thinkspace Gallery in LA, We caught up with the painter.
How do you feel right now?
Delirious.
If you could wake up in a different place tomorrow morning, where would it be and what would you do?
The Beautiful Island of Syros in Greece. My Grandmom is there and I haven't seen her in a bit so I'd hang with her and hit up the beach and get some sun on me.
If you lost your creative skill, how would you see yourself making a living?
I might have to do the Ray Drekker from Hung Yanahmean. Or I would turn Pro and Play PS3 competitively for really big paper.


If you could punch one living contemporary artist, who would it be?
Even though he's not a visual artist I'd say Kanye West. I've never seen anybody so talented who really needs it....just for some perspective. Then I'd ask him if I could be featured on his new album on a song with Common. Wordup!!!
Was your first kiss worth writing a song about?
It could be. But I would need Ol Dirty Bastard to do it properly.
At what point were you particularly happy?
I went to Greece in 07.....yeah that was good times.
No regrets allowed, but there must have been one?
Well there was this one time the Guggenheim had an exhibition of Norman Rockwell's work and I missed it.


What trait do your friends have in common?
Boats & Hoes
If you had to evacuate your home or studio, what's the one thing you would grab?
My MacBook and the PS3 they're worth the risk.
Greatest love of your life?
Painting & PS3 until the PS4 comes out.


What is your favorite vice?
PS3 and TV
When you blow out the birthday candles, what do you wish for?
To be able to blow them out again next year.
If you could play a character from a favorite film or TV show for a day, who would it be?
Ron Burgundy
Do you ever lie?
If I feel like it.
Do you think viewers understand the intent of your work?
I really don't care to tell the truth...all I want is for my work to command your attention.


What virtue can you do without?
Caution.
Do you even notice when you're swearing?
Yesir. I truly try to get the most out of it. All emphasis and delivery.
What has been your proudest moment?
The day I helped Optimus Prime defeat the decepticons by shoving with diligent intensity the All Spark into Lord Megatrons chest. Thus saving the people of Mission City and our world as you know it. YOUR WELCOME!!!
What would you like to be remembered for?
Keepin it Fly for Ya'll.
How would you prefer to die?
To Rock Out with my Sock Out.


Tony Philippou's show "Mary In BronxZooLand" opens at Thinkspace Gallery on Friday, Oct. 9th 7-11PM.
Check out his blog for updates on the show.