Back Talk with Speto
Juxtapoz // Tuesday, 17 Mar 2009
1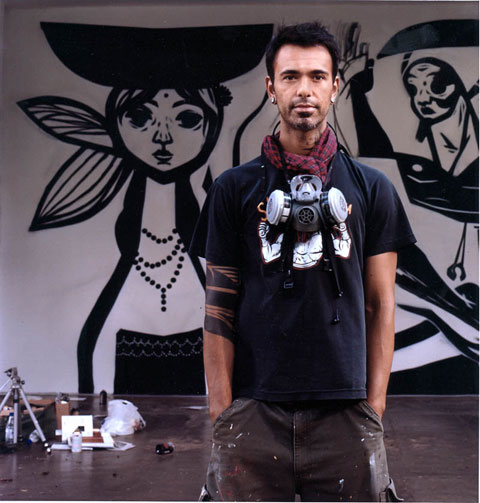 Speto, one of Brazil's most popular street artists, fuses painting, illustration, graffiti, and graphics to create his own eclectic breed of street art.
Speto's roots lie in the music movement of hip-hop and the local pop culture that surrounded him when he first started to paint graffiti at the age of 14 in the mid '80s. In his work, this free-spirit strives to find the dignity in the people and simple things that surround him.
Learn more about this life-loving artist and find out what it is that he sees in the dark. Read Back Talk with Speto below.
What's the first thing you did when you woke up this morning?
Ate breakfast.
Something about yourself the average person wouldn't guess?
I'm crazy about gardening! I have tons of Bromelias and orchids in my house. Living in an environment full off life helps me create.
If you had one day left on Earth, what's left to be discovered?
How to go back in time.
What is your first art-making memory as a kid?
I always remember this drawing of a man barbecuing at a traditional folk party from my days at school.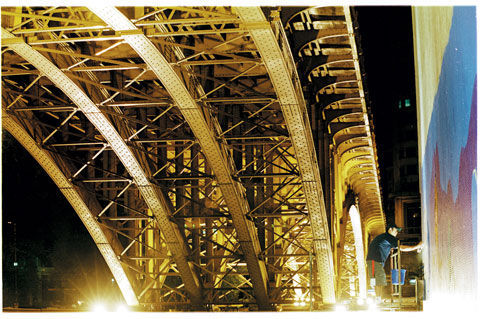 Do you need long periods of time alone, or are you energized by interaction?
Both. It depends on the mood. Artists spend a lot of time alone, which can be boring at times. I feel very inspired when I do graffiti with friends.
Is being in the dark with the lights out frightening or comforting?
Comforting. My monster friends visit and bring me skulls to draw.
What's the most non-art involved activity you continually find yourself enjoying?
Girlfriend, yoga, dogs, plants.
Have you been to jail? If so, why? If not, why not?
No. I don't need to spend time with lots of men inside jail.
What kind of car do you drive?
A family car.
What's your biggest non-green inspired indulgence?
Hmm, next!
What is the single most important thing you did to breakthrough as a career artist?
Nothing! I'm the youngest of 3 brothers. We're all artists, so for me it was very natural. But, seeing the movie Beat Street changed my life when I was 14. I started doing graffiti that same week in 1985.
Best hustle you ever pulled?
None.
Are you ever bored?
50% 50 %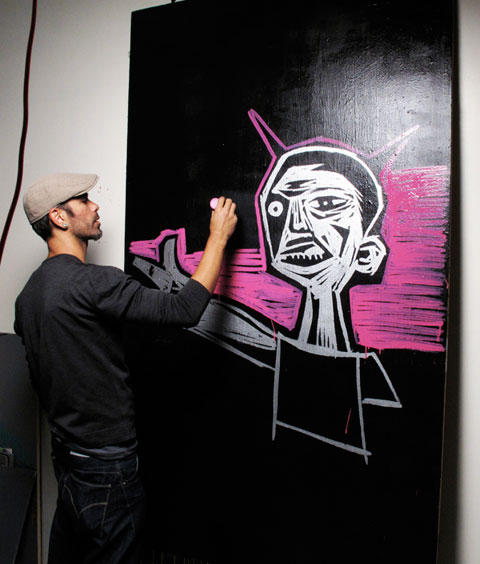 What excites you?
Life! My girlfriend, movies, yoga. food, many things.
2023 will look like . . . ?
Older.
If you could have a drink with one artist, living or dead, who would it be?
John Lee Hooker.
Last passport stamp:
USA
Can't stand:
Artists, including me!
Can't live without:
Love.
Words to live by:
Krishnamurti. Be a light to yourself.
More on Speto at www.speto.com.br