Back Talk with Scott Radke
Juxtapoz // Tuesday, 06 Apr 2010
1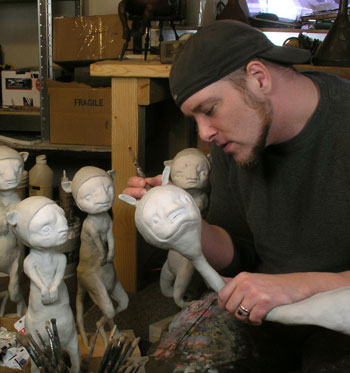 Every time we write about Scott Radke, we get emails from readers asking for more information about this soulful sculptor. Based in Cleveland, Ohio, Radke makes emotionally charged marionettes of just about any creature: from sea-monkey to owl, squid to swan, Radke's work offers more than meets the eye.
Today, I feel:
Good. I am sketching out some toy designs. I don't usually sketch out ideas and it's nice to be drawing again.
If you had three wishes, what would they be?
-To be free from my anxiety issues and all the problems they present to the people around me.
-That the world could be free from politics and religion and we'd get back to living with the earth rather than on it.
-Letting a chicken live like a chicken even if you end up eating it.
Do you consider yourself a funny person?
I guess so. My daughter thinks I am pretty funny.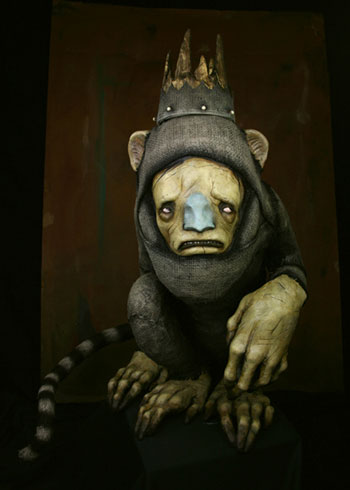 If you had one magic power, what would it be?
To be able to fly so I would never have to get on a plane.
Something that makes you happy?
My family.
Something that makes you mad?
Saying hello to someone and not getting any response. How does that happen? Is it just a suburb thing?
What was your favorite subject in elementary school?
After kindergarten I did not like school very much. I did like art classes.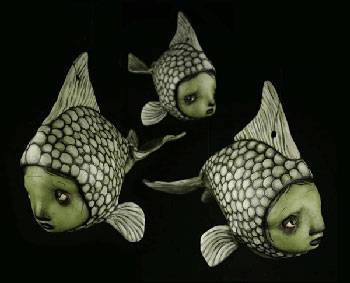 If you feel a creative block, what do you do to jumpstart inspiration?
Get outside. I had a small koi pond. I moved last year and I am dying to build a new one. It helps. I am fortunate in that I don't often get blocked as long as I show up and work and have the time to do so.
When someone is taking a photo, do you smile for the camera or turn your head?
Burry my head in the sand.
Are you a social network enthusiast?
I use a lot of them; it's ridiculous actually. Living in Cleveland (and I love it, don't get me wrong) but I don't have much of a connection here with the outside world so the internet is extremely important to what I am doing. Anyway, I think I am going to cut it to one or two things to keep in touch. I'd much rather stay off a computer but it's necessary.
What is a quality you don't like about yourself?
Anxiety.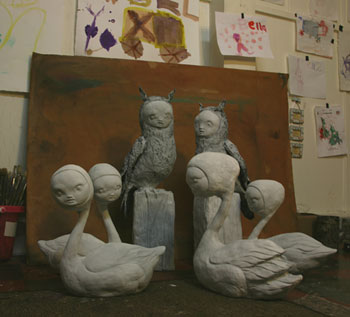 Last good book you read?
The Velveteen Rabbit to my daughter.
Who has had the most impact on your life?
My wife- she is a choreographer (Sarah Morrison). We've worked together a lot on various things. No, I don't dance but I create costumes and stage design for her. Besides that, she keeps me in line in so many ways. Oh- she can do taxes as well.
Are you spiritual?
I believe in a higher power for sure- maybe it's nature.
One word to describe your artwork?
Visceral.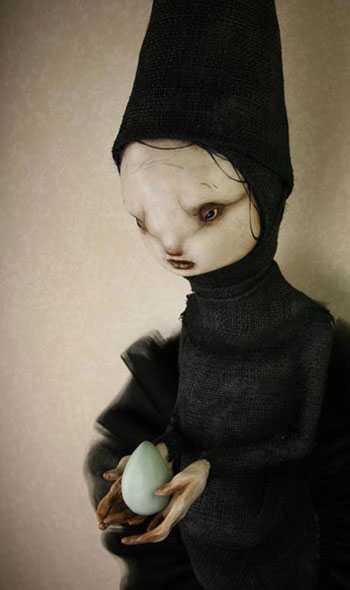 What's missing in your life?
A huge garden.
Are you a pet person?
Yes of course. I live with a dog and 3 cats.
Is your artwork understood?
I don't know. I'm not really concerned with that. I just like to make things and I am fortunate that people seem to like it.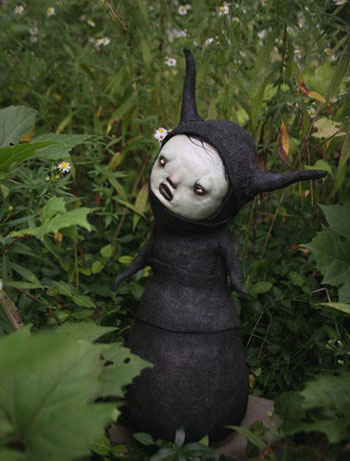 The most trouble you've ever gotten into:
Trespassing. I climbed up into an old train bridge with some friends.
I also could not sleep one night and painted a ton of rooster stenches on the sidewalks in my old neighborhood and it was caught on a security camera outside a bar.
Where do you imagine yourself in five years?
I don't like to think that far ahead. Hopefully creating much larger instillation sized works.
More info on Scott Radke at http://scottradke.com