Image Gallery
Back Talk with Scott Radke
Juxtapoz // Sunday, 12 Jun 2011
1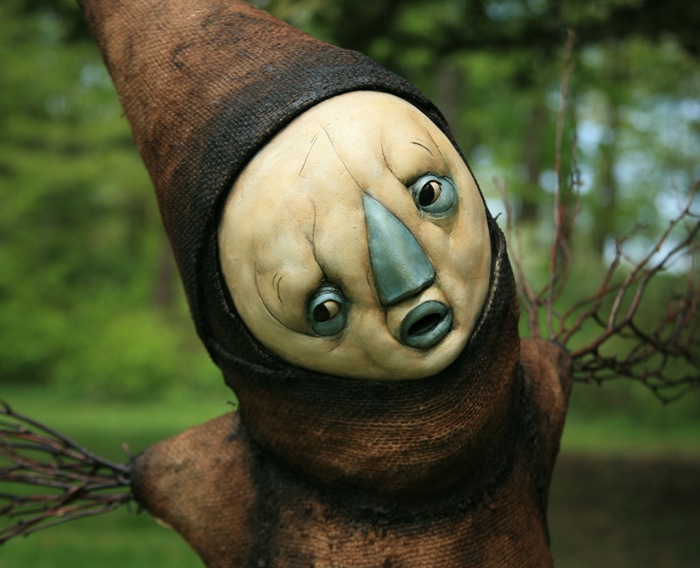 Coming next week, Scott Radke will present  27 new mixed-media sculptural works at Thinkspace Gallery in his debut solo show,
Burlap
. The show will feature
Radke's nature based photographs that he often takes of his sculptures in the woods near his home in Ohio.
The show opens on June 18th. On to the Back Talk. . .
1. One reason you make art:
I have no idea what I would do if I wasn't making art.
2. The last good movie you saw
: 
Religulous
3. Something you've always wanted to do, but have yet to:
Travel across the country and I am about to do that.
4. Favorite country or city visited:
Austria
5. A few words that sum up your philosophy on life:
Be nice, respect the earth, work hard.
6. Something you want the world to know about you:
Check out my debut solo show 'Burlap' at Thinkspace this month!
7. Something that annoys or frustrates you about people:
Lawn chemicals.
8. Something that concerns you:
My daughter becoming a teenager. Lawn chemicals.

9. Artists you admire:
Gustav Klimt, Maurice Sendak, Guillermo Rigattieri, Chris Ryniak, Lucien Shapiro- many more.
10. Favorite quote(s):
" I don't see much sense in that, " said Rabbit. "No," said Pooh humbly, "There isn't. But there was going to be when I began it. It's just that something happened to it along the way." Winnie the Pooh.
11. The first record or CD you ever bought? The last album you downloaded
? First - 
Peter and the Wolf from like 1974 that scared the hell out of me.
last- 
Califone "All My Friends Are Funeral Singers"

12. Something you do when you're procrastinating? Sit by my pond and/or ride my bike.


13. What is your most defining characteristic? I'm sorta tall I guess.


14. What is your greatest fear? Flying.



15. The moment you realized you were an 'artist': Probably when I quit my day job to do my work full time.  I like to think I just create/ build things. If its art then so be it.


16. Your greatest quality: Motivation I guess. I try to be a good daddy.


17. Something you wish you could change or alter about yourself: I am horribly shy and uncomfortable in social situations. Not as bad as it used to be but I wish it was not such a struggle sometimes.


18. What is the biggest risk you've ever taken and was it worth it? This may seem weird but my current solo show is a big risk for me. I've never devoted so much time to one chunk of work. It's exhilarating. Until now I have only done group type shows. It takes a lot of time for me to build enough work for a large show and without the help of Andrew Hosner and Morgan Spurlock I would not have attempted something this large.


19. Something you wish you had known five years ago: That whatever it was I was surely stressing about would be alright.


20. What do you hope to accomplish in the next five years of your life? I try not to think too far ahead. Just being creative and productive is all I hope for as far as accomplishments go.
Scott Radke
Burlap
On view June 18th - July 9th
Reception with the artist: Sat, June 18th 6-8PM
Thinkspace Gallery
Culver City, California