Back Talk with Saelee Oh
Juxtapoz // Monday, 11 Jan 2010
1


Today, I feel:
Weird because I went to bed at 11am and woke up at 7pm and relaxed because I just got a massage but, stressed because I still have a lot of work to get done this week before I leave for NY.

If you had three wishes, what would they be?
Never be scared, never have regrets and save all of the baby orphan elephants.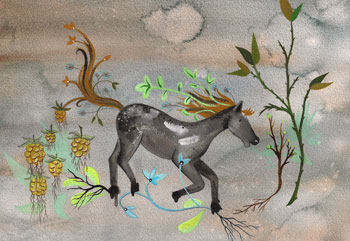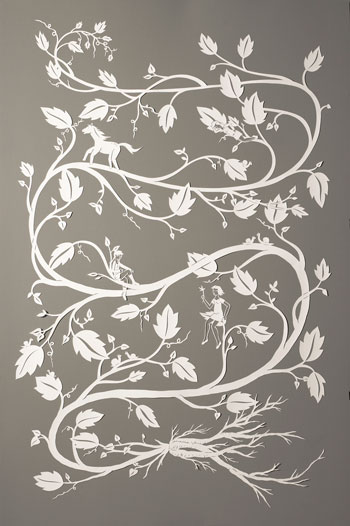 Do you consider yourself a funny person?
Not really but I like to laugh a lot.

If you had one magic power, what would it be?
Breathe underwater.

Something that makes you happy?
Spontaneity, sunshine, organization and cleanliness.




Something that makes you mad?
Inefficiency, littering and hoarding.

What was your favorite subject in elementary school?
Art. English and Biology were second.

If you feel a creative block, what do you do to jumpstart inspiration?
Get out of my studio for a change of scenery and preferably be outdoors. Quiet, alone time in a library is good too.

When someone is taking a photo, do you smile for the camera or turn your head?
Both.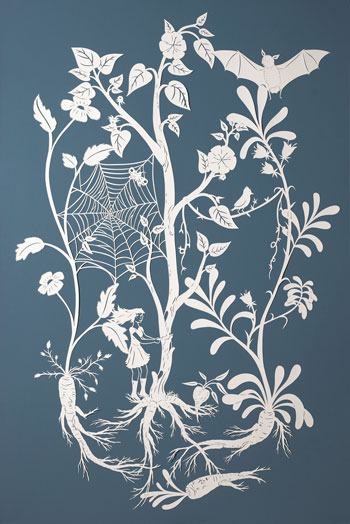 Are you a social network enthusiast? (eg Do you post photos on Facebook; listen to music on MySpace; post to YouTube, etc?)
I like Facebook because I can keep in touch with people I don't see regularly.

What is a quality you don't like about yourself?
My indecisiveness and short attention span.

Last good book you read?
The Botany of Desire.

Who has had the most impact on your life?
My family. They're 100% supportive.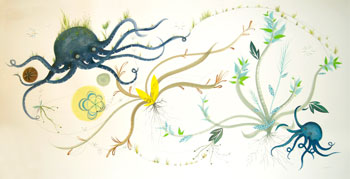 Are you spiritual?
I'm not religious but I believe that coincidences happen for a reason and there's definitely a bigger, stronger power than what humans can comprehend.

One word to describe your artwork?
Peachy-keen?

What's missing in your life?
Structure.

Are you a pet person?
I love all animals (except for opossums) but, I'm not a pet person because I can't take care of them. I'm all over the place and have an irregular schedule. I'm an excellent pet sitter though because I like to spoil them with attention.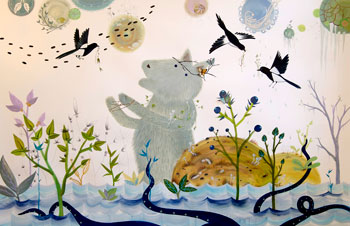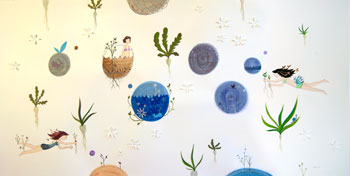 Is your artwork understood?
Not sure.

The most trouble you've ever gotten into:
I got expelled from high school in the middle of my junior year. Yay.

Where do you imagine yourself in five years?
Living in a tree house and a sand castle making pictures and paintings. I think I'll have discovered a new species of jellyfish, and I'll probably be childless and on my way to becoming a cougar.
Saelee Oh's new solo, Infinite Roots, opens January 16th and runs through February 13th, 2010.
Opening Reception: Saturday, January 16th, 7pm—9pm at NYC's Jonathan Levine Gallery.
More info at www.jonathanlevinegallery.com

More on Saelee Oh at www.saeleeoh.com