Back Talk with Roger Gastman
Juxtapoz // Tuesday, 06 Apr 2010
1
Today, I feel:
Excited. We are trying pizza from Big Mama's and Papa's to see if it's any good, and if it is good, we're going to order the world's largest deliverable pizza. It's 54-inches by 54-inches. Even if the pizza sucks, I still feel like I have continued my commitment to eat obscene amounts of food. (Update: Their pizza sucks.)
If you had three wishes, what would they be?
1. People would bring back Deez Nutz jokes.
2. For them to make another Police Academy movie. Not a re-make—a sequel with the original cast.
3. That Topanga would be mine. All mine; no one else's.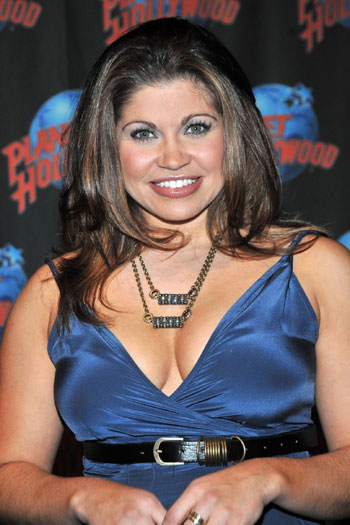 Do you consider yourself a funny person?
I'll let you decide. Next time you and your date are at the video store trying to pick out a movie, you can ask, "How about seeing Crocodile Dundee?" Whether she wants to see it or not, you get to say, "See Crocodile Dundeeez Nuts!"
If you had one magic power, what would it be?
It's probably a stereotypical answer, but invisibility.
Something that makes you happy?
Midgets, yellow Labs, black Labs, brown Labs, midgets walking Labs, cake, all-you-can-eat buffets, Houstons, new episodes of iCarly, not having to drive, eBay and the Washington Capitals hockey team. Go Caps!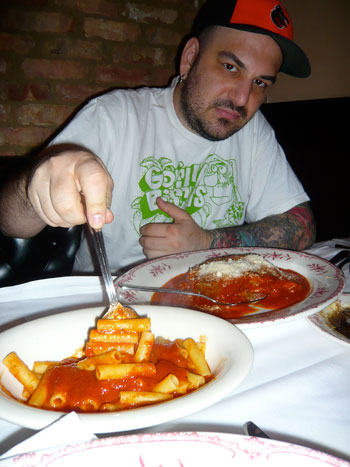 Something that makes you mad?
Pie. Or when people won't eat all of their dessert. But the upside to that is that I get to finish their plates. So it's a love/hate situation. It also makes me mad when the Caps lose. Go Caps!
What was your favorite subject in elementary school?
Lunch. You got to learn the art of the barter—I'll trade you my Jello cup for your Oreos.
If you feel a creative block, what do you do to jumpstart inspiration?
I lay down and I watch a lot of bad TV. To give you an idea, I've seen every episode of The George Lopez Show, Wings, Married With Children and Just Shoot Me, just to name a few.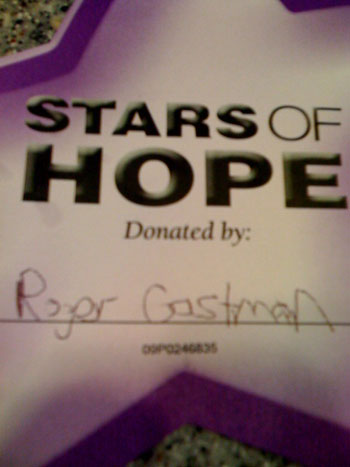 When someone is taking a photo, do you smile for the camera or turn your head?
I usually stick out my tongue or make a face like I'm trying to take a shit.
Are you a social network enthusiast?
Hell no. But I do have a blog that you should read: www.rogergastman.com. It's amazing, and full of fun stuff you don't want know about. For instance, more Deez Nutz jokes. "Do you want a bag of goodies?" Everyone should say yes. Then you get to say, "A bag of good Deeeeeeeez Nuts!"
What is a quality you don't like about yourself?
I wish I were more like my idol Al Bundy.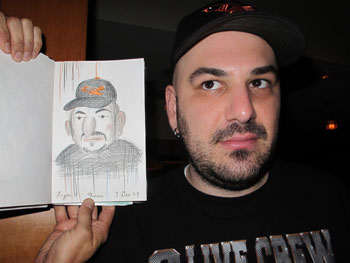 Last good book you read?
Ronald Reagan: How an Ordinary Man Became an Extraordinary Leader and Sarah Palin: The Real Deal.
Who has had the most impact on your life?
Danzig—but I can't go into details.
Are you spiritual?
I'm a non-practicing Jew, but I love bagels and Jew jokes.
One word to describe your artwork?
Awesome.
What's missing in your life?
I could sit here and complain about how I want more things, but I have enough. If I want something else, I just have to figure out how to get it. If I had the power to be invisible that would be super easy.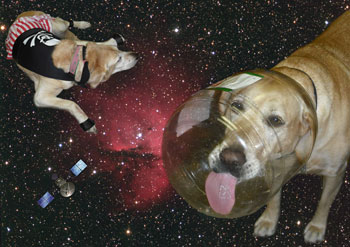 Are you a pet person?
Yes. I have two yellow Labs, Nicky and Harley. Harley is a genius, and Nicky has a death wish. I'm trying to get her a guide parrot.
Is your artwork understood?
Yes, by 13-year-old boys and those that think like them.
The most trouble you've ever gotten into:
I never get into trouble. I'm a perfect angel. I make my mother proud—and yours too.
Where do you imagine yourself in five years?
Hopefully, I'll be living in a castle with lots of turrets, manned by midgets with cauldrons of hot oil, surrounded by a moat, with a moat monster in it.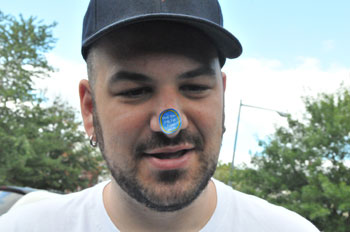 This year, Roger Gastman collaborated with Scion to produce a series of art and creative events in their Culver City space. Rooms is the first exhibition to launch the series and will open on April 24, 2010. More info on the show here.
Also, Roger can be spotted in Banky's new film "Exit Through The Gift Shop" and was a consulting producer on the film.
His upcoming 400-page book with co-author Caleb Neelon, The History of American Graffiti will be out in Fall 2010 published by Harper Collins.