Back Talk with Rob Corless
Juxtapoz // Thursday, 06 May 2010
1
Today, I feel:
There has been a bit of a mini heat-wave here in Brisbane for past couple of weeks, but now the rain has just settled in, so I'm feeling cool and relaxed.
If you had three wishes, what would they be?
That animals really could talk like they do in cartoons.
That all these companies and institutions realized that they no longer needed my money and stopped sending me bills.
And more wishes.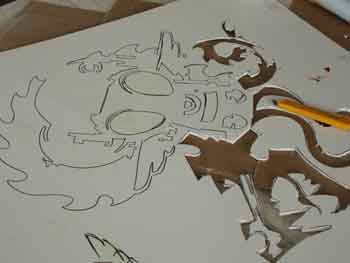 Do you consider yourself a funny person?
I do have my moments where I think I'm pretty funny. I'm not too sure what other people think though.
If you had one magic power, what would it be?
To understand everything with absolute clarity.
Something that makes you happy?
My family. My wife and I have four boys and are expecting another child soon.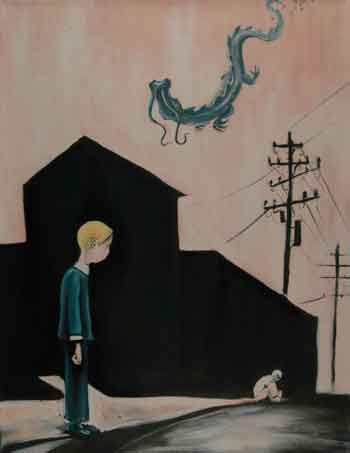 Something that makes you mad?
Arrogance and patronizing TV commercials.
What was your favorite subject in elementary school?
So long ago, I've blocked it all out.
If you feel a creative block, what do you do to jumpstart inspiration?
Inspiration comes to me usually when I'm not expecting it. When I do feel as though I can't get anything done, I need to remove myself and focus elsewhere. Movies and books sometimes can sometimes lead my imagination in another direction. Mostly I find ideas come to me from everyday experiences and I try to present that in my art.
When someone is taking a photo, do you smile for the camera or turn your head?
Usually I'm the one taking the photos, so there doesn't tend to be too many of me. But when someone is photographing me I smile like a dork.
Are you a social network enthusiast?
The first real significant attention I received for my art was by displaying it online, so I have found these sites very helpful.
A few years back I had a job in an office where I didn't really have a whole lot of work to actually do. I would find myself MySpacing and blogging for most of the day (and drawing comics too).
These days I rarely use these sites as I don't have much free time.
What is a quality you don't like about yourself?
I am very indecisive. I actually changed my mind about five times while answering this question.
Last good book you read?
Monster Blood Tattoo.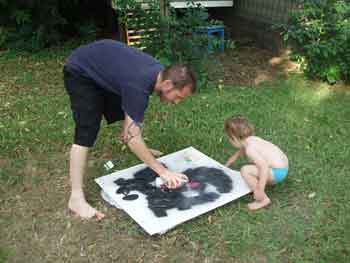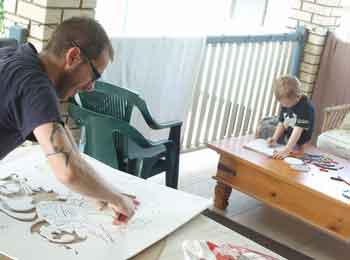 Who has had the most impact on your life?
I'm a bit of a sponge so I can credit many people in my life to shaping who I am, but most of all I definitely have to say my wife, Sharon, and my boys.
Are you spiritual?
I like the idea of spiritualism and not religion, but I wouldn't say I am spiritual myself. I do like to use these themes in my work mainly because the idea of how people perceive their existence is something that appeals to me.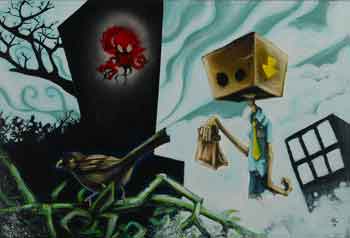 One word to describe your artwork?
Emotional.
What's missing in your life?
Consistency.
Are you a pet person?
We have a surly, lazy cat named Spock, who lies around until he gets hungry or wants to jump out and scratch you legs. That's about as close as I get.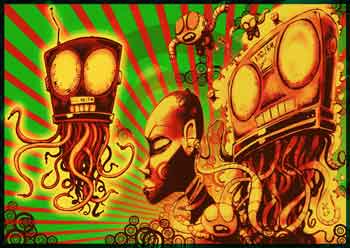 Is your artwork understood?
I like to think that people can take what they want from my art. Often it can appeal to someone in a way that I hadn't previously thought of myself. I find that very refreshing.
The most trouble you've ever gotten into:
I can't say that here. I want people to like me.
Where do you imagine yourself in five years?
As long as I'm creating my art in some form or another I'll be happy.
See Rob Corless' newest works in Offerings, which opens on Friday, May 7th at WWA Gallery:
WWA gallery
9517 Culver Blvd
Culver City, CA 90232
310.836.4992
About Rob Corless:
The show Offerings marks Corless' first solo exhibition. Corless studied animation and drawing and began his art career by designing local band posters which eventually led him to the field of graphic design. His art is influenced by many styles from graphic design to street art, from comics to fine art. He has been featured in numerous magazines including Danger Daze and Planet Lovecraft, and he also has a regular comic in Strange Aeons. Rob Corless lives and works in Brisbane, Australia. He's married with five children.