Back Talk with Ramon Martins
Juxtapoz // Thursday, 05 Mar 2009
1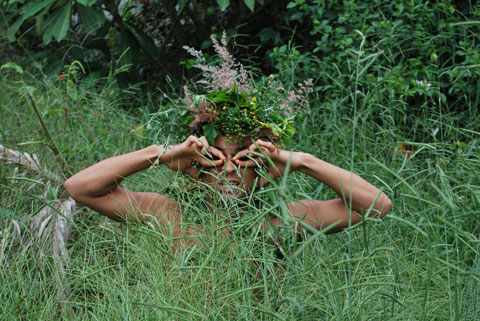 Ramon Martins is an intensely introspective and meaningful creator who remembers to keep things light and fun (just take a look at his self portrait below) when necessary.
This Brazilian-born artist finds ease in combining diverse elements such as baroque style with street art, whether he's using spray, acrylic painting, watercolor, or even 'sprinkle' techniques.
Learn more on this innovative man and read Ramon Martins' answers to Back Talk below.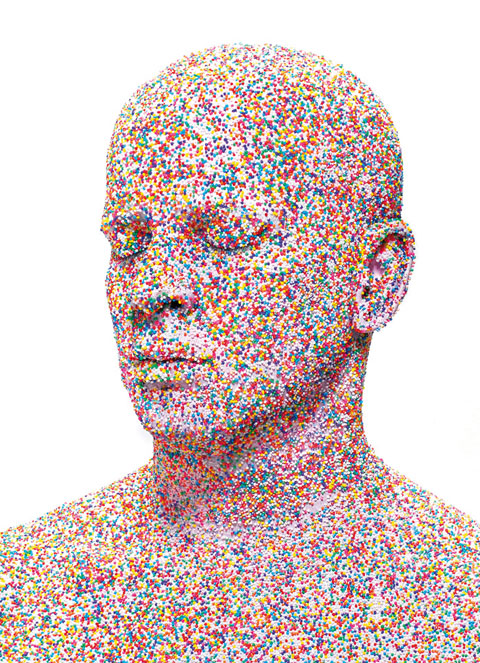 What's the first thing you did when you woke up this morning?
I woke up and had the last glass of Babosa juice. For those who don't know, Babosa is known as aloe vera too. I remember when I was a kid, my mother used that plant to moisturize her hair.
Something about yourself the average person wouldn't guess?
That I'm left handed and I can write down to top, backwards, and with both hands at the same time, hahaha! And I've been a vegetarian since I was fourteen years old.
If you had one day left on Earth, what's left to be discovered?
I don't know, I'm just unpredictable. Maybe I would call some friends to hang out together and laugh life out, and maybe meet again sometime.
What is your first art-making memory as a kid?
In Santa Luzia, Minas Gerais, where I spent part of my childhood. I lived in a street without asphalt. So one day, after hours of rain, I built a city of mud from one side to the other of the street. That construction, to me, has a lot of meaning. The work was not destroyed very fast, and I remember people asking me what was that thing and cars trying to pass without destroying it.
Do you need long periods of time alone, or are you energized by interaction?
Both things. Sometimes I just can't work when I'm alone, but sometimes when I'm with a lot of peeps, I just leave them and go to work. Sometimes I like to walk without any destination too.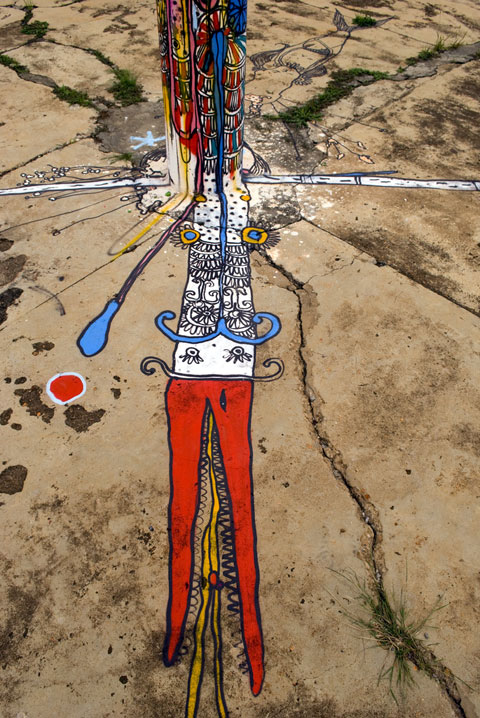 Is being in the dark with the lights out frightening or comforting?
Very comfortable. I like the dark and the silence, of course without a clock. Actually I'm working with half-lights, closing all doors and windows. Maybe you think it's contradictory, but I like painting in the dark. For me it's better to visualize what technique of colors that I will use.
What's the most non-art involved activity you continually find yourself enjoying?
Riding a bike, dating, reading, watching cartoons…and doing nothing is good too.
Have you been to jail? If so, why? If not, why not?
I was arrested only by my mom. The police are easier to dribble.
What kind of car do you drive?
My skateboard and a bike.
What's your biggest non-green inspired indulgence?
Velho, acho q seria assim a questão: qual é o seu maior prazer "ecologicamente incorreto?" por exemplo, fumar, jogar papel na rua, etc.
What is the single most important thing you did to breakthrough as a career artist?
I don't think we choose to be an artist, but in 2005 I was working as an art teacher and going trough a confusing and insecure moment of what I was going to do with my life. I didn't fit in any job and I had no money, no inspiration, and was depressed with few time to dedicate to my personal projects. So one day, I just quit my job, and in that moment I already knew that I was choosing my path.
Best hustle you ever pulled?
Taking care of my mom and two younger brothers when I was only 7 years old. Because of that time, today I know what made me grow as a man, and now I'm in love with life. I'm just very grateful for all I have now.
Are you ever bored?
Who isn't? Sometimes I just wanna see nothing and stop my mind for a moment.
What excites you?
All that is strange to me, the unknown, the new...
2023 will look like . . . ?
The results of our choices of this moment. It's time to go a little slower, don't you think? Just simple.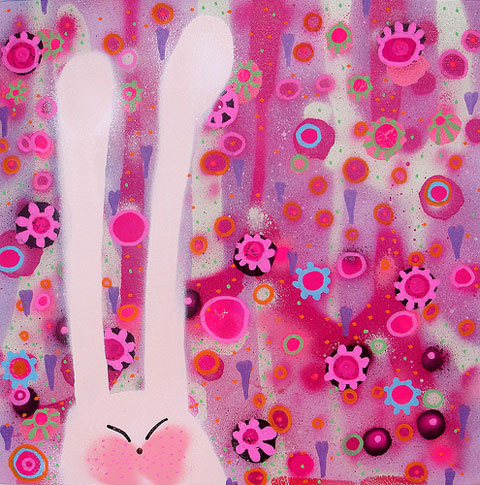 If you could have a drink with one artist, living or dead, who would it be?
I admire a lot of artists, but I would love to meet Gustav Klimt, drink some Babosa juice with him and watch him work.
Last passport stamp:
Brighton, England. I went there to do a show.
Can't stand:
I can't support all cruelty, but violence with animals depresses me a lot.
Can't live without:
I can't live without scratching.
Without being in love.
Words to live by:
"This too shall pass."
Make sure to catch Ramon Martinss work in SÃO PAULO, now on view thru March 28, 2009. More info at www.scion.com/space