Back Talk with Mike Giant
Juxtapoz // Wednesday, 01 Jul 2009
1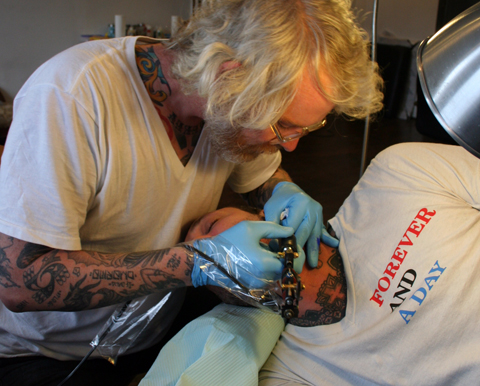 Welcome to July. To celebrate, Mike Giant (Juxtapoz #80) answered our ongoing set of questions as part of Back Talk, giving artists the opportunity to share a bit about themselves by answering questions not normally asked during a routine interview. Read on to learn more about this SF native tattoo and fine artist with some of the most devout fans around.
What's the first thing you did when you woke up this morning?
Put on my glasses.
Something about yourself the average person wouldn't guess?
I have a double-jointed thumb.
If you had one day left on Earth, what's left to be discovered?
I live every day like it could be the last day, and I'm content in the present moment. I don't search. I just stay open. In this way, every moment is an incredible discovery. There is nothing more to yearn for.
What is your first art-making memory as a kid?
Like most kids, I drew the things around me with what I had. In my particular case, I started off with crayons, drawing lots of cars, trucks, people and animals.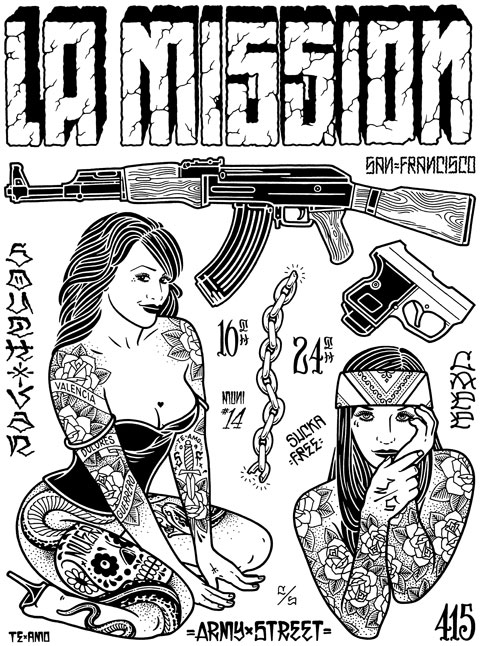 Do you need long periods of time alone, or are you energized by interaction?
I need both. I need a lot of alone time in the studio, for sure. But I love spending time alone with my girlfriend. And I love busy restaurants, noisy bars, and live music shows. It's a daily balancing act.
Is being in the dark with the lights out frightening or comforting?
Comforting. My eyes like the dark. And I really enjoy sleeping.
What's the most non-art involved activity you continually find yourself enjoying?
Well, cycling, I guess.
Have you been to jail? If so, why? If not, why not?
Yup. I was booked for painting graffiti under a bridge in the middle of nowhere New Mexico in 1993. I spent the afternoon in jail, and did 75 hours community service. Case closed.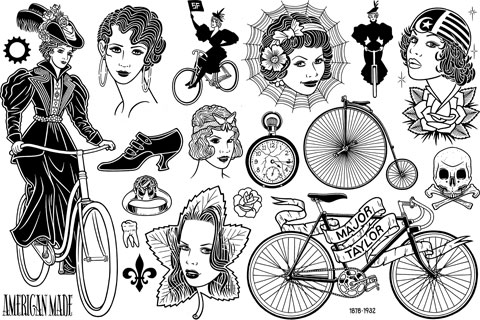 What kind of car do you drive?
I don't drive cars, I pass them. I'll never own a car the rest of my life.
What's your biggest non-green inspired indulgence?

Spraypainting!
What is the single most important thing you did to breakthrough as a career artist?
Sending drawings to Think Skateboards in 1993 in the hopes of landing a full-time job in their art department, which I did.
Best hustle you ever pulled?
In high school, I was skateboarding for hours every day and I wore through shoes really fast. Some friends turned me on to a spot where I could steal red and white Jordans super easy. So I'd ask my mother for $40-50 for new shoes, steal some Jordans, and buy myself a new deck with the cash. I think I ran that hustle about 4 times before she asked about the new boards. I just told her the shoes and skateboards were on sale, which stoked her out and put her at ease. But that was the last time I pulled that hustle on her. Sorry, Mom.
Are you ever bored?
Of course, then I find something to do, or go to sleep. But when I'm stuck in a boring situation, I just meditate. Instead of just sitting around being bored, I try to use the time to further my understanding of my thinking mind while at the same time maintaining a steady non-violent physical presence.
What excites you?
Love, lust, sex, yoga, dancing, painting and drawing, physical strength, ambition, power, intelligence, understanding, compassion…
2023 will look like . . . ?
More damn lofts and glass cubes, more bicycles, and more electric cars.
If you could have a drink with one artist, living or dead, who would it be?
Absinthe with Aubrey Beardsley, for sure.
Last passport stamp:
Paris, for 10 hours in the airport.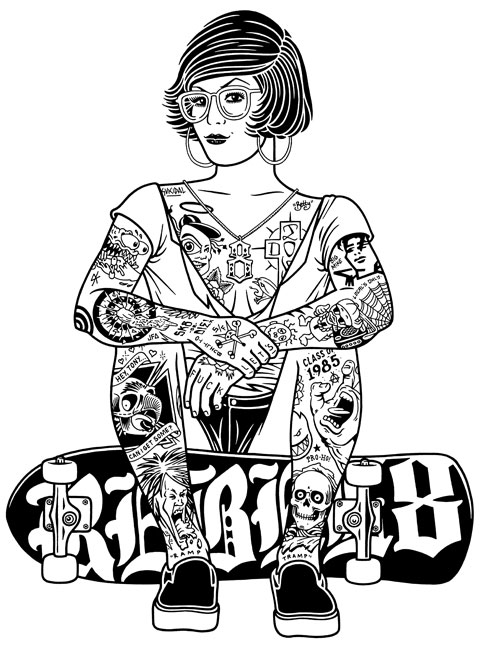 Can't stand:
People who tell me I should be wearing a helmet.
Can't live without:
Cheese!
Words to live by:
"Don't believe everything you think."
Mike will be opening a new space in San Francisco this Friday!
Join Mike Giant this Friday night, July 3rd, 2009, from 6-9pm for the Grand Opening of
Private Studio 260
260 Divisadero Street
San Francisco
Exclusive seller of original artworks by Mike Giant.
Also offering limited edition printed goods.
Prices reduced on all items for this event.
More info on Mike Giant can be found at www.mikegiant.com