Back Talk with Mary Iverson
Juxtapoz // Thursday, 21 Jan 2010
1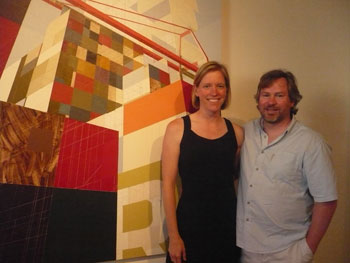 Utilizing magazine pages and geometric figures, Mary Iverson's newest work is a direct response to how industry takes natural resources for their gain. On the eve of her new solo, Frontier, we asked Mary to answer our Back Talk questions and found out a few juicy tidbits about this seasoned artist.

Today, I feel:

Nostalgic.

If you had three wishes, what would they be?

1.    High speed rail from my home to my teaching job.
2.    A new bicycle.
3.    Environmental protection as a #1, worldwide priority.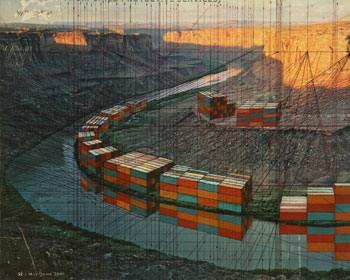 Do you consider yourself a funny person?

Humor helps. To know me is to find me funny at times.

If you had one magic power, what would it be?

I would like to have the power to minimize suffering, but I have two conditions. First, I wouldn't want that power if it meant that the good things in life were minimized as well. I suspect there is a balance of light and shadow that can't be adjusted, but if there were some wiggle room, I'd like to change a few things.

I also would like that power to be transferable. I'm really meant to be in the studio, and wouldn't want the full-time responsibility of going around making the world a better place. If I were given the magic power to minimize suffering in the world, I would need to be able to infect other people with it, so that others could share in the responsibility.

Something that makes you happy?

Hanging out with my dogs makes me happy. Unless they are being bad, which makes me unhappy.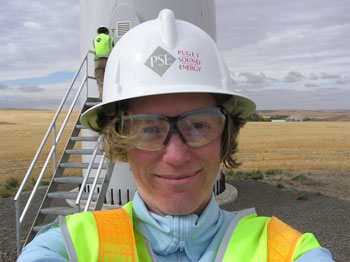 Something that makes you mad?

People who hunt predators for sport (wolves, big cats, coyotes, etc), and people who don't spay and neuter their pets make me furious!

What was your favorite subject in elementary school?

Art, of course! I also remember running for student government in the fourth grade because it was fun to create the campaign posters. My campaign slogan was "Be a fairy, vote for Mary!" I wasn't aware of the deeper meaning at the time.

If you feel a creative block, what do you do to jumpstart inspiration?

The last time I had a serious creative block, I decided to go to grad school. It worked, because that was nine years ago. Now, when I come to the end of an exploration, I just paddle back out and wait for the next wave. Actually, it's a luxury when there is time between bodies of work. Those lulls give me time to dabble around with various hunches, collage, make a mess, take my watercolors outside, whatever. I enjoy not knowing what I am doing!

When someone is taking a photo, do you smile for the camera or turn your head?

I like to ham it up.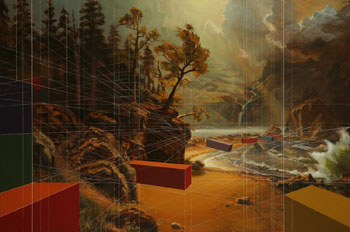 Are you a social network enthusiast?

Facebook, please!

What is a quality you don't like about yourself?

I have sore feet.

Last good book you read?

Girl in Hyacinth Blue by Susan Vreeland is a novel that chronicles the provenance of a fictional Vermeer painting from the present back to the 17th century. A painting carries the record of an artist's touch, and can bring that moment forward into the future. It's an intimacy that lasts forever. Painting as time machine.

Who has had the most impact on your life?

All of my art teachers, beginning with my high school art teacher, Ron Adams, who still attends my exhibitions and open studios.

Are you spiritual?

I strive to be present and fully aware in my life, to connect with the natural world as much as possible, and to practice kindness toward all living beings. If you call that spiritual, then it's spiritual. If God, heaven and the afterlife are required, then I'm out.

One word to describe your artwork?

Complex.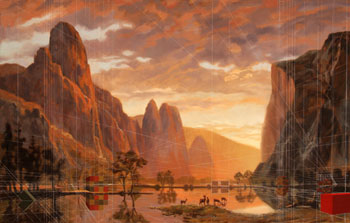 What's missing in your life?

I don't have enough time to be outside.

Are you a pet person?

I love my three dogs: Mr. Green, Yellow, and Elka. Mr. Green is my German shepherd. He looked out for me when I was outside painting all of the time. Now he's retired, because I usually work in the studio.

Is your artwork understood?

That's for you to know and me to find out!

The most trouble you've ever gotten into:

In college, I was kicked off of a sports team for being late to practice. I was devastated, but it didn't cure me; I'm still late most of the time!

Where do you imagine yourself in five years?

I will be living in Ballard, painting in my studio in Ballard, teaching, hanging out with my dogs, and flying around the world for exciting art exhibitions.
Learn more about Mary Iverson online at www.maryiverson.com
Her solo show, Frontier, opens tomorrow night, January 22nd, 2010, at Park Life in San Francisco.