Back Talk with Luke Chueh
Juxtapoz // Wednesday, 18 Mar 2009
1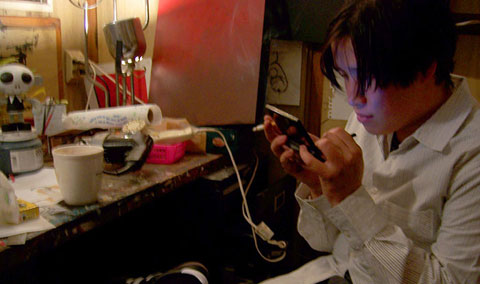 Los Angeles artist Luke Chueh, (Juxtapoz #91) has plans to take over Corey Helford Gallery this Friday, March 20th with his visually arresting paintings of visciousy adorable animals in the solo show, From Light Cometh Darkness. But first we pulled the artist out of the studio to answer 20 Questions.
This designer, illustrator, and painter was born in Philadelphia, raised in Fresno, and now lives in Los Angeles, where he has build a steady career fashioning his unique "cute meets brute" artistry. Employing minimal color schemes, simple animal characters, and a seemingly endless list of ill-fated situations, Chueh stylistically balances nature with society. In walking the fine line between comedy and tragedy, Chueh forces the viewer to reconsider previously held notions of nature versus nurture.
Hear what the artist has to say in anticipation of his solo, From Light Cometh Darkness, by reading Back Talk with Luke Chueh now.
What's the first thing you did when you woke up this morning?
The first thing I did was brush my teeth.
Something about yourself the average person wouldn't guess?
I guess the average person would be surprised to learn that, in public, I'm not as "moody" as most people think I would be.
If you had one day left on Earth, what's left to be discovered?
I hate to say it, but think I would be hopelessly consumed by the increasingly less amount of time I had left to accomplish whatever "thing" I felt like I had to finish before my time was up.
What is your first art-making memory as a kid?
My first art-making memory is of my mom teaching me how to draw Mickey Mouse at my aunts house. I think I was four years old.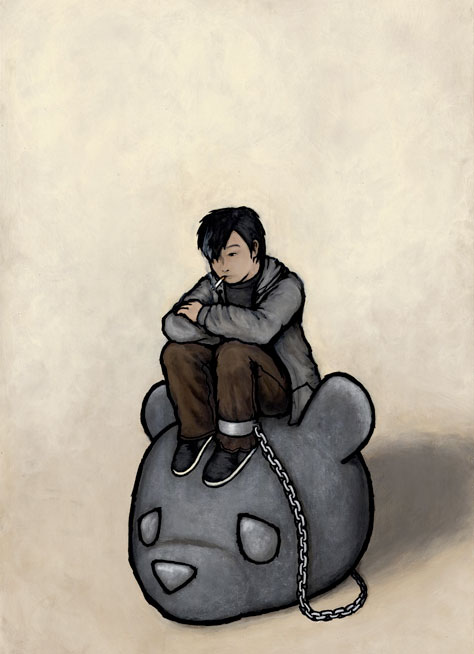 Do you need long periods of time alone, or are you energized by interaction?
I need both alone time AND energized interaction.
Is being in the dark with the lights out frightening or comforting?
Most of the time, frightening.
What's the most non-art involved activity you continually find yourself enjoying?
Eating.
Have you been to jail? If so, why? If not, why not?
Yes, and I'd rather not get into it.
What kind of car do you drive?
Honda Civic (2007)
What's your biggest non-green inspired indulgence?
Smoking cigarettes.
What is the single most important thing you did to breakthrough as a career artist?
The most important thing I've ever done for my career as an artist was move to Los Angeles.
Best hustle you ever pulled?
I'm honestly not sure.
Are you ever bored?
Yes.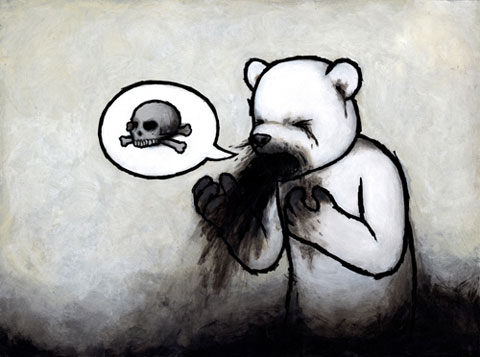 What excites you?
"Stupid" things, and things that seem completely out of place excite me. For instance, I just recently learned of, and was excited by, the two giant blue animal sculptures in Denver, Colorado. I don't know why, but there's something about these that I get a charge out of.
2023 will look like . . . ?
2023 will look look pretty much like how things are now... but with more animated billboards, smaller cars, and even less record stores. Also, all movie theaters will project "3-D" movies.
If you could have a drink with one artist, living or dead, who would it be?
I can't think of any particular artist because chances are there would be a language problem, and on top of that, I might be in such awe of that artist, that the conversation would end up being uncomfortable, boring, and shallow, and afterwards, I would feel like a total idiot. Actually, I wouldn't mind having a meal with Anthony Bordain.
Last passport stamp:
Taiwan.
Can't stand:
The "Hater" in me.
Can't live without:
Family.
Words to live by:
"Every good painter paints what he is." - Jackson Pollock
Catch Luke's new work in From Light Cometh Darkness at Corey Helford Gallery starting this Friday, March 20th, 2009. The show will remain on view through April 10th, 2009.
Details at www.coreyhelfordgallery.com
About the Artist:
Luke Chueh was raised in California. Motivated by his interest in the visual arts, he earned a BS in Graphic Design at Cal Poly and moved to Los Angeles, to pursue a career painting.
Chueh's highly-collectable work is influenced by his life experiences, connecting the synergy between Pop Culture, Street Culture, and Geek Culture. He has exhibited at Mauger Modern Art in the UK, Gallery 1988 in Los Angeles and San Francisco, and at Copro/Nason Gallery in Santa Monica. Chueh will be featured in an upcoming issue of Nylon magazine, and in August 2008, we showcased his art in a ShowStoppers review.
Additionally, numerous magazines and websites have published articles about his work, including Entertainment Weekly, Clutter Magazine, and Daily Candy. Chueh's paintings have also been reinterpreted into the popular art toy/urban vinyl format by respected producers such as Munky King, Intheyellow, StrangeCo, GelaSkins, FullyVisual, and Kid Robot.
For more information about Luke Chueh, please visit lukechueh.com.