Back Talk with Kukula
Juxtapoz // Friday, 18 Dec 2009
1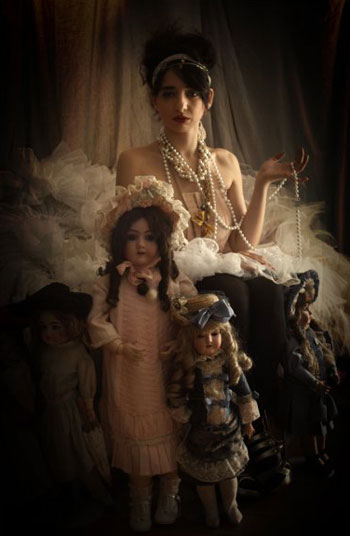 Born in Israeli and current San Francisco resident
Kukula
paints a deceptively innocent world inhabited by wide-eyed young ladies confronting harsh realities. On the eve of the debut of her solo,
Immortal Artifacts
at Corey Helford Gallery, we hit her with a few questions.

Today, I feel:
I have a stomachache from all that chocolate I had earlier.

If you had three wishes, what would they be?
A teleporter.
To never die or get old.
A pile of gold.

Do you consider yourself a funny person?
Unfortunately I consider myself funny, just because I'm trying to make people laugh but I think they mostly think I'm insulting them. Things get lost in translation all the time…especially my jokes.
If you had one magic power, what would it be?
I would like to move in time and space like Hero Nakamura.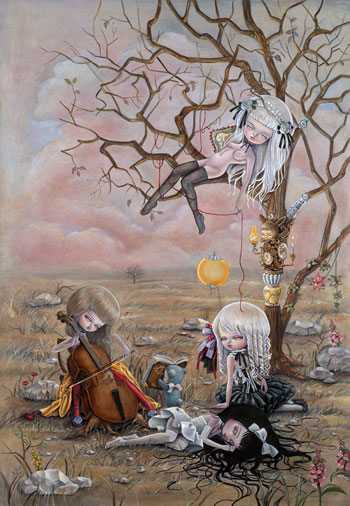 Something that makes you happy?
Food…the kind that's small on a big empty plate; also Care Bears.

Something that makes you mad?
Ignorant people.

What was your favorite subject in elementary school?
Sandbox class.

If you feel a creative block, what do you do to jumpstart inspiration?
I like to go to the Japanese bookstore in Japan Town in SF, Kinokuniya. After that I go next door to the French café (it's still a Japanese one) and have tea with cream puffs while looking at my new books. That works like magic.

When someone is taking a photo, do you smile for the camera or turn your head?
I don't like cameras, I think they're up to no good.

Are you a social network enthusiast? (eg Do you post photos on Facebook; listen to music on MySpace; post to YouTube, etc?)
I really try to do it as much as I can because I think it's cool but I'm kinda old school when it comes to that. I think I should do a much better job.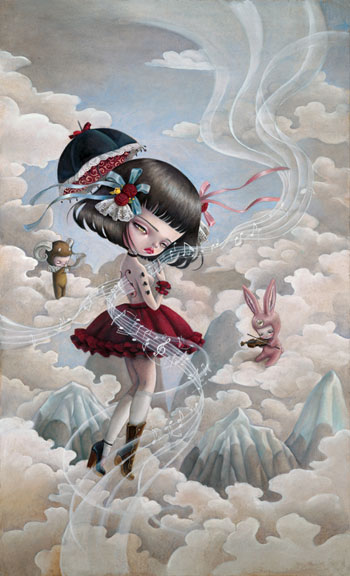 What is a quality you don't like about yourself?
I worry too, too much. It drives me, and everyone around me, totally crazy. Also, after I make a decision, I always change my mind.

Last good book you read?
The Wind Up Bird Chronicle by Haruki Murakami.

Who has had the most impact on your life?
My husband and my cat.

Are you spiritual?
I believe in the Evil Eye.

One word to describe your artwork?
BOWS.

What's missing in your life?
Tel Aviv.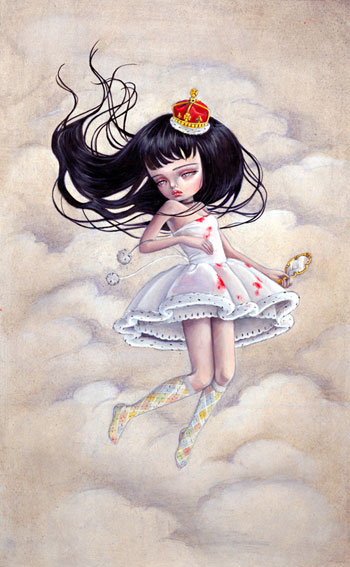 Are you a pet person?
Yes! And I think people who don't like animals are bad from the core. I'll never trust a human being who doesn't like animals.

Is your artwork understood?
For sure not. I read so much weird shit about how it promotes pedophilia and sexism. In the first place, my figures are not necessarily human. Second, they definitely have the bodies of grown women with boobs and ass. But I think those who think that might just have a little bit of a problem with feeling something they think they shouldn't by looking at them.

The most trouble you've ever gotten into:
Painting Yitzhak Rabin on my high school walls a day after he got shot. After the troubles they left it there for 3 months (cause he was dead and all).

Where do you imagine yourself in five years?
In the little ponies valley a block away from the rainbow.
Kukula: Immortal Artifacts
Corey Helford Gallery
December 19, 2009 – January 9, 2010.
Opening reception Saturday, December 19th
www.coreyhelfordgallery.com
www.kukulaland.com
Top portrait of Kukula by Remy Holwick.