Back Talk with Korin Faught
Juxtapoz // Thursday, 23 Sep 2010
1
One reason you make art:
To challenge myself.
The last good movie you saw:
I watched Dog Day Afternoon last night, an oldy but goody.
Something you've always wanted to do, but have yet to:
Take a ride in the zero-g plane.
Favorite country or city visited:
Rome, aka "art mecca"
A few words that sum up your philosophy on life:
"Stress is your friend"
Something you want the world to know about you:
I have plenty of surprises up my sleeve, stay tuned people...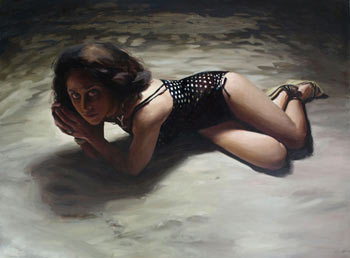 Something that annoys or frustrates you about people:
Lack of trust, unwillingness to listen.
Artists you admire:
Johannes Vermeer, Caravaggio, John Singer Sargent, James Jean, and Phil Hale.
Favorite quote(s):
"I'm a pepper too."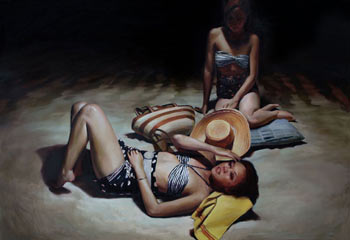 The first record or CD you ever bought? The last album you downloaded?
Soundgargen's Superunknown '94 and the soundtrack from "Solaris" '09.
Something you do when you're procrastinating?
Make more coffee, do dishes, Skype.
The moment you realized you were an 'artist':
My first solo show.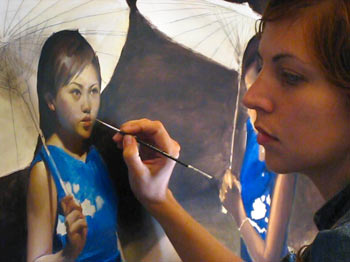 Something you wish you could change or alter about yourself:
I'm a klutz by nature. I wish I could be more graceful on my feet.
What is the biggest risk you've ever taken and was it worth it?
In my business life and personal life, I go with my gut, and things usually work out.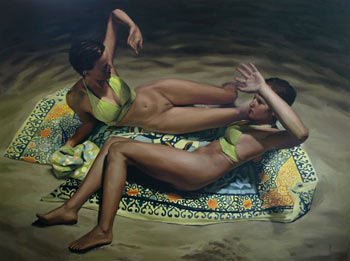 Something you wish you had known five years ago:
My own self-worth.
What do you hope to accomplish in the next five years of your life?
Two more solo shows, and finish my current projects.
See Korin Faught's new series in an upcoming three-woman show alongside works by Mia and Krista Huot at Corey Helford Gallery.
Opening Reception Saturday, September 25, 2010 from 7 10pm
On View September 25 – October 16, 2010
Corey Helford Gallery
8522 Washington Boulevard
Culver City, CA 90232
T: 310-287-2340
More on Korin Faught at www.korinfaught.com