Back Talk with Julian Callos
Juxtapoz // Wednesday, 05 May 2010
1
"The unknown can be scary and mysterious, but it can also be fascinating and ultimately rewarding if you care to venture through it. So it's also about dealing with uncertainty, and the idea that even if you don't find the answers you're looking for, you're all the better for having tried to find them in the first place." Learn more about the artist here:
Today, I feel:
Happy and excited because I just finished a bunch of paintings! Also...tired.
If you had three wishes, what would they be?
A spacious studio, a working vehicle, and uh...washboard abs?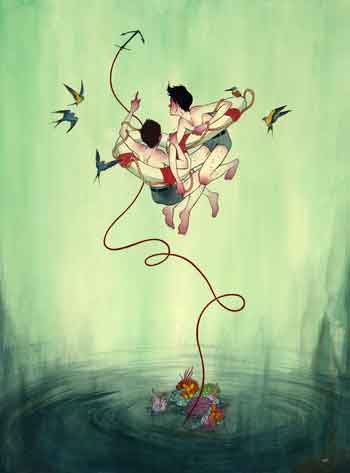 Do you consider yourself a funny person?
I can be pretty funny sometimes. I'm really good at making terrible puns that are meant to fall flat and be really cheesy. Usually people find it funny, and I like to think that the people who find it lame just don't get it!
If you had one magic power, what would it be?
Flight!
Something that makes you happy?
When it's sunny and warm and a little breezy at the same time.
Something that makes you mad?
Blatant rudeness.
What was your favorite subject in elementary school?
I loved art, of course, but I remember I also enjoyed reading and writing stories.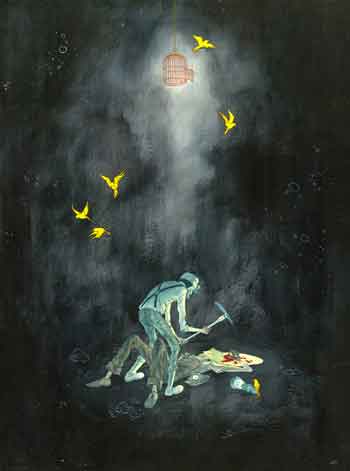 If you feel a creative block, what do you do to jumpstart inspiration?
Unfortunately I get artist's block all the time and I haven't found a miracle cure just yet, but going out for a walk and trying not to think about it for a while helps a great deal. And brainstorming while lying in bed seems to work for me as well; there have been so many times when I've been hit with inspiration right before drifting off to sleep.
When someone is taking a photo, do you smile for the camera or turn your head?
Lately I've been making weird, deer-in-the-headlights faces whenever people take pictures of me. I really gotta stop doing that.
Are you a social network enthusiast?
I'm on Facebook a lot. A little too often on some days...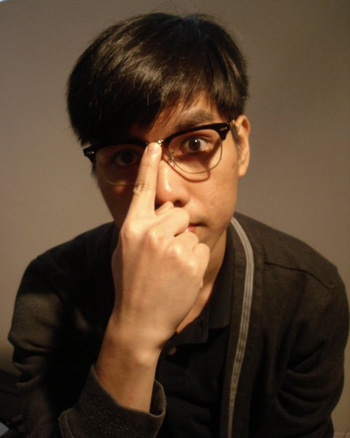 What is a quality you don't like about yourself?
I'm super indecisive.
Last good book you read?
Do comics count? I've been enjoying "The Walking Dead" and Jordan Crane's "Uptight" series.
Who has had the most impact on your life?
My family for always being supportive; my friends for sharing some amazing experiences.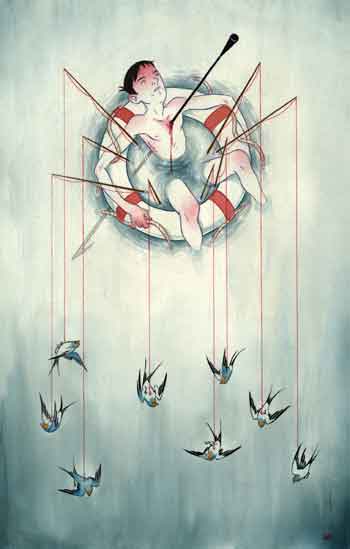 Are you spiritual?
Not particularly, although I like to get introspective and ponder the universe sometimes.
One word to describe your artwork?
Floaty?
What's missing in your life?
Jet packs.
Are you a pet person?
I don't have a pet of my own, but I'm a sucker for puppies and dogs in general. Just try and stop me from petting your dog.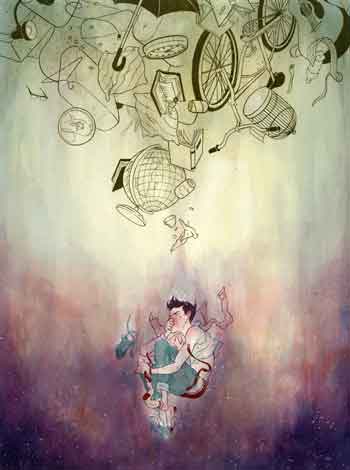 Is your artwork understood?
Well, I hope my illustration work is understood! As for my personal work, sometimes the meaning is easy to decipher; other times it's a bit more abstract. My personal work definitely has a particular meaning and story or mood that I want to convey, and it's usually sprinkled with some symbolism. But I feel like people can interpret it in different ways if they aren't told its actual meaning.
The most trouble you've ever gotten into:
Hmmm...I don't remember. That either means I'm not that much of a troublemaker or I'm just good at not getting caught.
Where do you imagine yourself in five years?
In a hover car, hopefully. I mean...don't you think it's about time?
See Julian Callos' newest works in hos show, Into the Unknown, which opens on Friday, May 7th at WWA Gallery:
WWA gallery
9517 Culver Blvd
Culver City, CA 90232
310.836.4992
About Julian Callos:
A recent graduate of the Otis College of Art & Design's BA Illustration program, Callos has hit the ground running with a number of Los Angeles area group shows including The Devil Made Me Do It and Manifest Equality. Callos' biggest inspirations are indie comics and screen-printed art. Over the years his subject matter transitioned from motifs of animal skulls and forest creatures to drawing inspiration from both ocean and outer-space imagery. Julian Callos lives and works in Los Angeles.