Back Talk with Joe Ledbetter
Juxtapoz // Wednesday, 02 Jun 2010
1
One reason you make art:
The rockstar thing didn't work out.
The last good movie you saw:
Shrink, with Kevin Spacey.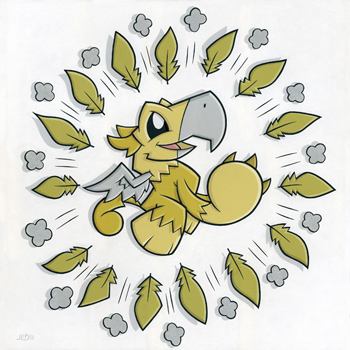 Something you've always wanted to do, but have yet to:
Juxtapoz cover.
Favorite country or city visited:
Rome, Italy.
A few words that sum up your philosophy on life:
Go for it.
Something you want the world to know about you:
I love cats.
Something that annoys or frustrates you about people:
Folks who find self-importance in always having strong negative opinions about art, music and movies. Apparently not liking things make you look really smart.
Something that concerns you:
The oil spill.
Artists you admire:
Gary Baseman, Todd Schorr, Greg Simkins, Ron English, Tim Biskup, Camille Rose Garcia, the list goes on and on.
Favorite quote(s):
"Everything we hear is opinion, not a fact. Everything we see is a perspective, not the truth." -Marcus Aurelius
The first record or CD you ever bought? The last album you downloaded?
7th grade was: Bell Biv Devoe – "Poison" cassette single.
Last week's download was: "Guns, Germs, and Steel" by Jared Diamond and the Broken Bells album.
Something you do when you're procrastinating?
PS3
What is your most defining characteristic?
I suppose I'm pretty mellow.
What is your greatest fear?
Losing my eyesight. Knock on wood.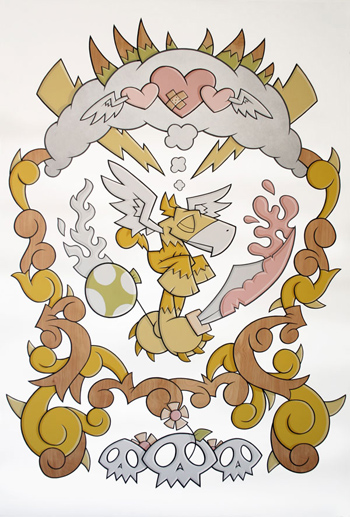 The moment you realized you were an 'artist':
Probably when I was about 15 and would rather stay home and draw then get drunk with my friends on a Saturday night.
Your greatest quality:
Patience.
Something you wish you could change or alter about yourself:
I wish I was a little bit taller.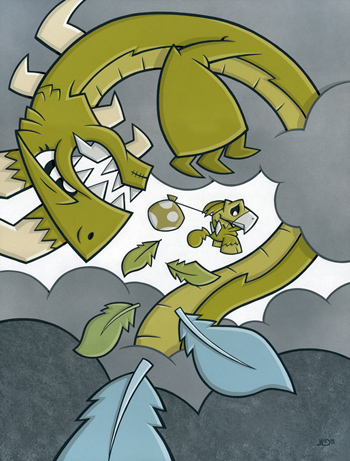 What is the biggest risk you've ever taken and was it worth it?
I'm sure I've put my life and health on the line quite a few times. Probably not worth it.
Something you wish you had known five years ago:
Save your money Joe, you'll need it!
What do you hope to accomplish in the next five years of your life?
More books, sculpture, bigger bolder and better ideas, huge art shows, lots of traveling, explore China, and maybe live in Italy for a year.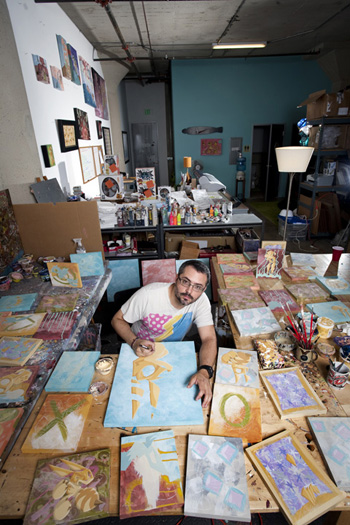 You can see Joe Ledbetter's newest works in Magnus Maximus at Corey Helford Gallery
Opening: Friday, June 4 from 7 to 10pm
The show will be exhibited until June 23, 2010.
For more information about the artist, please visit joeledbetter.com
Corey Helford Gallery
8522 Washington Boulevard
Culver City, CA 90232