Back Talk with Gregory Euclide
Juxtapoz // Wednesday, 27 Jan 2010
1
Today, I feel:
Content with my life at home. I woke up to make coffee and found 14 Cardinals outside the window. The rain made them look less fluffy than normal but their color was a jarring contrast to the reluctant snow. It was a nice morning time gift. Rural life is a wonderful contrast to the last 13 years of my life.
If you had three wishes, what would they be?
This seemed like an opportunity to do some serious Good.
I would wish:
That everyone would have the ability to comprehend the impact of his or her actions on the world.
To stop the abuse, exploitation and oppression of those who do not have the physical or political will to stop it them selves.
And I wish I could do something positive with this interview. If you are interested in having me plant a tree in someone's honor... I will.
Send an email to geuclide@gmail.com including your full name and a short message and I will plant an evergreen this spring with your message attached to it.
I will send a photo of the planted tree to the email address you use to send me the info.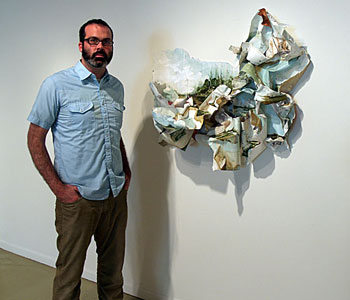 Do you consider yourself a funny person?
My friends often laugh at me and so that leads me to think I either lack an understanding of social norms or I have some wit. Either way, I have the wrinkles around my eyes to prove that I laugh a lot.
If you had one magic power, what would it be?
If my brother had never thrown that kid's 32-sided dice on the roof we might have been invited back to the neighborhood D&D sessions and then I would know more about magic. I had to go to wikipedia and search a list of superhuman features, which is quite and interesting list. I settled on Omniscience – the ability to know anything and everything. That seemed pretty useful.
Something that makes you happy?
Watching animals playing.
Something that makes you mad?
Acts of violence.
What was your favorite subject in elementary school?
That was easily art class. For whatever reason, I was sent to a catholic grade school. The school had an art specialist come once or twice a week. She was married to a man who did ice sculptures and competed internationally. I think she was my first crush. When you have a crush on your teacher… it kind of makes it easy to like any class.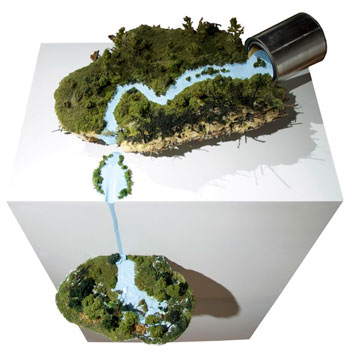 If you feel a creative block, what do you do to jumpstart inspiration?
Eat handful after handful of sun drops and throw on The Wedding Present's Seamonsters.
When someone is taking a photo, do you smile for the camera or turn your head?
Mostly just look blankly back at the person.
Are you a social network enthusiast?
I mostly use Facebook, Flickr, and YouTube as a promotional tool.
What is a quality you don't like about yourself?
I am overly critical. I expect more out of people, things and situations.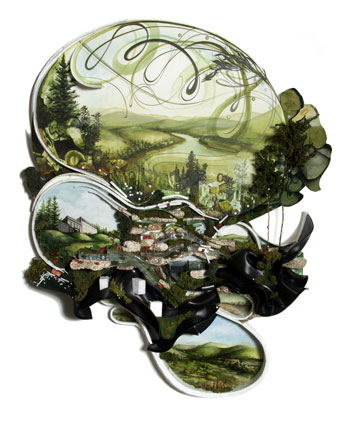 Last good book you read?
Flight Maps by Jennifer Price
Who has had the most impact on your life?
My Mom and Dad are powerful role models in many ways. I also have a deep respect for anyone who stands up to the greed machine and helps PEOPLE live a happier life.
Are you spiritual?
I believe in Action – Reaction.
One word to describe your artwork?
Mindful.
What's missing in your life?
Poetry. When words move though space and make connections the way some of the wonderful modern poetry does… it can be like laying on your back on a picnic table with your head hanging off the edge – looking upside down at the world as if the sky is what is beneath you – an experience that is disorienting and pleasurable at the same time.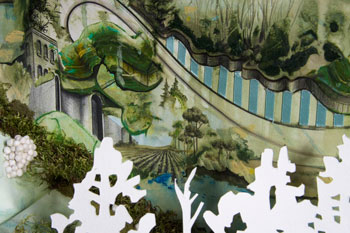 Are you a pet person?
I know I am not going to make friends with this answer, but I have to be honest. I don't like the idea of having pets. I can't understand the owning animals anymore than I can the owning of other humans. If an animal came to your door every day and you let him/her have a choice to leave and they did not leave… I would call that a friend. Not a pet.
Is your artwork understood?
Understanding is an individual thing, free of my control. Often what a viewer puts in is what they get out, but in the end people are free to take from the work what they can. All I can ask is that it be experienced in person with their body. Where they experience it is all I really have control over.
The most trouble you've ever gotten into:
Trouble is something that is probably yet still to come. I'm a late bloomer.
Where do you imagine yourself in five years?
In a well kept nest.
More on Gregory Euclide at www.gregoryeuclide.com