Back Talk with Greg Craola Simkins
Juxtapoz // Monday, 14 Dec 2009
1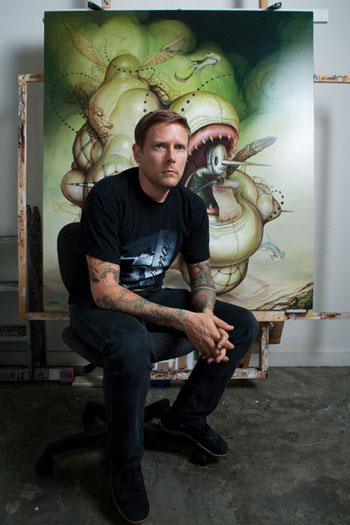 Greg 'Craola' Simkins is a wildly talented painter, designer, drawer, and all-around amazing human being. Crawl into the deep, bizarre, and utterly enjoyable mind of Craola via his answers to Back Talk. After taking a look at his amazing piece for the Multi-Plane show currently on display at Corey Helford Gallery, we had to shoot a few queries his way.
Today, I feel:
Relaxed.

If you had three wishes, what would they be?
1)That a rabid pony hadn't bitten me way back when. 2) That I hadn't myself started turning into a pony each full moon, and 3) lastly, that I could please have 3 more wishes for something useful this time. I swear I will use them wisely… could I maybe have a genie like in Aladdin to help me make wise decisions with my new wishes?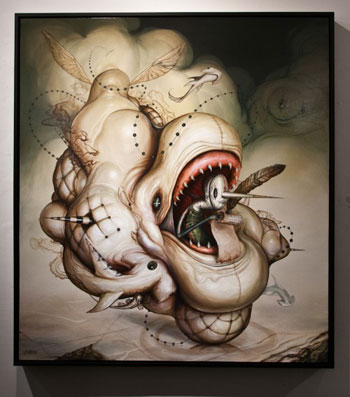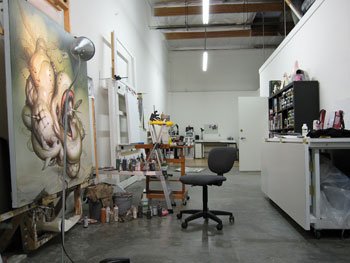 Do you consider yourself a funny person?
Not even slightly.

If you had one magic power, what would it be?
EXPECTO PETRONUM… to keep the deentors away.

Something that makes you happy?
My little boy.

Something that makes you mad?
My little boy.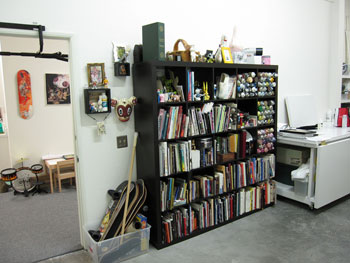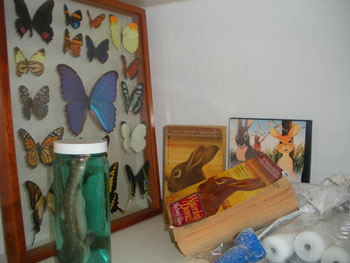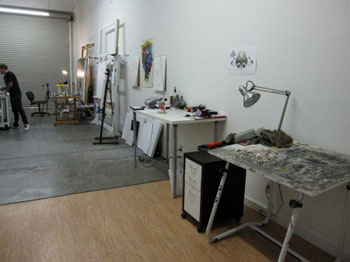 What was your favorite subject in elementary school?
English and writing.

If you feel a creative block, what do you do to jumpstart inspiration?
Look through my sketchbook and notes to see where my head was on different days. Sometimes I go to bookstores and the library and just look through random books.

When someone is taking a photo, do you smile for the camera or turn your head?
I start to smile then turn and run away fearing the repercussions of them realizing that camera's can't record my image.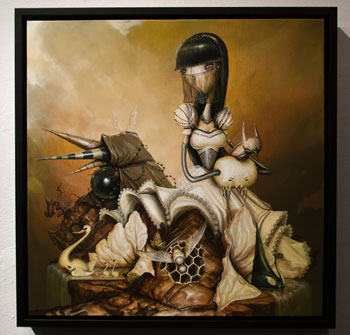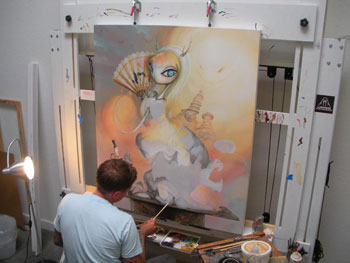 Are you a social network enthusiast? (eg Do you post photos on Facebook; listen to music on MySpace; post to YouTube, etc?)
Yes sometimes. It is a bit distracting to have the computer with all these neat little doo-dads though and I tend to leave my keyboard and mouse at home most days to focus on studio work.

What is a quality you don't like about yourself?
Anxiety.

Last good book you read?
"Watership Down" for the umpteenth time.

Who has had the most impact on your life?
My Dad

Are you spiritual?
Yes.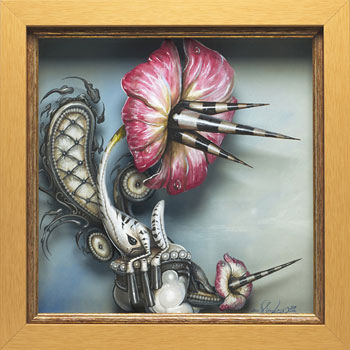 Craola's addition to the Multi-Plane show at Corey Helford Gallery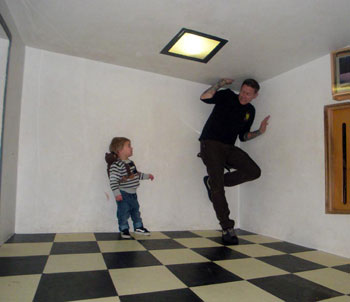 One word to describe your artwork?
Weird

What's missing in your life?
I don't know.

Are you a pet person?
I used to be and plan on being one again in the future. I eventually want some big dogs again once I get a home suitable for them.

Is your artwork understood?
I think by some people. I am always interested in people's interpretations on it. Some nail it, and others get something totally personal to them; which I am also okay with.

The most trouble you've ever gotten into:
I got roughed up by some police officers 11 years ago for photographing and looking at graffiti, not doing it. Which I think they knew, and that's why they kicked us around and didn't arrest us.

Where do you imagine yourself in five years?
Painting still and working on some secret projects, perhaps training raccoons to do my bidding.
More on Greg 'Craola' Simkins at www.imscared.com