Back Talk with David Bray
Juxtapoz // Wednesday, 14 Jul 2010
1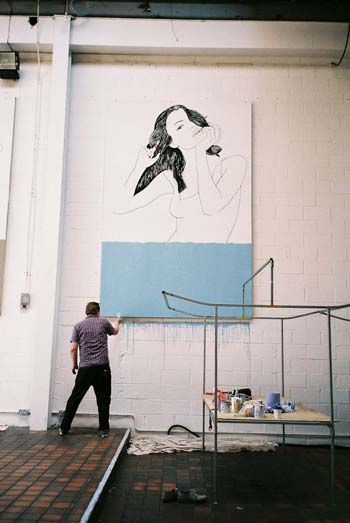 David Bray's illustrations are the types that make you wonder about what's swimming inside the mind of its creator. Known for his cleanly rendered drawings of beautiful women and animals on paper as well as massive white walls, we ease our minds by jumping over into Bray's mind in this Back Talk session.
One reason you make art:
It's a compulsion, an addiction.
The last good movie you saw:
Dead Man's Shoes. Made me cry like a baby. I like crying.
Something you've always wanted to do, but have yet to:
Levitate.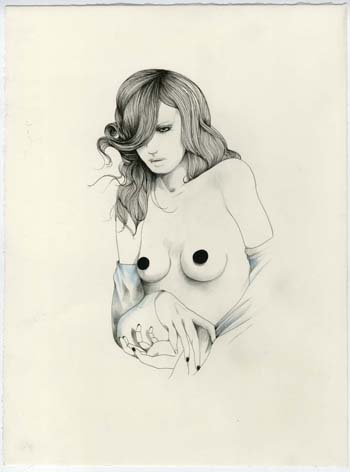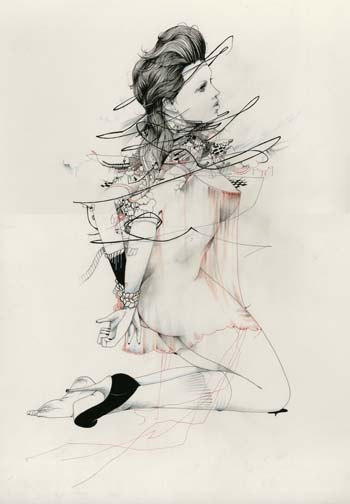 Favorite country or city visited:
Berlin.
A few words that sum up your philosophy on life:
Let us play.
Something you want the world to know about you:
I have a tattoo of my blood group and my girlfriend's phone number on my torso backwards. I hope to end up covered in personal information and shopping lists like a memento copyist. And my credit card pin in Morse code. All just in case I forget.
Something that annoys or frustrates you about people:
Duplicity.
Something that concerns you:
Lack of sleep. I am awake with the fear of not being able to sleep.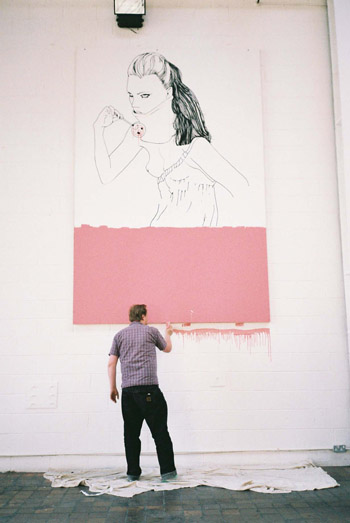 Artists you admire:
Allen Jones. Charles Keeping. Helmut Newton. Araki. Word to Mother.
Favorite quote(s):
"I'm what you might describe as the classic underachiever. I tread that fine line between boffin-dom and the grand amateur." -- Andrew Weatherall
He just seemed to sum up my existence in one sentence. Which is tough to take, cos it came from someone else's mouth quite succinctly and would have taken me a book full of words to convey.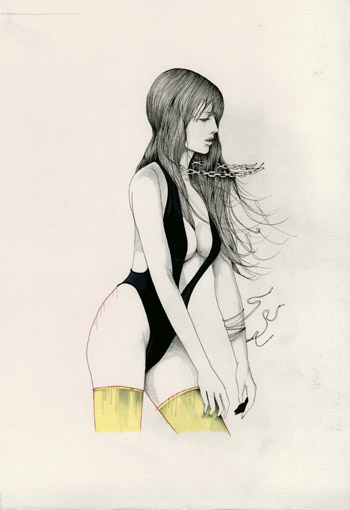 The first record or CD you ever bought? The last album you downloaded?
First record was Young Parisians by Adam and the Ants. I was 7. I think the record sleeve on the reverse explains a lot about where my head is at now.
Last album I downloaded was Returnal by Oneohtrix Point Never.
Something you do when you're procrastinating?
Write lists. About the things I should be doing. Makes me feel better about not doing them.
What is your most defining characteristic?
Shambling amateurism.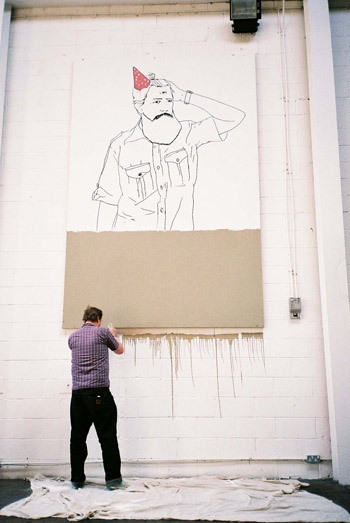 What is your greatest fear?
I get claustrophobic - any small restrictive space.
The moment you realized you were an 'artist':
My second solo show at Stolenspace. Somebody told me I was.
Your greatest quality:
Always able to pull the rabbit from the hat.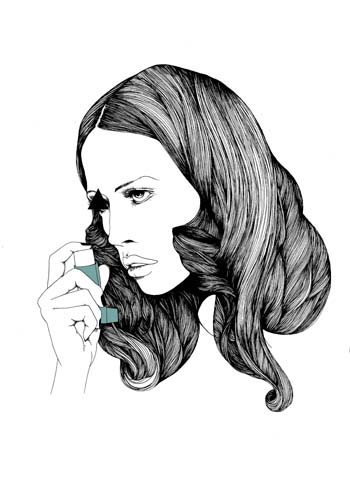 Something you wish you could change or alter about yourself:
Wish my head was less round like Charlie Brown.
What is the biggest risk you've ever taken and was it worth it?
Quitting my job to draw full time. It saved me from complete breakdown. So, well worth the punt I guess.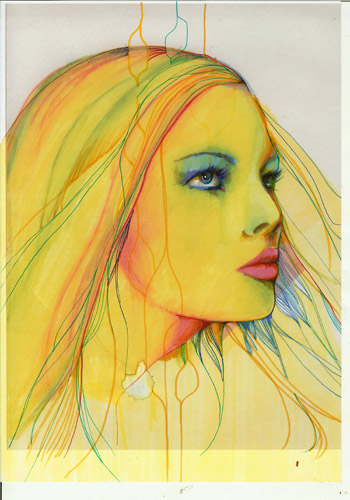 Something you wish you had known five years ago:
That I didn't just have to draw on paper, there is other stuff to make a mark on. Bigger stuff, harder stuff, moving stuff.
What do you hope to accomplish in the next five years of your life?
To be able to continue to play. And to draw on some living stuff.
More on the artist at  www.davidbray.eu
David Bray will be taking part in the upcoming group show, Off the Strip at WWA Gallery. Details here.
The show opens with a reception from 7- 10pm on Friday, July 16th.
The exhibition will run until September 4th.
WWA Gallery
9517 Culver Blvd
Culver City, CA 90232
More info online at wwagallery.com