Back Talk with Casey Weldon
Juxtapoz // Tuesday, 27 Jul 2010
1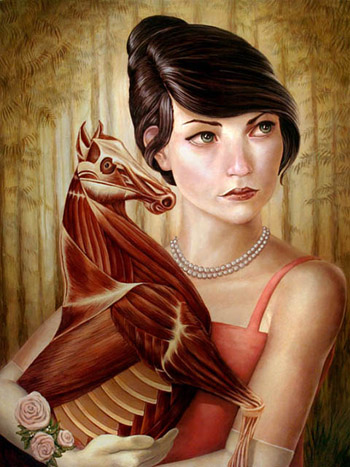 Born in California, now based in Brooklyn, Casey Weldon fashions oddly beautiful portraits of individuals with just a little something off. We caught up with the artist, while his work is now on display at WWA Gallery, to take a gander inside his imaginative mind.
One reason you make art:
I've always responded to images more than words. Looking at someone else's work and trying to decipher what they are trying to communicate as well as imagining how they have crafted this communication inspires me to immediately respond somehow. I want to join the conversation from my own tiny corner of the room and am hopeful for any response it may inspire in others.
The last good movie you saw:
Best Worst Movie. It's a really great documentary about a very terrible movie, Troll 2. I love a more insightful look into what others may consider bad art. Anvil! The Story of Anvil was amazing, and I am anxious to see Winnebago Man.
Something you've always wanted to do, but have yet to:
Hang glide, or fly a plane/glider.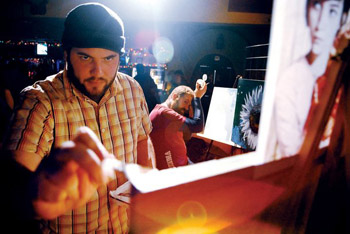 Favorite country or city visited:
Costa Rica is absolutely beautiful. It looks like the backdrop for every textbook dinosaur illustration. I also did more the week I was there than I have in a long time. I saw a bullfight, went zip lining down a volcano, bungee jumping off a rusty bridge, ATVing through the coffee fields, and so much more. It was the closest to Dan Cortese that I have ever been. Also, any country that has more Church's chicken than McDonalds is ok in my book.
A few words that sum up your philosophy on life:
Seinfeld sine wave. Never too up, never too down.
Something you want the world to know about you:
I appreciate my current occupation and thank you for allowing me the opportunity to do it.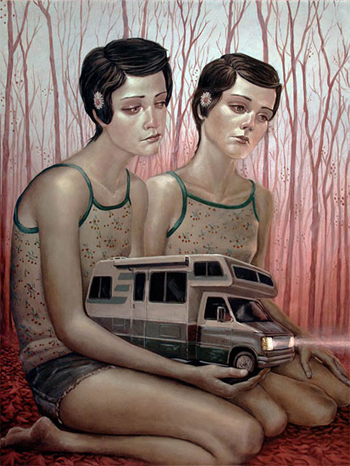 Something that annoys or frustrates you about people:
Open mouth chewing brings me to the brink of murder. I rarely go to movie theaters because of it. It's silly.
Something that concerns you:
It seems every generation believes that the "world has gone mad" or "headed to hell in a hand basket" so I don't know if this is just more of the same, but it really feels like very heavy financial, environmental and diplomatic issues are all coming to a head at once, and it's becoming difficult to stay positive.
Artists you admire:
Jonathan Viner, Eric White, Lu Cong, James Jean, Monica Cook, Aron Wiesenfeld, Josh Keyes, Erik Sandberg and just about everyone that is doing their best to try and make this life a living.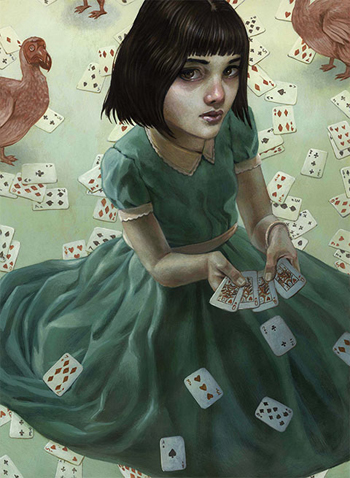 Favorite quote(s):
"You can't make up anything anymore. The world itself is a satire. All you're doing is recording it." -Art Buchwald.
I don't know if I agree 100%, but it is hard not to feel that way during the creative process.
The first record or CD you ever bought? The last album you downloaded?
The first CD I remember buying with my own money was Faith No More's "Angel Dust". I just picked up "Innerspeaker" by Tame Impala and "No Mas" by Javelin.
Something you do when you're procrastinating?
I am impressed that anything has ever been accomplished before the invention of the Internet, but I'm dumbfounded that anything has ever been accomplished after the invention of the Internet.
What is your most defining characteristic?
I'm tall I guess.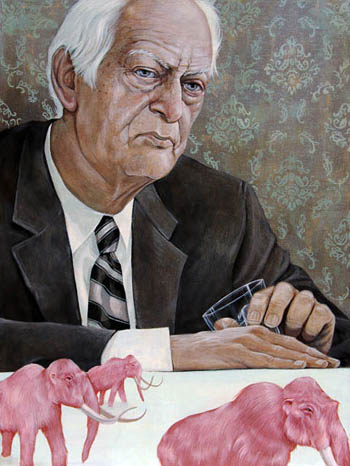 What is your greatest fear?
Losing my arms, and losing my teeth. One of those is slowly happening.
The moment you realized you were an 'artist':
I copied a drawing of "The Shredder" from a TMNT graphic novel in 5th grade that still impresses the hell out of me. It was pretty awesome.
Your greatest quality:
I'm patient.
Something you wish you could change or alter about yourself:
I may be too patient. "Carpe diem" is all Latin to me.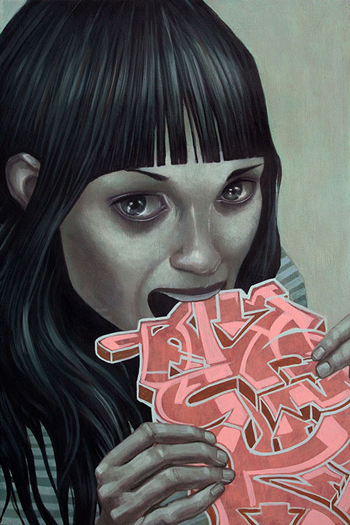 What is the biggest risk you've ever taken and was it worth it?
I went skydiving with a man half my size strapped to my back.
Something you wish you had known five years ago:
That no one is paying the attention to you that you think they are, so it is ok to just go for it rather than being fearful of a stranger's judgment.
What do you hope to accomplish in the next five years of your life?
I want to be financially secure, physically healthy, emotionally satisfied and be better to the people I love than they can be to me, which has always been pretty good.
See Casey's work as part of the show Off the Strip at WWA Gallery
More on Casey Weldon at http://caseyweldon.com
Off the Strip
On view through September 4th
WWA gallery
9517 Culver Blvd
Culver City, CA 90232
310.836.4992