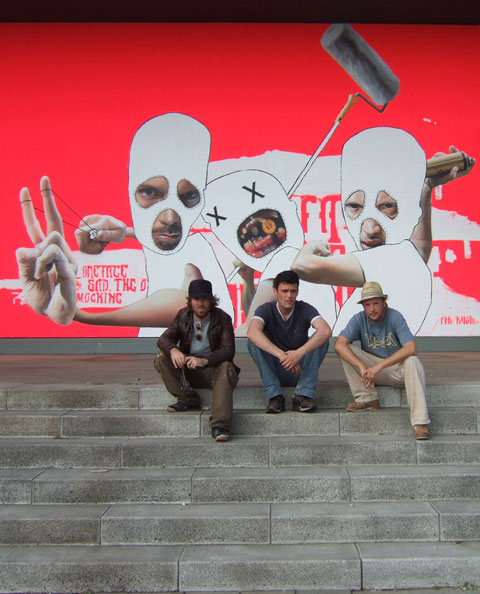 Case (above center) is a German artist known for his stunningly realistic graffiti pieces all across Europe as well as the rest of the globe. A member of the notorious German four-person crew Maclaim, Case has been killing it on the streets and in galleries alike for years and has been gaining increasing notoriety for his recent mixed media on panel and card pieces.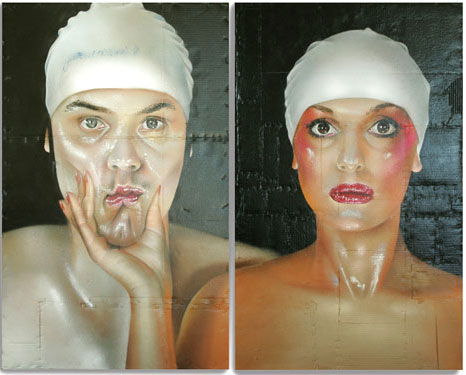 What's the first thing you did when you woke up this morning?
Went back to bed to sleep more.
Something about yourself the average person wouldn't guess?
I have a left/right disability.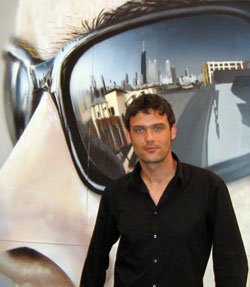 If you had one day left on Earth, what's left to be discovered?
To burrow under the trees.
What is your first art-making memory as a kid?
When I was only 4 years old, I escaped from kindergarden.
Do you need long periods of time alone, or are you energized by interaction?
Mostly I work alone, I find it's good to be by myself. But in wall productions I like to working with others!
Is being in the dark with the lights out frightening or comforting?
Comforting.
What's the most non-art involved activity you continually find yourself enjoying?
The restoration of a wall (if I'm going to paint it.)
Have you been to jail? If so, why? If not, why not?
I've been busted by cops but my brother is a lawyer…
What kind of car do you drive?
1988 Volkswagen Passat (white, with a "young" edition sticker)
What's your biggest non-green inspired indulgence?
My wife.
What is the single most important thing you did to breakthrough as a career artist?
Making me single was the important thing.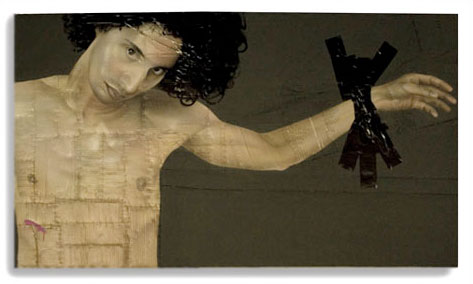 Best hustle you ever pulled?
I recently sold a piece in less than ten minutes on the internet.
Are you ever bored?
No, not with the people who are so close to me!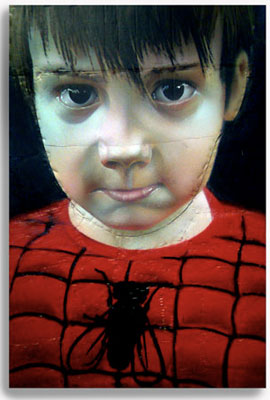 What excites you?
Reproaches.
2023 will look like . . . ?
...far away!
If you could have a drink with one artist, living or dead, who would it be?
I'd like to drink absinthe with Charles Baudelaire.
Last passport stamp:
October 19, 2008 in Mexico.
Can't stand:
Sprouts and boiled turnip cabbage.
Can't live without:

Painting, my wife, my friends, and the drinks that I've had with them.
Words to live by:
"If you had remained silent, you would have remained a philosopher."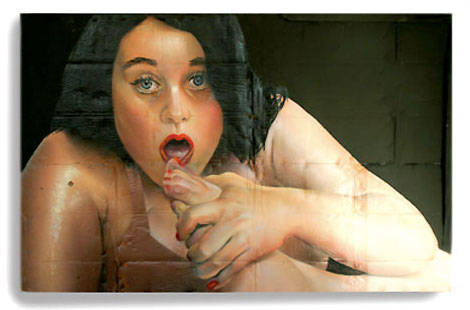 More on Case at sexyartcase.com and www.myspace.com/casemaclaim and www.campbarbossa.com.
More on Maclaim at www.maclaim.de